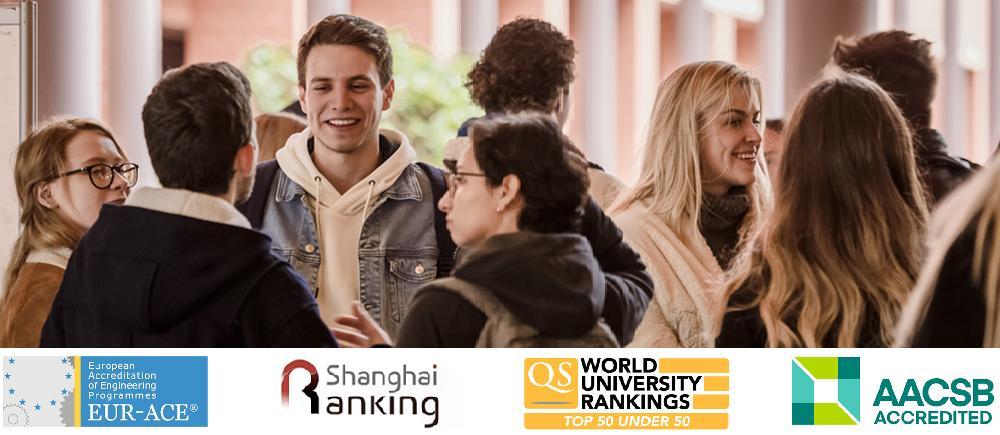 WHAT DO I DO IF I AM ADMITTED
If we have already communicated your admission to UC3M, it is important that you read the following information to confirm your place and start with us in the next course:
Reserve admission place
If you have completed the process and have received a notification that you have been admitted, you will be able to reserve your place:
You must pay 300 € as a reservation fee, which will be deducted from the registration fee. The deadline for payment of the reservation is 15 days from the notification of admission. This reservation will not be returned, or transferred to later years, if you do not finally register. In particular, the refusal to grant visas or the approval of the baccalaureate will not entitle the holder to return the reservation. Payment can be made by credit card. Upon booking you will receive the letter of admission.
Access to the reservation: To access, use the keys (ID and password) that we have sent you. Click "Trámite de pago TPV" and select Academic Year ---> Once you have change Academic Year, click Search ---> Click the arrow below Action and press accept, then you can pay
I don't have a password or I misplaced it: If you made your request through the Common App or lost your password Click here, and enter your ID, Passport or your identity card, (the one you registered in your application ) and your date of birth. You will get your password.
Apply for recognition of studies
What is the recognition of studies? How do I apply for the recognition of studies?
The recognition of studies is the procedure by which the Ministry of Education declares that studies in a foreign country are equivalent to the level of the baccalaureate in Spain.
All relevant information can be found on this website of the Ministry of Education.
This is a procedure completely outside of the University.
Can I apply for admission if I have not started the process of recognition of studies?
If you are now studying your final year of high school or have finished and have not started the process, you can apply for admission without presenting the provisional registration form. If you are admitted, we will ask you to send us the recognition document as soon as possible.
At the time of submission of the application for recognition of studies to the Ministry of Education, you must request that you be given the "provisional registration document". This document must be sent to the Admission Service at ​prospectivestudents@uc3m.es in pdf format.
Can I start studying before I get the recognition of my studies from the Ministry of Education?
Yes, if you've been admitted, you can enroll and start your studies.
In this case, your admission and enrolment will be conditional on the final recognition being resolved positively. The deadline set for submitting the recognition is the first academic year, if you do not submit it within that period, the enrolment and admission to the university will be cancelled, without the right to refund the amounts paid.
Make your enrollment
Undergraduate Student Offices son each campus is responsible for all registration procedures, and for providing you with information and advice during your stay at the University.
Date: The registration process is formalized at the end of July or early September, so in mid-June or July you will receive an appointment from your Student Office to help you with your enrollment.
Information of interest
If you have been admitted do not forget to consult this page, in which you will find very useful information to prepare your arrival to the University, such as:
Visa requirements, Accommodation, Buddy Program, welcome act, how to activate your email, how I find my schedule, group and classroom and other information for starting your studies at the University.
We also recommend that you click on the following link to find out about all that living in Madrid has to offer.
f you want to start your university stage at the best level, you can sign up for one of our 100% online Zero Courses. Recommended for students who need to reinforce and consolidate knowledge that they will later need during their studies in our degrees. In these courses we teach subjects such as Physics, Chemistry, Technical Drawing or Mathematics.
Courses 0 are voluntary, but highly recommended Click here for more information.
WHAT DO I DO IF I HAVE NOT BEEN ADMITTED?
If this time you have not been admitted to our University, we offer you the following alternatives:
Other ways to Access to the UC3M
International Foundation Program
Another highly recommended way for international students who want to join our University is to do an International Foundation Program taught by the Carlos III International School.
If you decide to study one of these annual courses, and you manage to finish it successfully, the following year you will enter UC3M as an official student.
The Evaluation Commission of the Early Admission process may offer access to the International Foundation Programs to those students it deems appropriate.
More information about the International Foundation Programs
General Pre-Registration Admission
The General Pre-registration is the ordinary way to access Spanish Universities. By this way you can apply for any degree offered by any of the 6 public universities in the Community of Madrid.
You will participate in the distribution of 100% of the places offered.
In the case of students from non-European educational systems who want to enter our university, it will be necessary to take university entrance exams