Dual Bachelor in Law and Economics
Dual Bachelor in Law and Economics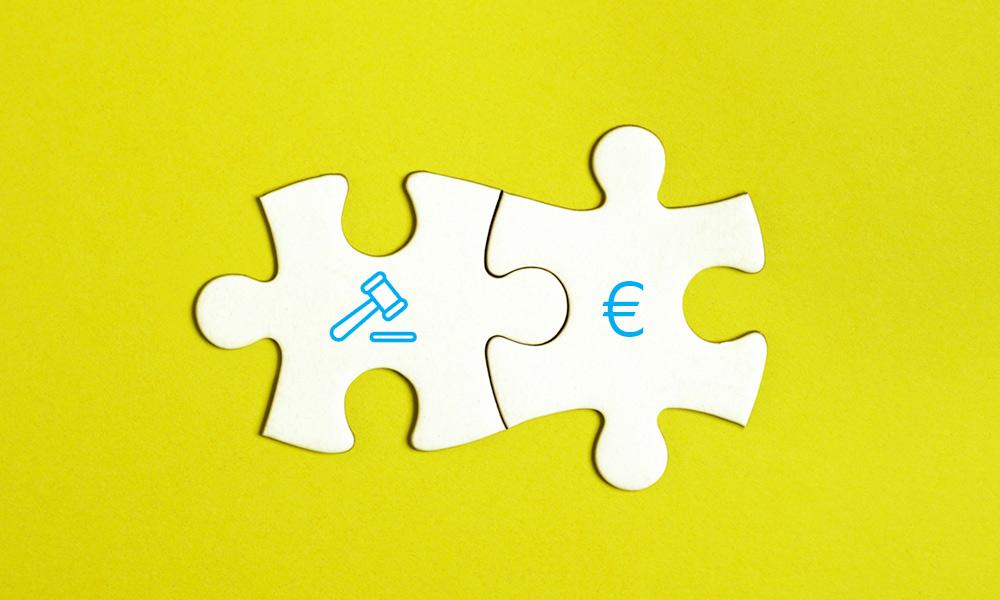 Duration

5 and a half years (375 ECTS credits)

Centre

Language

Bilingual, Spanish
The Dual Bachelor's Degree in Law and Economics is geared towards students who wish to receive a competitive education in the areas of law and economics at the national as well as international level.
This dual degree completes the specialization in the exercise of entitled legal professions with solid knowledge with which to tackle increasingly complex economic situations and evaluate their possible effects on different public or private policies.
Students can also participate in the Legal Clinic, where they will work in legal assessment free of charge for individuals in situations of special social vulnerability, and in international competitions between law students (MOOT).
These studies are taught in a bilingual mode and include all the content that is taught in both degree programs separately. At the end of the program, students will receive two degrees, one in Law and another in Economics, with the professional advantages that this entails.
Employability and profesional internships
UC3M has agreements with over 3000 companies and institutions in which students can undertake internships and access job openings.
A total of 93.4 % of graduates from this University enter the job market the first year after finishing their studies, according to the 2019 XXIV Estudio de Inserción Profesional (Professional Placement Study).
International Excellence
Current program

Current program

Program modified in 2018. In 2021/22 only will be offered 1st. 2nd, 3rd, and 4th. years.

Language requirement: a B2 level of English language must be accredited before finishing the studies. More information.

Any of elective courses could not be offered in a specific year. You can check it in schedules page.

TYPES OF SUBJECTS

BC: Basic Core
C: Compulsory
E: Electives
BT: Bachelor Thesis

 

Previous Program

Previous program

Study plan for students who started in the academic year 2017/18 or earlier.

In 2021/22 only years 5th and 6th. will be offered.

In 2019/20, courses in 5th and 6th year will be offered only in spanish.

Any of elective courses could not be offered in a specific year. You can check it in schedules page.

TYPES OF SUBJECTS

BC: Basic Core
C: Compulsory
E: Electives
BT: Bachelor Thesis

 
Exchange programs

Exchange programs

The Erasmus programme permits UC3M first degree and post graduate students to spend one or several terms at one of the European universities with which UC3M has special agreements or take up an Erasmus Placement, that is a work placement or internship at an EU company. These exchanges are funded with Erasmus Grants which are provided by the EU and the Spanish Ministry of Education.

The non-european mobility program enables UC3M degree students to study one or several terms in one of the international universities with which the university has special agreements. It also has funding from the Banco Santander and the UC3M.

These places are offered in a public competition and are awarded to students with the best academic record and who have passed the language threshold (English, French, German etc..) requested by the university of destination.

European mobility
Non european mobility
Entry profile

Entry profile

The dual degrees or double degrees in Law-Economics and Law-Business Administration aim to offer students an education that is comprehensive but mixed or heterogeneous. Thus, due to this mixed or heterogeneous component, in the previous educational stage, students need to have had a mixed focus: both humanities oriented (especially useful for the subjects corresponding to the Law degree, although not absolutely essential), and a solid education in mathematics (for later development and extension in the various subjects corresponding to the degrees in Economics and Business Administration). In any case, students must possess a capacity for logical and abstract reasoning and a clear capability for critical reasoning.

It is of no less importance that students enter University with an entrepreneurial spirit and clear enthusiasm for learning and applying knowledge. Therefore, it is absolutely necessary that the students are aware that their day to day work (and not just class attendance) is what will enable them to reach the objectives of the dual degrees. Also a clear capacity for oral and written expression and analysis and synthesis are required.

Graduate profile

Graduate profile

Due to the mixed component of the Dual Degrees or Double Degrees in Law-Economics and Law-Business Administration, this comprehensive education the Graduate profile is tremendously versatile.

Dual Degree graduates can work professionally both in the public and private sectors. In this regard, they have the advantages inherent in holding two official degrees, and, depending on their preference, they can orient their professional career towards the fields of law or economics-business or both, as they have knowledge that those who only hold one degree do not have.

Thus, the profile of graduates, on the one hand, is identical to that of Law Degree graduates and, with the exception of lawyers or prosecutors (given that as of 2011 Law graduates will no longer be able to enter these professions directly from an undergraduate degree, but will have to do a postgraduate degree), they can carry out all those professional activities related to the legal world. The enormous number of competitive examinations open to graduates is especially noteworthy. These are examinations in areas such as judicature, notaries, prosecution, state legal service, etc…. for which, in some cases, knowledge in Economics and/or Business Administration can prove very useful and place them in a privileged position in comparison with their competitors.

Furthermore, focusing on the economics-business branch, graduates leave the University with the possibility of carrying out any job within the area of business management or management of public institutions, and that is not including the fact that they also have sufficient capability to create and manage companies of their own. And, in the same way, the rigorous legal knowledge they have makes it possible for them to professionally advise companies on legal matters from a privileged position in comparison with their competitors.

Basic skills:

Mastery of individual study techniques.
Capacity for oral and written expression
Use of books and other complementary materials.
Management of computer and audiovisual resources.
Performance of practical activities.
Personal compilation of works and exhibitions.
Teamwork practice.
Development of social, economic and environmental sensitivity.
Acquisition of a civil, ethical and deontological commitment.


General Skills:

Development of personal criteria in the selection and application of knowledge.
Skills in seeking information from various sources
Participation in seminars, tutorials and other academic activities.
Ability to organise, analyse and synthesise.
Capacity for oral and written expression in specific matters.
Collective discussion skills
Development of social, economic and environmental sensitivity.
Acquisition of a civil, ethical and deontological commitment.
Identification with the main principles and values of the culture of peace and democratic political systems.
Awareness of the importance of recognition and defence of fundamental rights.
Acquisition of a personal and collective commitment to respect for and protection of the principles of gender equality and equal opportunities and universal accessibility of disability.

Specific skills:

Oratory and techniques of legal argument.
Data evaluation and processing skills.
Organisational skills and critical knowledge management.
Capacity for critical thought.
Resolution of complex legal problems
Initiation to research techniques.
Mastery of fundamental concepts and principles of the various sectors of the legal system.
Contact with professional legal practitioners.
Ability to handle legal sources (legal, case law and doctrine).
Drafting of legal documents and reports.
Ability to address and resolve legal questions in one or several foreign languages.
Knowledge of legal techniques required to hold responsible posts in various Public Authorities.
Legal knowledge adapted to the business sphere and commercial relations.
Knowledge and skills in the fields of management, auditing and consultancy.
Familiarity with the procedural phases, formalities and principles specific to the various jurisdictional orders.
Acquisition of knowledge and skills required to act professionally in international and Community spheres, organisations and institutions.
Negotiating and reconciliation skills between conflicting interests.

General skills in Economics

Competence and Authority:

Understand the functioning of the economy as the efficient assignation of scarce resources without forgetting the importance of fairness.
Identify economic problems and provide creative solutions, based on a theoretical and rigorous empirical analysis.
Ability to relate the results of the analysis with public and private policies, taking into account the incentives and institutions.
Entrepreneurship and readiness to assume risks.

Description of the skills and competence:

Through the descriptive report content and the tutor's assessment, the committee will seek to evaluate the following skills and competence:

Ability to analyse and synthesise.
Ability to organise, plan and manage information.
Ability to resolve problems and make decisions.
Critical reasoning
Creativity
Motivation for a job well done
Ability to motive the relevance of the problem which is the subject of the study.
Knowledge of statistics, business mathematics and IT, relevant to the work carried out.
Identification of relevant information for problem solving.
Ability to devise and construct models.
Data analysis
Knowledge, identification and selection of statistical sources.
Interpretation of results
Drawing conclusions and drafting reports.
Identification of relations or associations.
Quantitative thinking and reasoning.
Development of capacity of abstraction.
Studies with bilingual option
In this degree, the university offers the opportunity to study in English more than half of the subjects of the studies program. Once you have been admitted, you will choose, at the time of enrollment, the language in which you will study in accordance with the following conditions:
In groups in English, all works (classes, drills, exercises, tests, etc.) will be conducted in English.
Along the first year, it must be established an English B2 level, performing a test, providing one of the supported official certificates or any way determined by the university. In the first weeks of the course will inform students how they can prove their level.
The courses offered in English are in the studies program.
In case there are more applications than places available in English, interested persons will be ranked according to their admission grade.
If you are enrolled in English and exceed at least 50% of the credits offered at the UC3M, in the DS appear a mention of bilingual studies.