Bachelor in Film, Television and Media Studies
Bachelor in Film, Television and Media Studies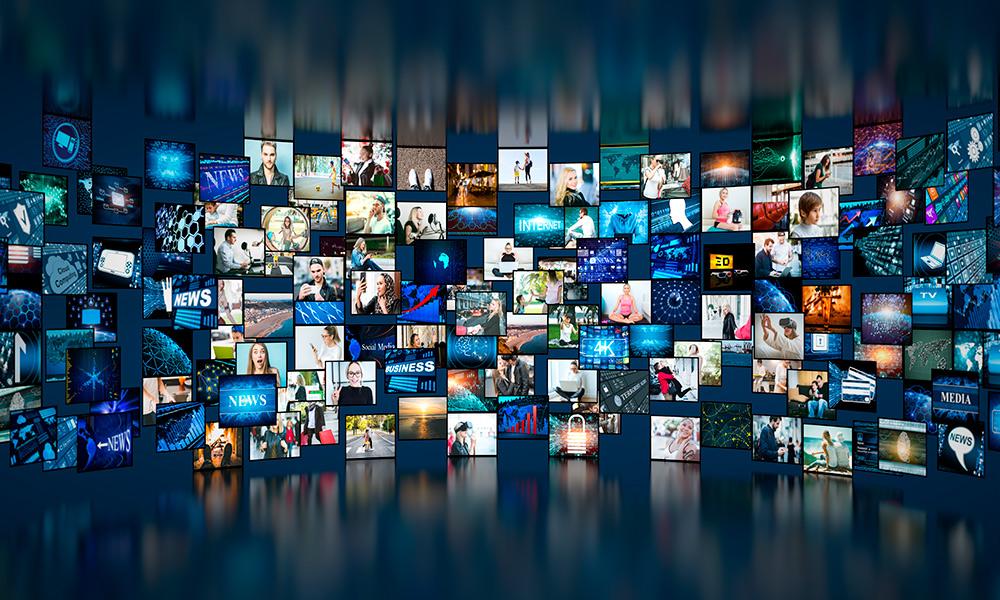 Duration

4 years (240 ECTS credits)

Centre

Language

Bilingual, Spanish
The Bachelor's Degree in Film, Television and Media Studies offers in-depth knowledge of audiovisuals in the digital era, stimulating students' critical thinking by honing their aesthetic and creative skills.
Its goal is to train professionals in audiovisual production and distribution, television, radio, cultural management, audience analysis and online audiovisual content management. It also trains students to use technologies applied to scripts, production and audiovisual film and videomaking, image and sound editing, graphic design, camera operating techniques and multimedia communication, as well as basic tools to analyze and research media markets.
An important part of our teaching is carried out at the University's radio stations and television sets in small groups. Theoretical and practical classes are instructed in a bilingual modality, English and Spanish, by highly qualified faculty.

Employability and profesional internships
UC3M has agreements with over 3000 companies and institutions in which students can undertake internships and access job openings.
A total of 93.4 % of graduates from this University enter the job market the first year after finishing their studies, according to the 2019 XXIV Estudio de Inserción Profesional (Professional Placement Study).
International Excellence
Program

Program modified in 2017. In 2020/21 it will be completely implemented.

Language requirement: a B2 level of English language must be accredited before finishing the studies. More information.

*About electives:
1. - The student may choose the set of electives that s/he wishes as they deal with subjects of a generalized nature.
2.- Notwithstanding, in order for the European Diploma Supplement (EDS) to recognise that the student has expanded his/her studies, the student must have successfully completed at least 6 subjects in any of the intensifications:

(1) Training in cinema
(2) Training in television
(3) Training in audiovisual media, culture and industry

TYPES OF SUBJECTS

BC: Basic Core
C: Compulsory
E: Electives
BT: Bachelor Thesis

 

Previous program

Old curriculum

Study plan for students who started in the academic year 2015/16 or earlier.

In 2020/21 this program won't be offered.

*About electives:
1. - The student may choose the set of electives that s/he wishes as they deal with subjects of a generalized nature.
2.- Notwithstanding, in order for the European Diploma Supplement (EDS) to recognise that the student has expanded his/her studies, the student must have successfully completed at least 6 subjects in any of the intensifications:

(1) Training in cinema
(2) Training in television
(3) Training in audiovisual media, culture and industry

TYPES OF SUBJECTS

BC: Basic Core
C: Compulsory
E: Electives
BT: Bachelor Thesis

 
Exchange programs

Exchange programs

The Erasmus programme permits UC3M first degree and post graduate students to spend one or several terms at one of the European universities with which UC3M has special agreements or take up an Erasmus Placement, that is a work placement or internship at an EU company. These exchanges are funded with Erasmus Grants which are provided by the EU and the Spanish Ministry of Education.

The non-european mobility program enables UC3M degree students to study one or several terms in one of the international universities with which the university has special agreements. It also has funding from the Banco Santander and the UC3M.

These places are offered in a public competition and are awarded to students with the best academic record and who have passed the language threshold (English, French, German etc..) requested by the university of destination.

European mobility
Non european mobility
Entry profile

Entry profile

The recommended entry profile is as follows:

Skills:

Creative, critical students who are rigorous in their studies, able to organise, work in teams and dedicated to continuous theoretical and practical training.

Knowledge:

General education as required by Bachiller education or equivalent, knowledge related to Social Sciences, Literature and Art (especially in the area of Image).

Interests:

Students interested in the following areas of audiovisual communication:

Creation and innovation, development of the different audiovisual languages in a context of permanent hybridization (cinema, television, video, radio, advertising, comics, multimedia).
Design, planning and organization of human, technical and financial resources, for the production of audiovisual works.
Knowledge of audiovisual studies, culture and industry from an academic, critical viewpoint.

Graduate profile

Graduate profile

The degree program in Audiovisual Communication is designed to produce four different graduate profiles:

Audiovisual director, scriptwriter and producer

A professional specialized in script and directing tasks and the direction and production of different audiovisual media- cinema, television, video, advertising, radio, computer graphics and hypermedia- with a knowledge of technical processes and expressive resources. A multi-skilled professional capable of executing a project, a work plan and an agreed budget.

Audiovisual producer and manager

A professional who designs, plans and organizes human, technical and financial resources for the production of audiovisual works in all their various formats. Someone who knows the techniques and processes of audiovisual creation and the legal and political mechanisms of communication. An executive producer who will create, buy rights, develop and market projects, able to direct and manage an audiovisual and multimedia production company.

Design of visual and sound production and postproduction

An expert in the design of all aspects related to sound, image and graphics in the different stages of audiovisual production. The professional profile also covers interactive environments for the creation of productions targeted at Internet, video games and digital environments.

Researcher, teacher and expert in visual studies

A teacher in higher or medium education who will teach subjects related to communication and new audiovisual technologies. An analyst of the political-economic and cultural factors of the audiovisual sector. A specialist in audiovisual economic and cultural policies.

General skills in Film, Television and Media studies

GENERAL SKILLS:

Critical, analytical and reflexive ability in relation to audiovisual matters, with technical and aesthetic knowledge of the forms, processes and trends in audiovisual communication in contemporary society.
Knowledge of the main events and messages shaping the current audiovisual scenario, awareness of iconic and acoustic representations and their development.
Knowledge of the techniques and processes of audiovisual creation and diffusion in its various phases, in addition to the relations between those involved in audiovisual communication, namely authors, institutions, companies, media, formats and receivers.
Knowledge of methodologies and concepts applicable to different branches of research, development and innovation in audiovisual communication and future technological environments.
Education in Human Rights, democratic principles, principles of gender equality, solidarity, environmental protection, universal accessibility and design for all, and promotion of a culture of peace as indicated in the preliminary recital of RD 1393/2007.

SPECIFIC SKILLS:

Disciplinary:

Knowledge of the history and development of audiovisual media through their aesthetic and industrial proposals, in addition to their social and cultural relevance over time.
Knowledge and application of the techniques and processes of audiovisual production and diffusion in their various stages, from the perspective of organisation and management of technical , human and budgetary resources in their various formats up until commercialisation.
Theoretical and practical knowledge of organisational structures in the field of visual and sound communication, as well as development and management over time. It also includes the knowledge and research into the nature and relations between those involved in audiovisual communication.
Knowledge and application of techniques and processes of audiovisual creation and diffusion in its various phases, both in cinema and television, video and multimedia from the perspective of production and staging, from the initial idea until the final presentation.
Theoretical-practical knowledge of the legal mechanisms affecting audiovisual and communications as well as the legal aspects of its application in audiovisual productions. This also includes knowledge of ethical principles and deontological regulations of audiovisual communication.
Knowledge of the state of the world, in addition to its recent historical development, and the ability to understand its basic parameters (political, economic and cultural).
Knowledge of correct oral and written and use of own languages as a form of professional expression in the audiovisual industry.
Knowledge of other foreign languages (in particular those of greater international diffusion) in order to address specialised literature in other languages and analyse facts and general issues customarily addressed in the communications media and in international audiovisual productions.
Knowledge and application of different mechanisms and elements of the script construction, bearing in mind the different production formats, technologies and supports. This includes theoretical and practical knowledge of analysis, systematisation and coding of iconic content and audiovisual information in different formats and technologies.
Knowledge, identification and application of resources, elements, methods and procedures of the processes of construction and analysis of audiovisual narratives both linear and non-linear.
Theoretical and practical knowledge and use of technologies applied to audiovisual communications media.
Knowledge of the spatial image and iconic representations in that space, both in terms of fixed and audiovisual images, in addition to the component elements of artistic direction. These skills also cover the relations between sound and image from an aesthetic and narrative perspective in various audiovisual formats and technologies. They also include knowledge of specifically developed psychological models developed for visual communication and persuasion through images.

Professional:

Ability and skill to plan and manage human, budgetary resources and technical media in the various production stages of an audiovisual work.
Ability to create and direct the staging of audiovisual productions (cinematographic or videographic narrative, or production for TV), directing the actors and adjusting the script , creating a work plan or preliminary budget.
Ability to use techniques and processes in the organisation and creation of the various stages of construction of an audiovisual production.
Ability to apply techniques and procedures of image composition to the various audiovisual formats, based on knowledge of the classic laws and aesthetic and cultural movements of the history of image.
Ability to write fluently creating texts, play lists or scripts in the field of cinematic, televised , videographic, radiophonic or multimedia creation.
Ability to analyse audiovisual narratives, using the basic analytical parameters of audiovisual works, considering iconic messages as texts and products of the socio-political and cultural conditions of a specific historical period.
Ability to identify the processes and techniques involved in the management and administration of audiovisual companies in their industrial structure: production, distribution and exhibition, in addition to interpreting statistical data in the audiovisual market.
Ability to see, select and systematise any type of audiovisual document or document relating to audiovisual communication in a database.
Ability to carry out an analysis of structures, contents and styles of televised and radiophonic programming, in addition to the different variables that influence their configuration and the subsequent processes that these generate in communicative and spectacular terms.
Ability to manage the technical organisation of sound and visual materials in accordance with an idea, using narrative techniques and technologies needed to create, compose and complete mastering of various audiovisual and multimedia products.

Academic:

Ability to interpret and analyse different contemporary literary, artistic and aesthetic movements in order to appreciate their functions and relations from the context of contemporary audiovisual culture.
Knowledge of theories, methods and problems of audiovisual communication and its languages which serve as support for their activity, based on the requirements established as knowledge or disciplinary and professional competence.
Ability for adequate use of technological tools in the various phases of audiovisual process in order for students to express themselves through audiovisual images or discourse with the essential technical quality.
Ability to explain adequately (both to a specialised and non-specialist public) the results of the research albeit orally or through audiovisual or computerised means in accordance with the appropriate canons of communications discipline.
Ability to define and develop research topics or innovative personal creation which is able to contribute to the knowledge or development of audiovisual languages or their interpretation.
Ability to incorporate and adapt to a professional audiovisual team ensuring the compatibility of private interests and collective project interests.
Ability to critically perceive the audiovisual scenario offered by the communications world that surrounds us taking into account iconic messages and the result of a specific society, product of the socio-political and cultural conditions of a specific historical period.
Ability to assume the leadership in projects requiring human and any other resources of any kind, managing them efficiently, assuming the principles of social responsibility.
Ability to resolve tasks in an orderly and methodical manner. Ability to organise and plan tasks, carrying them out in an ordered manner and employing logic in making essential decisions in the various audiovisual production procedures.
Ability to develop theoretical and practical skills needed to undertake postgraduate studies with a considerable degree of autonomy.
Bilingual studies
This degree courses in English and Spanish. In the courses taught in English there aren't groups in Spanish, so there isn't possibility to choose the language in which you will carry out your studies. You must take into mind that:
In groups in English, all works (classes, drills, exercises, tests, etc.) will be conducted in English.
Along the first year, it must be established an English B2 level, performing a test, providing one of the supported official certificates or any way determined by the university. In the first weeks of the course will inform students how they can prove their level.
After completing the studies, in your DS will appear a mention of bilingual studies.