Leisure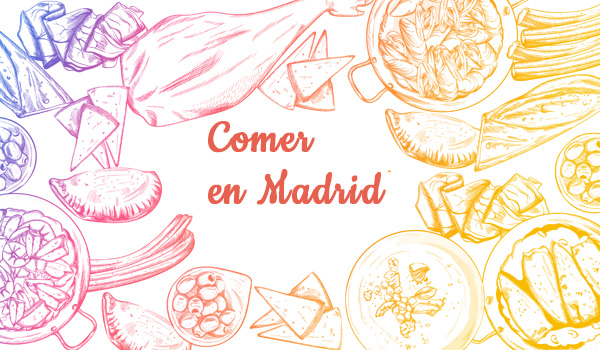 In Madrid, eating is a pleasure and going out for tapas and beers is even better. Together with its nightlife, eating in Madrid is the city's quintessential lure: an enormous culinary selection on offer, varied and delicious in equal parts, with thousands of flavours to choose from.
Fancy some Iberian pork belly toast for 3 euros? In the La Latina neighbourhood, famed as a typical place to cañear (having something to eat with a small beer), the most popular Sunday plan is having a look round the Rastro market, and then going for tapas on Cava Baja street. However, if we stray a little from the hustle and bustle of the main street, there are hidden places with plenty of charm, such as Andalusian-style tabernas.
Behind the Plaza Mayor, or the Main Square, you can find some of the most beautiful old-fashioned bars of Madrid, full of charm and character, categorised as 'tabernas históricas'. They offer wines and small dishes, both traditional and high-quality: from a typical Spanish potato tortilla to huevos rotos (literally broken eggs) at a price that's more budget friendly than the terrace bars dotted around the main square and where customers typically order portions of patatas bravas, jamón ibérico or a classic bocata de calamares.
Just a stone's throw away from Chueca square, where the atmosphere gets more chic by the day, there are still bars that haven't succumbed to modernity just yet, as well as elegantly designed restaurants that hold on to the area's longstanding character. With a lively and international environment, where huge tapas dishes are served for free with beer. You can have dinner with just a couple of cañas!
In Madrid's most multicultural neighbourhood, Lavapiés, you'll find all kinds of bars and restaurants with tastes spanning from India, Burma, Morocco and more. There's also plenty of places for tapas and beers with terraces spilling out onto the famous Argumosa street, where you can take in the area's neighbourly and international atmosphere. Lavapiés is also where the city's young hipsters come at weekends.
MADRID'S GOURMET MARKETS
Ever since the opening of the legendary San Miguel Market, today swarmed with tourists thanks to its excellent location next to the Plaza Mayor, the city's markets have jumped on the trend of adding food and drink stalls. Today, they're unbeatable places to eat in Madrid. Here are three:
Mercado de San Antón
Both buzzing and elegant, the best part of this market is its wide and comfortable terrace. Display windows with regional and world foods make for a variety of pinchos and tapas for you to combine as you see fit: a Greek beer or an exquisite, volcanic malvasía wine from the Canary Islands? How about Lanzarote-style papas con mojo or moussaka from the far reaches of the Mediterranean?
Mercado de San Ildefonso
A street market concept inspired by London or New York, with a jumble of floors and patios lined with typical Spanish products: Iberian ham tapas, fried fish, assorted croquets and more. Maybe it's not quite as affordable as the traditional bars, but the atmosphere and location are worth it.
Mercado de San Fernando
At first sight, this market is a little less spectacular than the others, but it's definitely more alternative and budget-friendly. At weekends, its central atrium becomes a bustling party, with Brazilian batucada, ethnic dances and other performances. Don't miss out on stands selling eco-friendly wines, freshly-cut sushi and products from Granada, where you can enjoy a good glass of wine with artisanal cheese.
MADRID'S CUISINE
Since the city is where people from all over the country converge, Madrid's gastronomy has been steadily absorbing traditional dishes from the different regions of Spain over time, improving them generation after generation until the capital's cuisine became representative of the country's cuisine. It has become recognised beyond our borders and is based mainly on fresh produce from the surrounding province. No one is indifferent to this culinary experience.
So, what delicacies hide amongst Madrid's cuisine? Tasty escabeche marinades, the classic cocido, callos a la madrileña, sopa de ajo and huevos estrellados are just a few of its famous dishes. Below, you'll find a few tasty morsels that represent the very best of our traditional cuisine.
El cocido madrileñoStews and soups are a quintessential part of Madrid's gastronomy, and perhaps the most famous of them all is the cocido madrileño. Each home makes it differently, but its basic ingredients are the same: broth, chickpeas, vegetables and assorted meats.
Callos a la madrileña Callos a la madrileña is another of the area's typical stews. As it's full of calories but highly affordable, callos was made to be a typical dish for the poorer part of the population which they could eat during the harsh winters in tabernas and the less ostentatious establishments. However, over time, this hearty dish has grown in popularity and is served in even the most exquisite and modern restaurants.
El bocadillo de calamares This famous calamari sandwich is the one that best represents us madrileños. Its greatness lies in its simplicity, and while Madrid's cuisine has evolved over time, this sandwich remains unwaveringly successful. Going to Madrid without trying a good bocadillo de calamares is sacrilege, so this simply has to be your first stop on your culinary journey around the capital.
Soldaditos de Pavía In every city, there are traditions than tourists should follow when they visit, and trying Soldaditos de Pavía in Madrid is one of them. These delicious pieces of breaded cod get their name from their colour, which resembles the uniform worn by the Spanish tercio infantry units at the battle of Pavia.
Gallinejas and entresijos The most traditional of Madrid's offal dishes are gallinejas and entresijos In fact, you can't eat it outside of the capital because it's simply not found anywhere else. There are very few places left that actually serve this dish, as it's not for everyone. Gallinejas and entresijos are different parts of the intestines of a suckling lamb which are fried at a very high temperature and eaten in a sandwich.
Los huevos rotos or huevos estrellados These egg-based dishes aren't exclusive to Madrid and are ordered as a shared meal across the country but, like with any of the countless tapas available at the city's various markets, the huevos rotos here are known the world over.
And if you're in the mood for something sweet, there's plenty to choose from!
Madrid has a long-held tradition in confectionary and anyone visiting Madrid simply must try (or at least take a peek at) some of the city's most iconic sweets.
Bartolillos: This typical pastry is usually made during Semana Santa (Holy Week). Similar in appearance to a small empanada or pastry but triangular in shape, bartolillos are made of thin pastry and custard.
Buñuelos de viento (Nun's puffs): This typical madrileño dessert is usually served at All Saints' Day celebrations. They're balls made of flour, butter and eggs which are fried in hot oil. The filling can vary, with common options being custard, chocolate or Chantilly cream.
Torrijas: a quintessential treat during Semanta Santa which is enjoyed across the country, though these slices of bread soaked in egg, milk or wine get a special touch in our region thanks to the honey we slather them in.
Churros and porras: while they're not exclusive to Madrid, they're probably the most popular. The recipe is really quite simple, with the ingredients being water, sugar, salt and flour, all of which is later fried together in olive oil. Both churros and porras are usually eaten with a cup of hot chocolate. The most famous place to have them, which you simply cannot pass by without entering, is: San Ginés.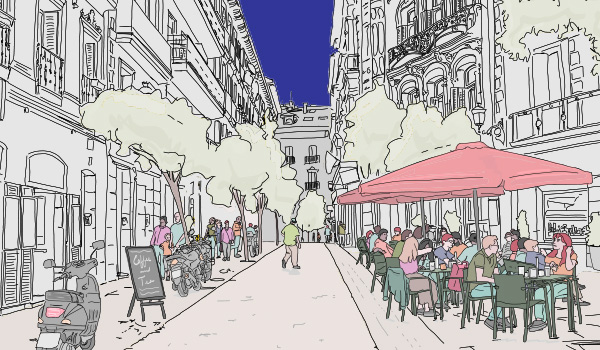 If there is one thing that sets Madrid apart from the rest of Spain's cities, it has to be its fabulous nightlife. It carries you away like a magic blanket that, instead of making you fall asleep, takes you on a journey through the city streets until the next morning when you find yourself admiring the sunrise while contemplating a breakfast of hot chocolate and churros at San Ginés. While Getafe and Leganés have areas with plenty of nightlife, the most popular districts for a night on the tiles are in the capital city:
HUERTAS – The centre of Madrid's nightlife is just around the corner from Puerta del Sol. The bars and nightclubs are found mostly on Huertas street, Cruz street and in Santa Ana square. If you can't find a bar that suits your style, it's because you are either truly unique or because you simply haven't got one. Huertas is very popular among tourists and students.
CHUECA – Some say Chueca is the SOHO of Madrid. It is Madrid's gay district, with a large number of bars aimed at the LGTB community. As with other areas, you need to explore the neighbourhood well to find the bar or pub you like the most. Start your night off here with a few drinks on some of its open-air terraces.
MALASAÑA – This district in the centre of the city saw the birth of the "Movida Madrileña", or the Madrid Scene, a famous cultural movement of the 1980s. The neighbourhood is known for its bohemian and alternative atmosphere. If you want to listen to rock, punk, metal, indie or electronic music, this is the area for you. Another interesting aspect of this district is that its atmosphere doesn't stay locked inside its bars and clubs, but flows into the streets.
LA LATINA – Just below the Plaza Mayor, the La Latina neighbourhood extends between the Paja square and the Cebada square. The area has many tapas bars, restaurants and pubs, so it's ideal for having dinner or a few drinks before heading off to party.
TORRE EUROPA – Near the Santiago Bernabéu stadium, this area is considered to be one of Madrid's most chic spots for nightlife and features a large number of trendy bars. Although that undoubtedly depends on what you like. If you're into classy bars and the latest trends, this will likely become your favourite place for going out.
ARGÜELLES-MONCLOA – With a ton of university residence halls nearby, you can imagine what you'll find in this popular area for nightlife in Madrid. The crowds here are usually a little younger than in other party districts in the capital, and the atmosphere is magnificent.
LAVAPIÉS – This neighbourhood is ground zero for the cultural fusion that Madrid has undergone in recent years. Indian restaurants are interspersed with authentic Madrid taverns. The neighbourhood is famous for its San Lorenzo festival, which is held in August and attracts many locals, as well as Tapapiés, a very international tapas tour that has become a must-attend event.
By now, you'll probably have heard the popular saying "De Madrid al Cielo", translated as "From Madrid to Heaven", because above the noise of the streets, traffic and floods of tourists, there are sky-level paradises where you can enjoy a beer while watching the sunset and the Madrid skyline: the rooftop bars, restaurants, hotels and even stores have been turned into small peaceful oases away from the bustle of the city below. So when the good weather arrives, we encourage you to check out all the rooftops the city has to offer so you can pick your favourite one.
UNDER THE SHADE OF PARKS AND GARDENS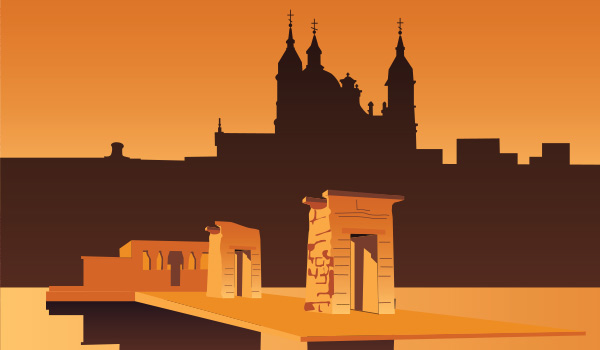 Madrid is known for its extensive green areas. The city's main artery, el Paseo de la Castellana, or Castellana avenue, is a wide boulevard that cuts across the city from north to south and is surrounded by trees on both sides.
The most famous parks in the city in terms of historical importance and popularity are the following:
Retiro Park is located in the centre of the city next to the famous Puerta de Alcalá. It used to belong to the Royal Family, before they donated it to the people of Madrid in the 18th century. It is known for its large pond where visitors can rent boats, for its Crystal Palace where cultural exhibitions are often held and for the countless urban artists, puppet shows, dance groups, etc. that inhabit every corner of the park.
The Madrid - Río park is a relatively new and expansive area built along the shore of the Manzanares river. Its spaciousness is ideal for outdoor activities like cycling, roller skating, jogging, etc. Near Madrid - Río you'll find the "Matadero", a former slaughterhouse that supplied the city with meat. Today, it is one of the city's most active cultural areas where concerts, performances and exhibitions are held and where visitors can enjoy a beer or dinner.
The Temple of Debod is one of the city's most emblematic spots to enjoy nightfall. Located on the western side of the city, the sunsets here are second to none. The park is known for the Egyptian temple sitting smack bang in the centre — it was moved stone by stone from Egypt to our city.
El Parque del Oeste, or Western Park, is right next to the Temple of Debod and extends all along Pintor Rosales avenue. It's famous for its rose garden. You can also jump on the cable car in Parque del Oeste that will take you directly to Casa de Campo, or the Country House park.
Casa de Campo is Madrid's largest park and is located on the outskirts of the city. While it's called a park, it's more of a wooded area that used to be the hunting grounds of the royal family. Despite its rather large size, you can get there by metro or by the famous cable car that starts in Parque del Oeste. Casa de Campo is the home of the Madrid's Theme Park and Zoo.
While Capricho park is the less well-known and smaller than the above parks, it's much more exclusive and secluded. It's filled with outdoor sculptures and nooks and crannies where you can read or relax in peace..
La Quinta de los Molinos or the Windmill Farm, is a vast plot of land dotted with cherry trees. This rustic estate is truly worth a visit; for a moment, you forget that you are still inside the city of Madrid. The best time to visit the park is in March when the cherry trees bloom and the farm is flooded with white flowers.
The Botanical Gardens sit adjacent to the Prado Museum. The perfect way to spend a day is by starting in the Museum and spending the afternoon in the Gardens. Like other parks in Madrid, it belonged to the royal family before being donated to the public for everyone's enjoyment. Outdoor concerts are held here in spring and summer as part of the "Nights in the Botanical Gardens" concert series.
​Find more information on the public parks and gardens of Madrid.
In Getafe, the Cerro de los Ángeles, or Hill of the Angels, is the geographical centre of the peninsula and a nice place to spend the day. This spot is known for a pilgrimage that takes place every year during Getafe's annual festival. Every year, on 17th June, participants carry a wooden carving representing the Virgin Mary from the hermitage on the hill to the Cathedral in the centre of the city.
There are many parks and gardens in Leganés, including the Los Olivos Park and Polvoranca Park. Find more information.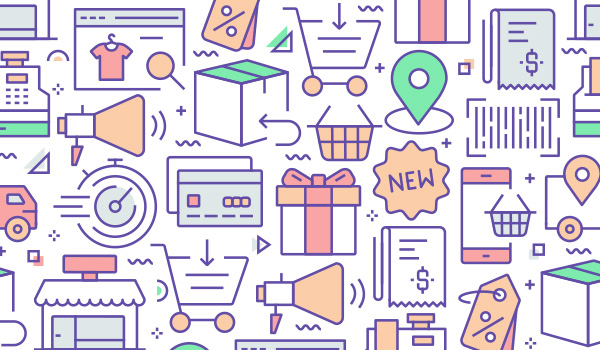 Madrid is a one-of-a-kind city in Europe for shopping. Thanks to its size, you have access to the best boutiques in the world within a small radius. Likewise, you are within reach of urban markets ("mercadillos") where you can find authentic gems, including all kinds of clothing, as well as shopping streets where you will find all the big brands side by side:
The Milla de Oro or Golden Mile, is located in the Salamanca district, running along Ortega y Gasset street to Serrano street. Here, you'll find the most exclusive boutiques. Keep in mind that you can get VAT back on your purchases in certain situations.
Gran Vía is another of the major shopping districts in the city. You will find the most popular brands for all budgets on a street spanning just over a kilometre. Relish in the experience of strolling down Madrid's Gran Vía and enjoying the views of its stately buildings from the early 20th century.
Goya street (and the surrounding neighbourhood) is a chic area for shopping. Next to the most popular fashion brands you'll find exclusive mid-priced boutiques. Right next to Goya street lies Jorge Juan street, where you can enjoy a drink at some of the city's most trendy bars and restaurants.
Madrid's El Rastro is known worldwide for its tradition and history. This outdoor market is bustling with people and stands where you can find an untold variety of objects, items and souvenirs. Just take the metro to La Latina, Tirso de Molina or Lavapiés. Get off at any of these stops and wind your way south through the crowds toward Cascorro Square, where you'll stumble upon the streets packed with stands and people. It's a truly unforgettable experience.
Wholesale Markets: Madrid is also popular for its recently renovated wholesale markets. These traditional markets where locals used to purchase basic supplies for their homes have recently been renovated to house bars and restaurants. However, at most of these markets you can still buy everyday products like cheeses, cured meats and canned products, so there is no reason not to go. The most noteworthy markets are San Miguel, San Antón, Santa Isabel (in front of the classic Doré cinemas), La Cebada and San Fernando, among many others. Make sure to visit them all!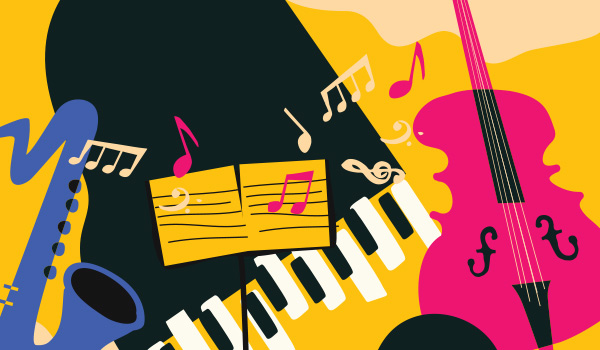 We Spaniards live and share music on the street, and music flows from every corner in the capital. Enjoy crowded festivals and outdoor concerts to famous musicals in theatres along Gran Vía, operas in the Royal Theatre, classical music concerts and more.
And, of course, listen to live music every night of the week in a wide range of bars, clubs, rooftops, music halls and even in the Royal Botanical Gardens or the gardens of the Royal Palace.