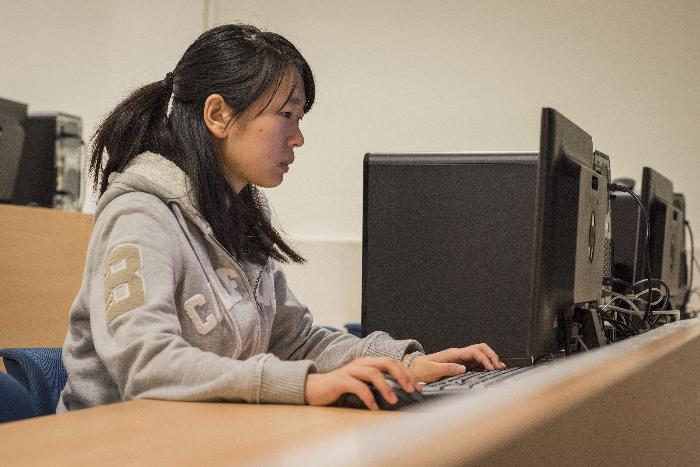 It is a test designed for members of the university community that can be taken in German, French, English, Italian and Portuguese in order to assess students' language skills from A1 to B2 level. The fee is €40 for each test.
If you need to prove that your level is C1 or C2, you need to take a language official examination.
The results of the test are valid exclusively for university admin procedures and they will be part of each student's language passport. They will be valid throughout their university life and students will not need to repeat the test. Depending on the results, the test:
The test-type exam comprises four parts:
Grammar: 20 questions
Use of language: 15 questions
Listening comprehension: 10 questions. For each question, the candidate will listen to a recording (up to 3 times)
Reading comprehension: 10 questions
The test is computer-based and must be carried out in person in one of the university ICT rooms.
The questions are:
Multiple-choice (one possible correct answer)
Open questions (full answers have to be typed in)
The test is 'adaptive', that means that the level of difficulty of the questions will raise or drop depending on the candidate's previous answers. At the bottom of the screen a colour-changing bar will keep the candidate informed about their progress throughout the test sections and questions.
Tests take place nearly every month on the different university campuses. To book your place you have to:
Check the calendar for exam dates availability;
Pay the exam fee before the deadline expires, using the form available through the link at the bottom of the exam calendar;
After the deadline for paying the fee has expired, you will receive an email confirming the date of your exam.
In case you cannot attend one specific timetable due to a compelling reason, please send us an email just after the payment to take it into consideration.
Terms of cancellation and refund policy.
The fee paid in each exam session is valid exclusively for that session and cannot be used for a different one.
The fee paid cannot be refunded, unless exceptional circumstances are proven.
This might also interest you