Becas Fundación Universia para estudiantes con discapacidad, curso 2019- 2020
Becas Fundación Universia para estudiantes con discapacidad, curso 2019- 2020
Application data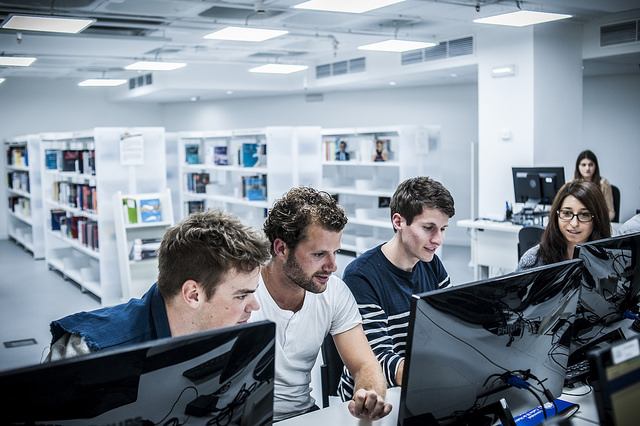 Recipients

Undergraduate students. Master's students. Incoming first-year students

Convening Entity

Public or Private Entities. Fundación Universia

Type of financial assistance

Financial aid/scholarship or grant

Purpose

Persons with disabilities

Current status

Closed deadline

Application deadline

Hasta el 18/10/2019
Fomentar la inclusión sociolaboral de las personas con discapacidad, contribuyendo a hacer efectivo el principio de igualdad de oportunidades a través de una educación inclusiva.
Modalidades- Tipos de becas
De Acceso: dirigidas a estudiantes que se matriculan por primera vez en estudios universitarios de grado.
De Progreso: dirigidas a estudiantes que ya hayan accedido a la universidad.
De Movilidad: dirigidas a estudiantes que, en virtud de un programa de intercambio de la propia universidad, deseen realizar un período de formación, como mínimo de un trimestre, en una universidad distinta a la suya de origen con destino internacional.
De Plan ADOP: Dirigidas a estudiantes deportistas con discapacidad adscritos al Plan ADOP, que vayan a acceder a la universidad o bien, que ya estén realizando estudios universitarios.
De LaLiga Genuine Santander: dirigidas a estudiantes, miembros de algún Club/SAD que participe en LaLiga Genuine Santander que se matriculen en el curso 2019/2020 en formaciones universitarias específicas para "jóvenes con discapacidad intelectual".
Además, de entre todas las solicitudes recibidas en las modalidades de Progreso y Movilidad se otorgarán 5 becas de 5.000€ cada una, a aquellos estudiantes que se encuentren en los últimos cursos de grado o máster.
Number of scholarships available
Fundación Universia adjudicará, un número variable de becas en la convocatoria 2019-20. La cuantía de cada beca será variable, determinándose en función de un ranking de puntuación según el cumplimiento de los requisitos previamente fijados.
El presupuesto total para el Programa es de 231.000 euros.
Estudiantes españoles o extranjeros residentes en España que se encuentren matriculados o estén en condiciones de matricularse, por primera vez, en:
Enseñanzas de grado y de máster impartidas por cualquier universidad del mundo o a alguna de las formaciones específicas para "jóvenes con discapacidad intelectual"
Que acrediten legalmente una discapacidad igual o superior al 33%.
Asimismo, se incluirán las enseñanzas de planes de estudio antiguos y titulos propios de máster.
Establecida en la base 6 del texto completo de la convocatoria.
Application and forms
Cumplimentando el formulario on line en la web de la Fundación Universia
Plazo de solicitud entre el 29 de julio y el 18 de octubre de 2018 a las 18:00 (hora peninsular).
Complete terms and conditions
More information
Legal warning