Infrastructure to generate photovoltaic energy
Infrastructure to generate photovoltaic energy
Action: Photovoltaic Energy
Area: Transformation of the campus to develop a social integration model
Action: Installation of an infrastructure to generate photovoltaic energy and charge electric vehicles
Objetives: In the area of sustainability, a UC3M main objective is to become a showcase for the viability of this type of solutions as well as for renewable energies.
This action aims to contribute to the fifth objective of Campus Carlos III which is Fomenting a sustainable interurban campus as an energizing force for the surrounding community of the Madrid Region.

Universidad Carlos III de Madrid signed an agreement at the end of December, 2010 with the company Sendekia, SA, for installation on the Leganes campus of an infrastructure to generate photovoltaic energy and charge electric vehicles. This project was carried out through the Electronic Power Systems Group. This device, whose installation was recently completed, is located next to the parking garage entrance gate at the corner of Sabatini Street and Universidad Avenue on the campus of Leganes.
The project has been co-financed with funding from Universidad Carlos III de Madrid International Campus de Excellence, CIEMAT, and the companies Fronius and Sendekia. The agreement signed by the Rector determines that the installation shall be entirely on UC3M property for its "sole use and enjoyment".
The project has taken into account the installation's functionality, whereby a structure has been designed that includes three solar panels in the shape of an arbor, located above two parking places. This experimental design also includes an electromechanical device to maximize the efficiency of solar radiation exposure. In addition, a management system is included that allows energy generated to be supplied to the electric network. An electric vehicle charging system will be installed under the arbor, where these cars can park for said purpose.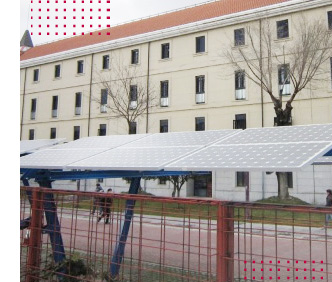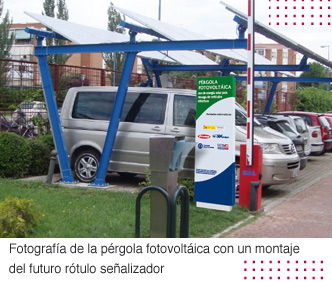 Among other uses, this installation is aimed at evaluation of monitoring strategies which increase energy production with respect to fixed installations, with mobile structures that optimize the balance between energy generated and consumed. The single-axis structure was chosen for this installation as result of previous studies demonstrating this solution's advantages. Furthermore, it is possible to test different solutions and adapt them to future demands of the electric vehicle sector, which will soon be a reality.
The design has thus been optimized for cost minimization and the continuity of the functionality of the space. The space continues to be for parking, which in the future will have priority as electric charging stations. The electric equipment, supplied by Fronius, is state of the art, and the contribution from CIEMAT, the result of an already close collaboration with the Photovoltaic Solar Energy research group, will allow us to construct flexible platforms, in which all the solutions appearing in coming years can be included.
The photovoltaic energy infraestructure has already been installed