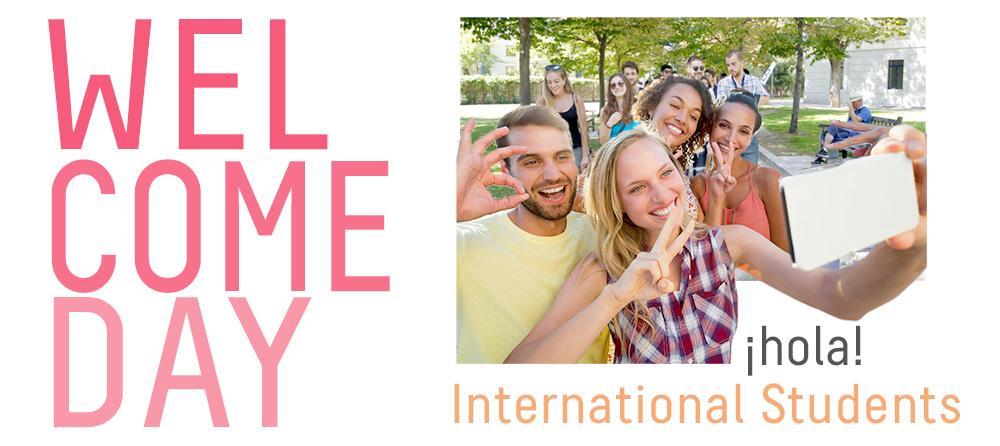 Padre Soler Auditorio - Leganes Campus. January 25, 2019
Carlos III University of Madrid organizes a Welcome Programme at the beginning of the second semester 2018/2019 for the almost 800 international students from the Erasmus + Programme and the Non-European Mobility Programme. It will take place in the Padre Soler Auditorium at the Leganes Campus on January 25th, 2019.
The Welcome Days are organized by the International Relations and Cooperation Service (SERIC) and the International Offices of the different campus, in collaboration with student associations ESN (Erasmus Student Network) and BEST (Board of European Students of Technology).
| Map of Leganes Campus
PROGRAM FOR FRIDAY 25 JANUARY 2019 ON LEGANES CAMPUS
1º Registration and Certificate of Arrival hand out
​From 9:00h to 10:30h. go to the rooms located in the ground floor of Torres Quevedo building at Leganés campus.
1.Remember that you must present your identidy card to get the certificate.
2.Depending on your surname you should go to a specific classroom. You can see them in this mapa
Room 4.0 E06. Surnames from A to Gentile
Room 4.0 E05. Surnames from Georgieva to O
Room 4.0 E04. Surnames from P to Z​
2º Institutional Welcome Session at the Auditorium
From 9.30h you may go to the Padre Soler Auditorium, where institutional videos will be projected.
At 10.30h the Institutional Welcome session will begin:
Welcome by the Director of the Polytechnic School of Leganes, Dr. Prof. Daniel Segovia.
Welcome by the Vice Rector of International Relations, Profª. Dª Matilde Pilar Sánchez Fernández.
Practical aspects for International Students, by the Director of International Relations and Cooperation, Silvia Gallart.
BEST Madrid Carlos III (Board of European Students of Technology) informative talk.
ESN (Erasmus Student Network) informative talk.
Brief closing act by contemporary flamenco dancer Sara Cano.
3º Chocolate and churros
At the students dining room of Padre Soler Cafeteria (ground floor) and in the next Linóleo room. From 11:45 until 12:45h.
Enjoy this traditional Spanish breakfast with other international students.
4º Meeting point with Buddies (UC3M students from the Buddy Programme)
This year all the Buddies meeting will take place at the Portico of Padre Soler Cafeteria at Leganés Campus.
Your Buddy will have contacted you beforehand. Make sure you know his/her identificative number to meet at (location to be confirmed).
Find on the wall of the Portico the number sign, where your Buddy will be from 12:45 until 13:00. He or she will wear an identificative sticker with the same number and a UC3M blue T-shirt
5º Guided visit to the Leganes Sports Centre
From 13:00 to 14:30 h.
There will be a guided tour to the Leganes Alfredo Di Stéfano Sport Center. You will meet the UC3M staff at the student's reception.
YOU CAN ALSO GET MORE INFO AT:
UC3M International Info-point
Information and help desk for International Students..
Room 4.0.D03​ Torres Quevedo Building, from 11:30 a.m. to 1:00 p.m.
Contact:
Getafe Campus: incoming@uc3m.es
Leganés Campus: internationaleps@uc3m.es
UC3M Language Center Info-point
Room 4.0.D02 Torres Quevedo Building, from 9:00 a.m. to 13:00 a.m.
Information point about Spanish Courses for international Students.
The Language Centre of the Universidad Carlos III de Madrid is official examination centre for DELE and SIELE exams.
ESN UC3M Info-point
Room 4.0.D01 in Torres Quevedo Building, from 9:00 to 19:00h
Information and registration point for UC3M Welcome Activities organized by the Erasmus Student Network (ESN).
Also ESN will be available at Getafe Campus Hall of Building 14 from January 28th to February 1st 2019. From 10 to 5 pm.
ESN Activities Programme 2ºC 2019​
Throughout the whole month of February, the Student's Association ESN organizes a variety of cultural, sports and leisure activities, as well as excursions and trips.
Tour to Getafe Sport Center
If you are a student of Humanities or Legal and Social Sciences you can know the Sport Center of Getafe on Monday 28 from 12: 00 to 15: 00 h.
Hosting Companies Info-Point
Room 4.0.E02 Torrres Quevedo Building, from 9:00 a.m. to 7:00 p.m.
Information point where you will meet some companies specialized in shared accommodation for students.
Medical assistance event
The Occupational Health Center on campus will be opened if you need any medical assistance during the event which by their nature or number of people called during the match schedule.
Location on campus: No. Building 2 (Ed Sabatini.) Local 2.0.A10 Phone: 91 624 59 59 Hours: 9:00 to 16: 00h.
BEST UC3M Info-point
BEST, the local group of the Board of European Student of Technology at UC3M is a totally voluntary association.
During the academic year they carry out a diverse program of events, competitions, courses and work fairs for UC3m students.
They will be in the Welcome Day helping the integration of students with entertainment dynamics.
TESTIMONIALS OF UC3M INTERNATIONAL STUDENTS
Redes Sociales:
Publica tus fotos del Welcome Day bajo los hagstags:
#UC3MWelcomeDay #UC3MInternationalStudents
Puedes ver algunas fotos del evento en:
> Welcome Day Photos January 2019
Y en nuestras redes de: