Presentation of the 2019 Explorer UC3M Space awards
Presentation of the 2019 Explorer UC3M Space awards
10/23/19
The Universidad Carlos III de Madrid (UC3M) has presented the awards for the latest edition of Explorer UC3M Space, a youth entrepreneurship programme run by the Centro Internacional Santander Emprendimiento (CISE), with the sponsorship of Banco Santander through Santander Universidades.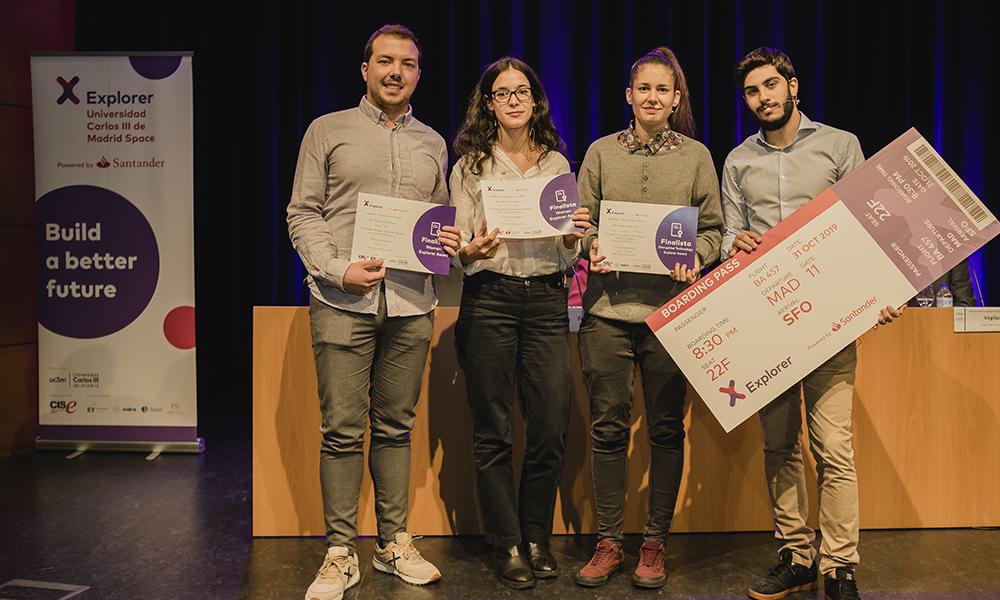 The winning project was Singular Bot, a system which, through machine learning, processes natural language and is able to give recommendations and help with searches to people who are buying in online fashion stores. Thanks to this award, the entrepreneurial team will travel to Silicon Valley on the 30th of October along with participants from other centres of the current Explorer edition. They will also take part in the national "Explorer Awards" final on the 8th of November.
The award for Disruptive Technology went to SenseDrone, a tool that facilitates the management of sports teams in order to improve the performance of its personnel. This service seeks to solve the main problems encountered by the people who make up a sporting entity.
Finally, the Woman Explorer award went to BAR-ID, a biotechnology project that aims to combat the appearance of bacteria which are super-resistant to the action of antibiotics. To do this, they will create a service for the identification of antibiotic-resistant bacteria by means of mass spectrometry, connecting the laboratory with the team of specialists in the shortest possible time. This project has also been selected to participate in the national final of the Explorer programme.
The awards ceremony, which took place today in the Aula Magna of the Getafe Campus, was presided over by the Vice-President for Scientific Policy of UC3M, Juan José Vaquero; the commercial director of Santander Universidades and business director of Banco Santander, Emilia Parejo; and the director of the Support Service to Entrepreneurship and Innovation (SEI) of UC3M, Virgilio Díaz. During the ceremony, Alejandro Vesga, director of Emprendedores Magazine, participated and interviewed participants from previous editions of the programme.
Explorer UC3M Space is an initiative to support entrepreneurship within the framework of Banco Santander's "Young People with Ideas" Explorer programme. The objective is to inspire and enhance the development of their start-ups, providing them with connections for the internationalisation of their projects and the search for financing. The best projects will be able to enter the national competition, Explorer Award, which will give out 60,000 euro in various cash prizes (10,000, 20,000 and 30,000 euro) and other prizes in kind (such as trips to Silicon Valley for the best projects), which total more than 200,000 euro in aid.
More information:
Explorer UC3M Space