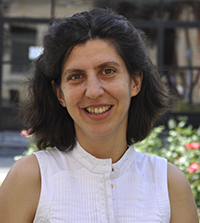 Professor Magdalena Díaz Gorfinkiel
Magdalena Díaz Gorfinkiel has a PhD in Sociology from Universidad Carlos III of Madrid. She obtained a degree in Sociology in Universidad Complutense of Madrid and later completed her postgraduates studies at University of Bath, Siena and Utrecht. Furthermore, she does consultancy work in the sphere of domestic work for the International Labour Organization (ILO).
Her main research interests are Sociology of care, focusing in the analysis of domestic work. Specifically, her research involves the creation of global care dynamics such as transnational social protection or global care chains. Moreover, she analyses the labour conditions of domestic workers and the interactions with Welfare State models and policies.
In this regard, work-life balance policies constitutes another research line, comparing the European scenario and considering communitarian care. Nowadays she participates in the project 'Care in the communitarian sphere. Experiences, practices and links for sustainability of life in Spain and Latin-America', financed by the Ministry of Science, Innovation and Universities (2016-2020).
The results of all these research spheres have been published in national and international journals and conferences.