The new edition of the 'Explorer UC3M' youth entrepreneurship programme has begun
Sponsored by Santander Universities
3/11/22
The Universidad Carlos III de Madrid (UC3M) has selected the entrepreneurial projects that will be part of Explorer UC3M Space 2022, which will take place at the Madrid-Puerta de Toledo Campus.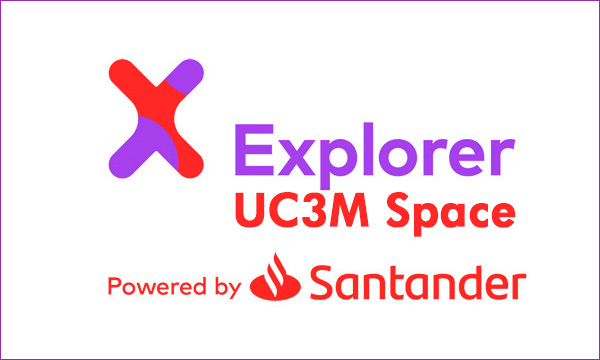 This year, 25 projects have been submitted, involving more than 40 entrepreneurs who were evaluated according to the criteria listed in the programme rules. 15 projects from 12 areas of knowledge were ultimately selected.
The projects that will participate this year are:
5 Senses, which aims to develop a technological platform to solve the day-to-day difficulties of people with functional diversity.
Coaching con Anita (Coaching with Anita), a project for the accompaniment and creation of communities through academic, nutritional, personal and transpersonal coaching.
Consultoras de la felicidad (Happiness Consultants), which aims to develop a digital platform to improve the personal well-being of workers.
Delogys, a service that will use artificial intelligence to offer senior citizens personalised plans with which they can feel active and accompanied.
Graphenergy, for the production of paint with photovoltaic properties capable of transforming solar energy into consumable electrical energy.
Greener City, a project to set up vertical gardens on building facades.
Insecteat, a project that will focus on breeding Tenebrio Molitor, also known as the mealworm, to offer protein solutions for human and animal nutrition.
Investinc, for the creation of an application that allows young people to maximise their savings capacity and improves their access to financial market information.
LiFi4Food, an initiative for the development of sensor networks that use light as an energy source to operate.
Mediación Empresarial / Organizacional (Business/Organisational Mediation), which aims to promote mediation for the resolution of extrajudicial conflicts in companies.
Pareil, a restoration company which promotes access to work for people at risk of social exclusion.
Picmash, for the creation of a mobile application for editing images and graphics.
Teremeg Lab, to develop an artificial skin model which cosmetic and pharmaceutical laboratories can test their products on.
Urbamate, proposes a web application that digitises and optimises the management of residents of the same development.
We Living Madrid, a digital network with a marketplace function for finding an apartment to rent, tenant or person to share with.
Each project will develop their ideas collaboratively and will receive tailored advice and training in innovation and business models at UC3M until June. At the end of this period, the best rated team will receive training and advice from investment companies in different locations, including Silicon Valley.
About the "Jóvenes con ideas" ("Young people with ideas") Explorer programme
This young entrepreneurship initiative is sponsored by Banco Santander, through Santander Universities, and coordinated by the Santander International Entrepreneurship Centre (CISE in its Spanish acronym). UC3M is hosting one of the Explorer Spaces that this programme has distributed throughout Spain, Portugal and Argentina.
More information about the programme