The UC3M awards Alumni 2021 grants
10/21/21
The Universidad Carlos III de Madrid (UC3M) has awarded 15 new Alumni Grants to students with good academic records and limited financial resources who began their undergraduate studies at the University.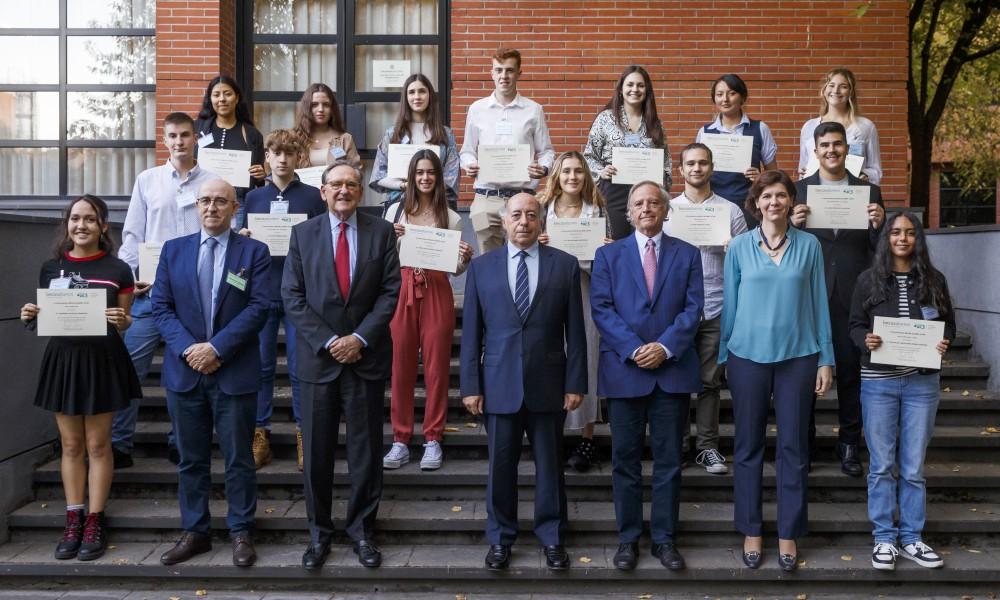 The UC3M Alumni Grants started in 2012 and since then 122 students have been awarded these grants, representing a total commitment of more than 1.5 million Euros. These grants also facilitate the relocation of students and help them settle into the Community of Madrid.
Each grant recipient receives 3,000 Euros per semester (12,000 Euros throughout the entire degree) and requires students to maintain a good academic record. Students who receive these grants have to respond to this opportunity by achieving good academic results and graduating in the top third of their class. In the future, they will return part of the aid they received in order to provide new grants, once their professional and economic situation allows it.
The institutional ceremony in which these grants are awarded took place on the 20th October at the Getafe Campus. President of the UC3M, Juan Romo, the President of the UC3M'sSocial Council, Matías Rodríguez-Inciarte, the former President of the UC3M, Daniel Peña, the Vice-President for Institutional Relations and Sustainable Development, María Luisa González-Cuellar, and the Managing Director of the Universidad Carlos III Foundation, Ignacio Sesma, attended the event. Rafael Cascales, an Economics and Business Administration and Management graduate from the UC3M, founder and president of Casico, and president of the Spanish Association of Foreign Trade Professionals, participated in the event on behalf of the Alumni group of donors. Raúl Matute Arnedillo, who was awarded an Alumni Grant in 2014 and who graduated with a degree in Law and Political Science with an Outstanding Dissertation Award, also took part in the event on behalf of the recipients of the new Alumni Grants.
Alumni Grants are named after former UC3M students who contribute to other young people having the opportunity to study at the same university. Over the ten editions of the programme, teachers, students and staff from the university community have made donations to these grants; individuals such as writers Rosa Montero and Lorenzo Silva, Solaria President Enrique Diaz-Tejeiro; the President of the UC3M'sSocial Council, Matías Rodríguez-Inciarte, or Alberto Grau from the company Bunzl; and organisations, such as Academic Partnerships, Acciona, ACM, Airbus Group, Alea Media, Altamira, Axa, Baker & McKenzie, Casico, CESyA, Deloitte, Enagás, the DAMM Foundation, the Ebro Foundation, the ONCE Foundation, the Gregorio Marañón Hospital Biomedical Research Foundation, the Professor Uría Foundation, the Ramón Areces Foundation, the Urrutia Elejalde Foundation, the VASS Foundation, Inditex, Indra, Ineco, Interactiva Facility (Ibergest Group), Mercedes Benz, Olmata, Otis, Philips, PWC, and Volkswagen Group Spain.
Donations can be made throughout the year in different forms via the UC3M Alumni website (https://aa.uc3m.es/becasalumni) and are intended to be used solely to fund these grants.
More information: UC3M Alumni Grants