Moot Madrid 2020 to be held in virtual format
XII International Commercial Arbitration Competition of the UC3M and CNUDMI
4/20/20
Today marks the start of the 12th edition of the International Commercial Arbitration Competition (Moot Madrid), co-organized by Universidad Carlos III de Madrid (UC3M) and the United Nations Commission on International Trade Law (UNCITRAL). This year, in order to adapt to the circumstances arising from the coronavirus outbreak, its audiences have moved to the online environment, through virtual rooms where the different teams competing will be evaluated by national and international arbitrators (lawyers and professors).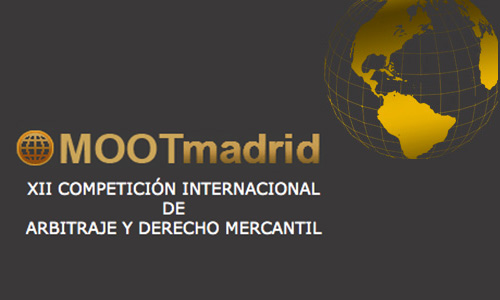 Moot Madrid 2020 takes on the challenge of supporting professional training for future lawyers who are facing an increasingly globalized working environment. Its objective is to promote knowledge about legal texts from the Uniform International Commercial Code, increase employment in commercial arbitration, and foster the use of Spanish in international transactions among future lawyers.
This new edition,which over thirty university teams have entered, will hold its oral phase from April 20 to April 24, involving a total of 49 virtual audiences,where teams will compete against one another, with over 160 arbitrators participating. The final will be held on April 24 at 17:00 in the virtual room "Corte de Arbitraje de Madrid" and will be broadcast live through streaming by a YouTube link that can be found on the Moot Madrid webpage (see below).
The participants have been working since November on the case they'll be taking on during the competition. Based on this case, prepared by UC3M commercial law professors and event collaborators from outside entities, the future lawyers have written a statement of claim and a statement of defense.After this written phase, the participants' oral capabilities and skills are evaluated during the general rounds. Each team will compete up to four times with different opponents, alternating between being the claimant and respondent The university teams with the best scores in the general rounds will go on to the eliminatory rounds, with only two meeting up in the grand finale.
This event is sponsored by the Club Español de Arbitraje(Spanish Arbitration Club), the Corte de Arbitraje de Madrid (Madrid Arbitration Court)and the Madrid Chamber of Commerce, Industry and Services.It likewise is supported by the following law firms: Allen&Overy, Andersen Tax & Legal, DLA Piper, Ramón y Cajal Abogados, Roca Junyent, Baker & McKenzie, Broseta, Clifford Chance, CMS, Albiñana&Suárez de Lezo, Cuatrecasas, Deloitte Legal, Garrigues, Gómez Acebo y Pombo, Pérez-Llorca, Sagardoy B&L School andUría Menéndez.
More information: http://www.mootmadrid.es/2020
YouTube channel for broadcast live streaming:
https://www.youtube.com/channel/UCnXrzO1KdbMdbNinuVCFHjw/videos?disable_polymer=1