Presentation of the 2019 Gambling and Society report
Carried out by researchers from UC3M with the support of CEJUEGO
6/21/19
The Institute of Politics and Governance (IPOLGOB in the Spanish acronym) of the Universidad Carlos III de Madrid (UC3M) has presented the tenth edition of the study Gambling and Society, which aims to reveal the habits and attitudes of Spanish people when it comes to gambling. This report was funded by CEJUEGO, an association that includes the main companies from Spain's gambling sector.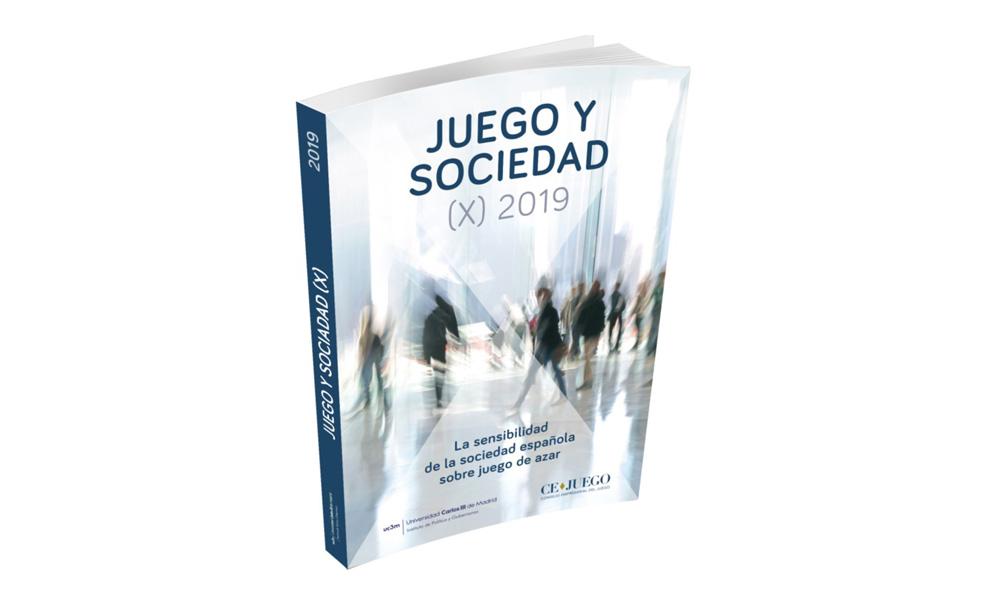 According to the report, 27 different forms of gambling, lotteries or betting are available in Spain, each with its own audience and rules. The majority of the population (84.8%) between 18 and 75 years old, about 29 million people, participated in some form of public lottery during 2018, mainly in games managed by SELAE (Spanish State Lotteries) and ONCE: 25.5 million in the 2018 Christmas lottery, 16 million in the 2019 El Niño lottery, 14 million in the La Primitiva lotteries, 9 million in ONCE tickets, 3.8 in weekly lottery draws, and about 3 million in ONCE scratch cards and active games. "The biggest new development is the significant growth of ONCE with its scratch cards," comment the authors of the study, José Antonio Gómez Yáñez, lecturer in Sociology in the UC3M's IPOLGOB, and Carlos Lalanda Fernández, lawyer and founder of the Gambling Policy and Legislation Research Centre.
Social gambling activities managed by the private sector attracted smaller numbers: 19.4% of the population between 18 and 75 years old. Almost 2 million visited a casino, 3 million a bingo hall and another 3 million visited a gambling hall. Their customers are divided into two large groups, the study explains. On the one hand, sporadic players who attend out of curiosity and other regular players who use it as a hobby, but also because these places provide spaces to meet with friends and to meet people with whom they can start a conversation based on the games.
On-site sports betting attracts 1.5 million customers, while the Quiniela (Spanish football pools) gets 2.5 million customers, who tend to regularly buy a weekly ticket. "They are betting games for soccer fans, men under 35, basically. With fluctuations: the Quiniela shows a descending profile. This cannot solely be attributed to sports betting, but to the change to the scheduling of La Liga matches which makes it impossible for fans to enjoy the matches on Sunday afternoon, something which was an essential part of La Quiniela," José Antonio Gómez Yáñez points out.
Online gambling
In relation to Internet gambling, almost 1.5 million people participated at least once in 2018. In this case, it is a group with disjointed behavioural patterns: from those who play regularly to those who only do so out of curiosity (taking advantage of the bonuses offered by the websites) and those who only play at a particular time during the year (basically betting on a particular match). To be precise, there are only 300,000 individuals who gamble in a regular fashion on the Internet, which represents less than 1% of the population between 18 and 75 years old.
"The data from our study indicate a gradual settling down as regards online gambling. The gambling sessions are shorter: half an hour, according to answers from the interviewees; monthly expenditure is moderate, there are decreases in the numbers participating in certain games, etc. The overall indication is that fans have learned how to use it and they rationalise its use," say the authors of the report.
Figures relating to problem gambling
For the first time, information relating to cases of treatment for gambling addiction has been systematised, based on data from the Ministry of Health, which in turn comes from the health systems of the autonomous communities. The number is below 7,000, which is equivalent to 0.02% of the population between 18 and 75 years old. If you take as a reference the number of people who gambled during 2018 in casinos, bingo halls or gambling halls, or who bet or played on machines in the hospitality sector, it is 0.1%.
The problematic gambling index in Spain amounts to 0.2% of the population between 18 and 75 years old at the beginning of 2019, if it is measured using the PGSI questionnaire, or 0.3% when measured with the DSM-IV. These figures are convergent with those published by other sources during 2018, such as the Health Department of the Basque Government (0.2%) or the Ministry of Health with its EDADES (Survey on Alcohol and Other Drugs in Spain) study of people between 15 and 64 years of age (0.3%). According to the report, problematic gambling rates in Spain have been falling for 30 years.
The typical profile of a person with a gambling addiction problem is male, under 35, and middle class. The incidence of problematic gambling among customers of online websites leads to the conclusion that people in this group bet online. Among those who bet online, there is a high correlation between the levels of risk of problematic gambling and the duration of online gambling sessions. Based on these data, the focus of public policies to prevent problematic gambling "should be oriented to precisely targeted policies rather than to extensive actions aimed at broad sectors (youth, women, etc.), in which these extensive and indiscriminate campaigns could arouse curiosity rather than caution, especially among young people," the authors of the report point out.
The tenth annual edition of this study (previously published under the title "Social Perception of Gambling in Spain") provides information on the different types of gambling that exist in Spain, the different profiles of gamblers, their use habits and other particular figures related to problematic gambling. The study was conducted using data from two surveys: one conducted by telephone by IMOP Insights, of 1000 individuals between 18 and 75 years; and another online survey, conducted by NetQuest, of 500 individuals who had gambled online in the two months prior to the consultation.