UC3M awards innovation among its students with the Emprende Awards
1/9/19
The Universidad Carlos IIII of Madrid (UC3M), through its Social Council, has announced the winning projects of the Emprende Awards 2018, which seek to support the University's entrepreneurial ecosystem and are awarded to End-of-Degree Projects (TFG) and End-of-Master's Projects (TFM) that have an entrepreneurial profile.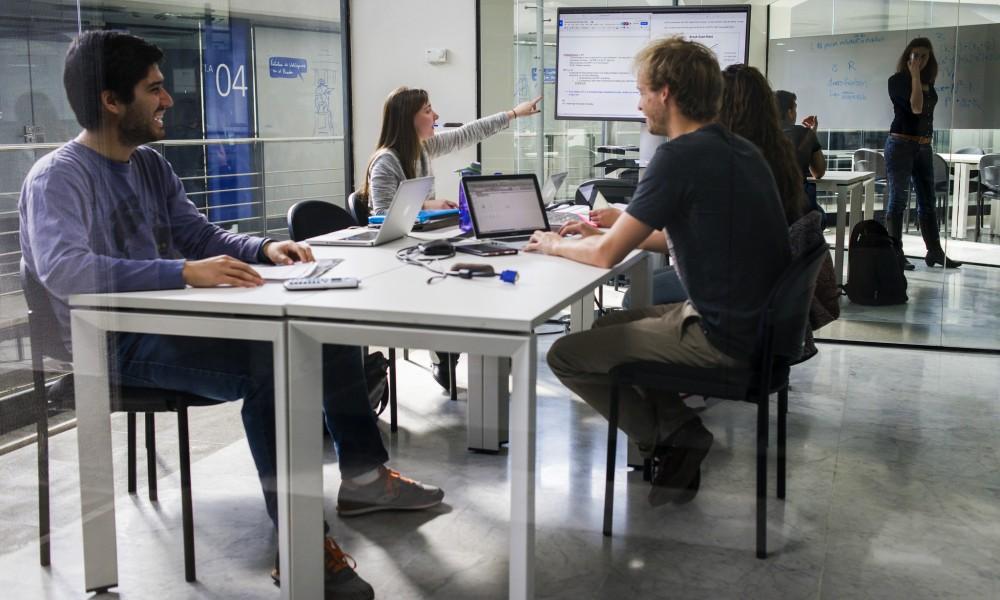 TFM Emprende Awards 2018
The TFM Emprende Awards, which are awarded for the first time, distinguish the work carried out over the the academic year 2017/18 by UC3M university master's degree students who create business ideas that stand out for their brilliance and viability. In this sense, the jury that assessed the projects took into account, among other criteria, the attractiveness and viability of the business, the maturity of the development and the entrepreneurial personality and interdisciplinarity of the team promoting the idea. Twenty thousand euros are granted to finance activities and training related to entrepreneurship through this initiative of the Social Council, which has the collaboration of the Entrepreneurs' Club. In addition, the winners are admitted to the Explorer UC3M Space, an area that supports entrepreneurship as part of Banco Santander's "Young People with Ideas" Explorer Programme.
The first TFM Emprende awarded, endowed with 10,000 euros, has been for a business proposal from Lydia Gutiérrez de la Llave, from UC3M's University Master's Degree in Entrepreneurship and Business Creation Initiative, which consists of developing a line of bags whose main material is polyester or recycled nylon. This material is obtained by recycling PET plastic bottles, preventing them from ending up in landfills or in the sea and avoiding the use of other materials that involve the treatment of animal skins. The project, called LYRANCH, takes into account the design and creation of a brand concept in this line of accessories, as well as an e-commerce sales channel. According to its market analysis and economic studies, the project would start to be profitable with a 7,000 euros investment.
The second TFM Emprende awarded, also endowed with 10,000 euros, has been for the one proposed by Luis Gonzalez Toscano and Luis Mosquera Toscano, also students of UC3M's University Master's Degree in Entrepreneurship and Business Creation. This business proposal, called "eSPORT: League of Legends and the competitive landscape in the amateur scene" focuses the electronic sports market, known as eSports, focuses on the electronic sports market, commonly known as eSports, a market they believe is yet to be discovered. In this sense, they propose to organise an online amateur competition where the entire audience of the League of Legends professional competitions can participate (more than 200 million people watched the final of these world championships on 3 November 2018). The main way to monetize the project and which would generate the most revenue would be to obtain sponsorships, an issue that would be addressed almost immediately due to the contacts they have with the company that developed the game, Riot Games.
TFG Emprende Awards 2018
The TFG Emprende Awards, which are celebrating their fourth edition, distinguish the students who have undertaken the most remarkable Final Degree projects in terms of innovation and excellence, valuing very positively the project's interdisciplinarity, those who have obtained UC3M's TFG-EMPRENDE certificate during the academic year 2017/2018. Its total financial endowment amounts to 20,000 euros, which is used to finance entrepreneurial activities or training in this field. In addition, the prize-winners will be admitted to the Explorer-UC3M entrepreneur training programme, supervised and coordinated from UC3M's Support Service for Entrepreneurship and Innovation. The UC3M Entrepreneurs Club also actively collaborates in this initiative of the Social Council.
The first prize for TGF Emprende, endowed with 10,000 euros, is a drone-based solution to monitor and analyse crop fields at low cost. This proposal, presented by Ignacio Sánchez Vázquez, Antonio López Terradas Paniagua and Gonzalo Puig Zamora, from UC3M's Aerospace Engineering Degree, consists of the exploitation of ARAX, a low-cost drone, which is accessible for the average farmer's profile, which will allow access to the benefits of precision agriculture for any crop in Spain. The innovative technology of this project consists of modifying conventional RGB cameras in such a way that they can be transformed into NGB cameras, capable of obtaining signalling indices of plant vigour and other factors such as soil fertility, nitrogen levels or the presence of algae. These sensors would be integrated into drones that would allow monitoring missions to be carried out safely, efficiently and accurately.
The second TFG Emprende award, endowed with 7,000 euros, is a business proposal consisting of the application of a system developed within the framework of the TFG to control local area networks (LANs) and make virtualized models of complete corporate networks. This project, presented by Jaime Azcorra Sedano, from UC3M's Engineering in Telecommunication Technologies Degree, focuses on the development of a system, called Alviu, that allows the virtualized management of computer and communications systems (in local computer networks and wide area networks, for example), that simplifies the operation with a substantial cost reduction compared to other solutions.
The third TFG Emprende award, endowed with 3,000 euros, proposes the development of a software to predict the flight path of a set of stratospheric balloons that takes free Internet to NGOs and hospitals in disadvantaged areas. This project, called 4th SKY-X (Keep calm, just fly) and presented by Alba Ulloa García, Cristina de la Barrera Bernad, Flavia Pérez Cámara and Yolanda Martín Sabater, of UC3M's Aerospace Engineering Degree, aims to achieve all people who lack a good health centre can receive medical care in the area and they can access to a global data network that allows them communication and access to online files of patients.