Awards for Excellence 2018 from the Social Committee of Universidad Carlos III de Madrid
Sponsored by Banco Santander and Airbus
5/16/18
Today the presentation of the 2018 Awards for Excellence from the Social Committee of Universidad Carlos III de Madrid (UC3M) was held. It is the tenth year of these awards, which are supported by Banco Santander, through Santander Universidades, and Airbus Group. The event also saw the presentation of the TFG-Emprende Awards.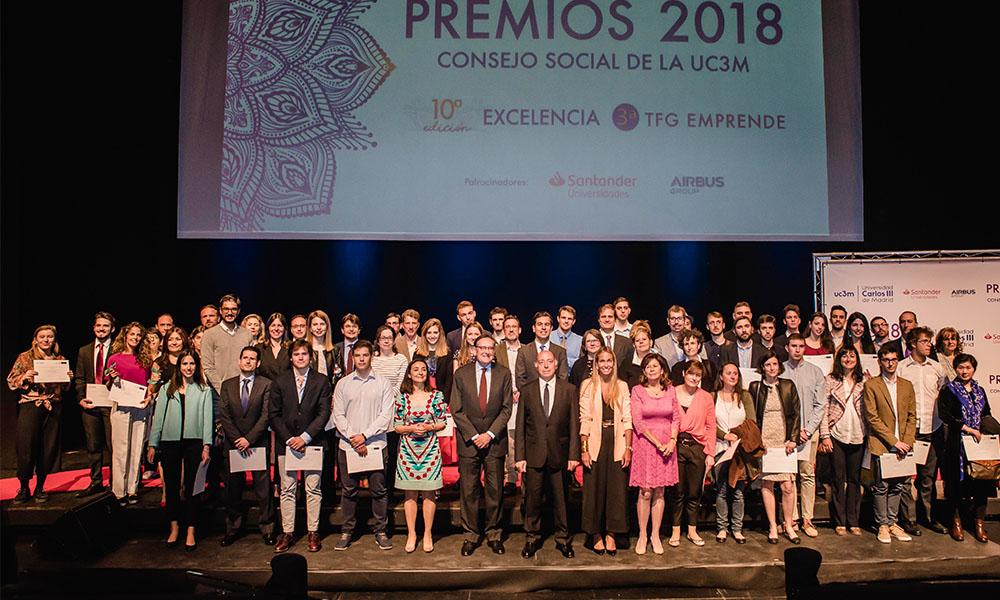 The event was held in the Leganés campus Auditorium and was attended by the rector of UC3M, Juan Romo, and the president of Santander Universidades and vice-president of Universia, Matías Rodríguez Inciarte. Also in attendance were the director of Santander Universidades España and Universia, Susana García Espinel; Grupo Airbus España's director of Selection and Training and Airbus Group's director of the Universidades España programme, José Luis Berruga; and the deputy director general of Universidades de la Comunidad de Madrid, Carmen García Galán.
The Awards for Excellence seek to recognize and promote effort, quality, innovation and contribution to the excellence of the university community. They represent an initiative that promotes entrepreneurship and appraises ​​the work carried out by members of four groups from the institution: young doctoral research staff, students, administration and services staff and alumni. They also represent an opportunity to grant exposure to young researchers of international standing, outstanding students, staff working with distinction in administration and services, and graduates of the university with exemplary professional careers.
To guarantee quality and transparency in the selection process, the Social Committee has had the services of a panel of experts of recognized standing, from outside the university, including several doctors Honoris Causa, members of Royal Academies and senior managers from various companies.
In this tenth year of the Awards for Excellence, €342,000 was divided among the winners of the 56 awards that were presented. Among the winners were ten young researchers of international standing who will receive €15,000 per year over two years, as well as 22 students with an outstanding academic record who received €1,000 (twenty of whom are funded by Santander and two by Airbus). In addition, €20,000 was awarded to the members of a team of administration and services personnel who participate in a project which has contributed to excellence, transversality, innovation and quality at UC3M, as well as a runner-up prize for a second project. Lastly, ten former students of the university who have performed outstandingly in terms of their career progress or entrepreneurial activity were awarded a diploma and trophy of recognition in two categories: those who graduated three or five years ago, and those who graduated more than five years ago. Due to it being the tenth anniversary of these awards, another former student also received a special prize: the Distinguished Alumnus, 10th Anniversary Award for Excellence.
TFG-Emprende Awards
During the event, the presentation of the third TFG-Emprende Awards also took place. Three projects run by six entrepreneurs received a share of the €20,000 allocated to funding entrepreneurial activities or training in this area. These awards are given to students who have completed innovative final degree projects in which the interdisciplinary nature of the project is also rated.
Banco Santander's support for the Awards for Excellence is one aspect of the relationship it has maintained with UC3M since 1999 for the development of this and other academic projects. The banking entity is the company that invests the most in education in the world (Varkey Report / UNESCO-Fortune 500). Through Santander Universidades, it maintains more than 1,200 partnership agreements with universities and academic institutions from 21 countries and through Universia it brings together more than 1,300 Ibero-American academic institutions. For more information visit: www.santander.com/universidades.
The UC3M Social Committee has, among other functions, promote the participation of society in university activities, especially as regards funding, and develop relations between the university and its cultural, professional, economic and social environment.
The mission of Universidad Carlos III de Madrid (UC3M) is to contribute to the improvement of society through advanced research in accordance with strict international criteria and quality teaching. It therefore strives for excellence in all its activities, with the aim of becoming one of the best universities in Europe. UC3M is one of the 30 best universities under 50 in the world according to the QS Top 50 Under 50 Ranking. It offers a wide range of courses in English and its graduates show a high rate of employment, over 90%.