Universidades de Filipina
Universidades de Filipina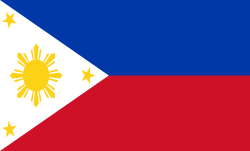 Según datos de la Commission on Higher Education en Filipinas hay 1.573 instituciones privadas de educación superior y 607 universidades públicas que se dividen en estatales y locales, University of the Philippines y Pamantasan ng Lungsod ng Maynila son las más representativas entre ambas. El sistema de titulaciones y evaluación es heredero en gran parte del norteamericano, hasta 1987 la enseñanza se realizaba exclusivamente en inglés.
Filipinas: Ficha informativa
Ateneo de Manila University
Mapúa Institute of Technology
Ficha Mapúa Institute of Technology
Vídeo: Conoce Mapúa Institute of Technology
Outgoing advisers Filipinas
Contacta con estudiantes de la UC3M que han estado de intercambio en universidades de este país años anteriores para informarte de su experiencia de primera mano.
¡¡NUEVO!! Outgoing Advisers_Filipinas_2016/2017