Tecnocamp UC3M, science, technology, culture and sports at UC3M
Tecnocamp UC3M, science, technology, culture and sports at UC3M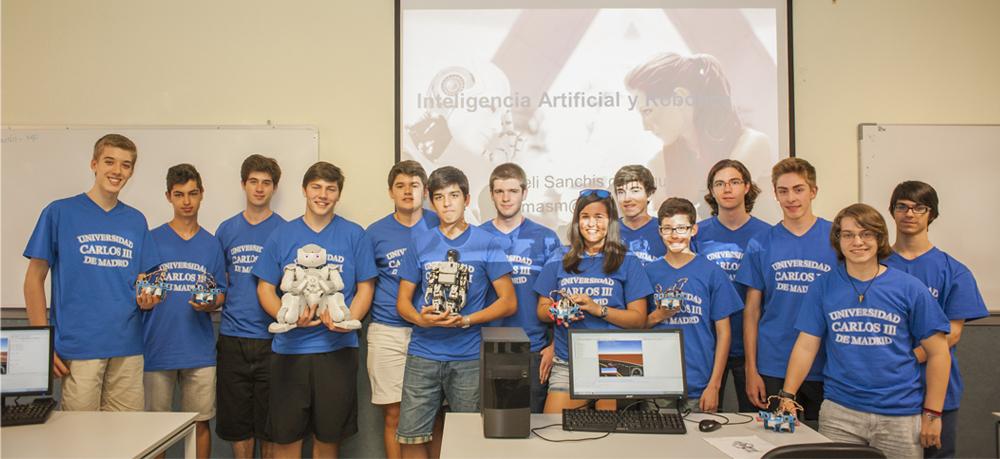 This year, the Universidad Carlos III de Madrid (UC3M) has organized TECNOCAMP, a summer program that combines science and technology with culture and sports. It was held Turing the first two weeks of July in the laboratories and other facilities on UC3M's Leganés campus.
The goal of the program was to foment interest in technological and scientific themes in a practical, creative and enjoyable manner for the over fifty high school sophomores (4th ESO) and juniors (1st Bachillerato) who had signed up for the first edition of the camp. These students, who came from 11 autonomous communities, also had the opportunity to stay in one of the university's Residence Halls for one or two weeks.
"What motivated me to sign up for TECNOCAMP was the idea of learning more about Statistics and having fun," comments Sofía Macein, who has recently finished her sophomore year in high school, and who also emphasizes that she liked the people she met and the workshops they participated in.
In the morning, the students could choose two Workshops among the many that were programmed; these included subjects such as cyber security, electromagnetic communications, the design of lightweight structures, statistics, 3D printing, or robotics. "What I personally liked the most about what I learned and experienced was the atmosphere among all of the people and learning to program a robot or make a circuit," states another student, José Antonio Yañez, who already knows he is going to study Bachiller (high school specialization) in Technology.
"These workshops were designed to be both fun and stimulating, and to allow the students to have direct contact with university professors," says the Associate Vice­Chancellor of Promotion, María Durbán. In the afternoon, the students enjoyed cultural and sports activities on and off campus. In addition, they developed different transversal knowledge and skills in debate and group dynamic workshops.
Participating in Tecnocamp is a chance to experience campus life and to develop skills and interest in different areas of science guided by university professors. "We want them to have the experience of being immersed in university life, which can help orient them when it comes time to make a decision about their university studies and their professional vocation," explains Durbán. Moreover, this camp combines technological studies with sports (volleyball, basketball,), visits to museums and tech firms, and other leisure activities.
In addition, UC3M is also hosting the Summer Science Campuses that are organized by the Fundación Española para la Ciencia y la Tecnología (FECYT­ Spanish Foundation for Science and Technology) and the Ministerio de Educación, Cultura y Deporte (Sports, Education and Culture Ministry), with the collaboration of La Caixa Bank's Benevolent Fund (Obra Social "la Caixa"). The UC3M is the only university in Madrid that is participating in the seventh edition of these campuses, which take place during the month of July and It is hosting a total of 120 students throughout Spain.
Further Information: www.uc3m.es/tecnocamp