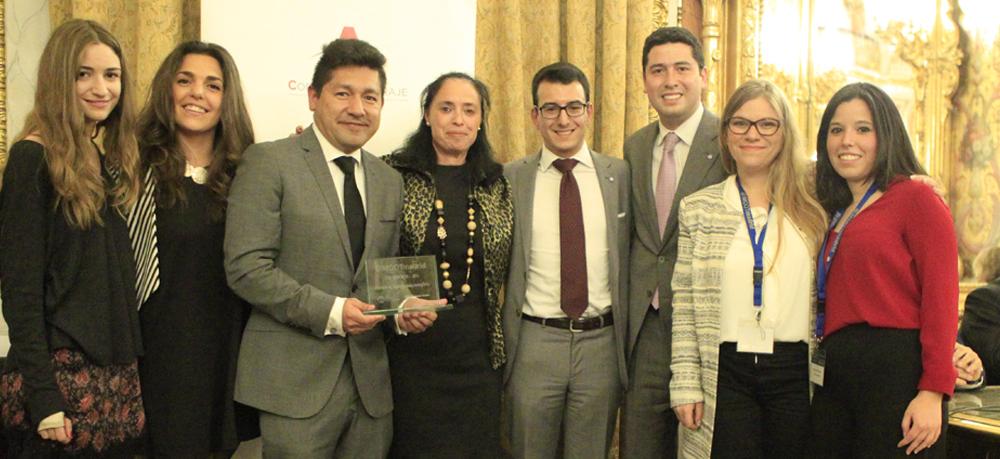 On Friday, April 28, the final of the 8th Moot Madrid 2016 International Competition of Arbitration and Commercial Law was held at the Corte de Arbitraje de Madrid, organized by Universidad Carlos III de Madrid (UC3M) and the United Nations Commission for International Commercial Law. It was conducted in Spanish.
This year's edition saw more 24 teams participating, made up of law students from seven different countries. The Moot 2016 winner was the Universidad Peruana de Ciencias Aplicadas with second place going to Universidad de Sao Paulo.
The objective of the Moot is to prepare future lawyers for an increasingly global work scenario. At the same time the Moot aims to foment commercial arbitration and the use of Spanish in international transactions.
This year's Moot started up on April 25 and during the week 55 hearings in 12 venues were held, some of them in prestigious law firms, in which more than 100 arbitrators took part.
"It involved arduous research and we were quite nervous, but the Moot enables us to fine-tune our oratory skills," the members of the winning team pointed out. "Throughout these months we forgot about having any free time in order to be well prepared for the Moot," Elvira Martínez Coco, the Peruvian team coach added.
Meanwhile, the Universidad de Sao Paulo team asserted that learning Spanish for them in order to participate had also been a challenge.
The decision regarding the winner was made by three internationally renowned arbitrators: Joao Bosco Lee, a partner at Lee, Taube & Gabardo Advogados Associados and professor at the Universidade Positivo de Curitiba (Brazil); Ana María Tobío Rivas, full professor of Commercial Law at the Universidad de Vigo; and Ainhoa Veiga Torregrosa, law partner at Araoz & Rueda. For the jury, this year's Moot had "a very good overall level," according to the arbitrator, Joao Bosco Lee. At the same time, Antonio Montero, legal counsel at the Corte de Arbitraje de Madrid noted that the Moot "is starting to be a point of reference for strengthening relations between Latin universities and for international arbitration format."
The following prizes were awarded during the Moot's closing ceremony: best expert examination also going to the Universidad de Peruana de Ciencias Aplicadas, best written memorandum in support of claimant went to Universidad Jaume I de Castellón, while the award for best written memorandum in support of respondent was shared by Universidad de Cádiz and Universidad Carlos III de Madrid. UC3M also received the prize for the most complete all-around team, a newly created award, with the prize for the best orator going to Alexander Picón. "What was most important was working on a team, gaining confidence and keeping your calm when you know that there are partners from Spain's top law firms in the room," Picón recalled.
This event was sponsored by the Corte de Arbitraje de Madrid from the Chamber of Commerce and the KPMG, as well as with collaboration from Club Español del Arbitraje (the Spanish Arbitration Club). It likewise received support from the following law firms: Baker & Mckenzie, B Cremades y Asociados, Clifford Chance LLP, CMS, Albiñana & Suárez de Lezo, Cuatrecasas, Gonçalvez Pereira, Garrigues, Gómez Acebo & Pombo, Novit Legal (Fundación Pons), Pérez-Llorca, Ramón y Cajal Abogados, Roca Junyent y Uría Menéndez.