UC3M Orchestra Stages Holst's "The Planets"
UC3M Orchestra Stages Holst's "The Planets"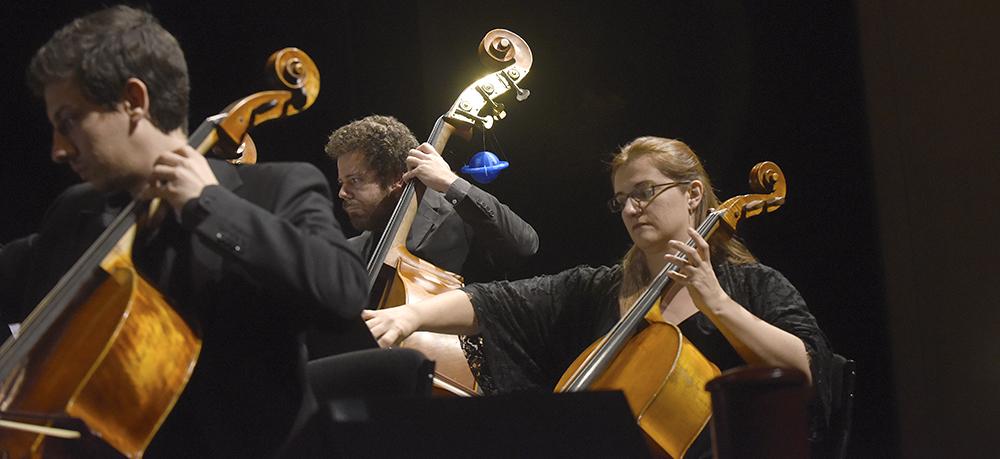 Gustav Holst's masterpiece, "The Planets," was the piece chosen by the Universidad Carlos III de Madrid (UC3M) Orchestra for its last concert of the year. The concert was held on Sunday, November 22nd, at the University Auditorium.
During the concert, images and videos from NASA were projected onto a screen behind the musicians. These images were combined with close-ups of the musicians, captured live, in a montage produced by the UC3M Aula de las Artes. The UC3M Orchestra, consisting of more than sixty students and alumni who play different instruments, is conducted by Manuel Coves.
The concert also featured a system of interactive lights which changed color according to the sound of the instruments, thanks to a technological device designed ad hoc by researchers from the Spanish Center for Subtitling and Audio Description (initialled CESyA in Spanish). The goal was to produce an effect of synesthesia, whereby one sees sounds or hears colors.
Composed between 1914 and 1918, "The Planets" is a suite of seven movements which allude to each planet and its corresponding deity in Greco-Roman mythology. The work begins with the movement dedicated to Mars, the Bringer of War, which in the concert was accompanied by images which illustrate the dizzying pace of the score.
"Peace came at the hand of Venus, accompanied by videos of persons weaving white wool, which transmitted tranquility," said Matilde Aguilar, a student who attended the concert and is enrolled in the UC3M course "Journalism and Stage." Jupiter brought happiness, with images of children dancing and jumping, while the piece for Saturn, the Bringer of Old Age, was illustrated with autumnal sequences of leaves falling, she added. For Mercury, the Messenger, one saw lips whispering messages, while for Neptune, The Mystic, one sensed bodies dancing against a backlight.
Close to the end, Uranus brought magic to the stage: beams of colored lights appeared, changing intensity and color depending on the tone, volume and location of the sound of the instruments. Finally, with Neptune, the Mystic, the concert ended. The applause from the audience demanded a final encore, so the UC3M Orchestra obliged with another trip to Mars to finish the tour of the universe.