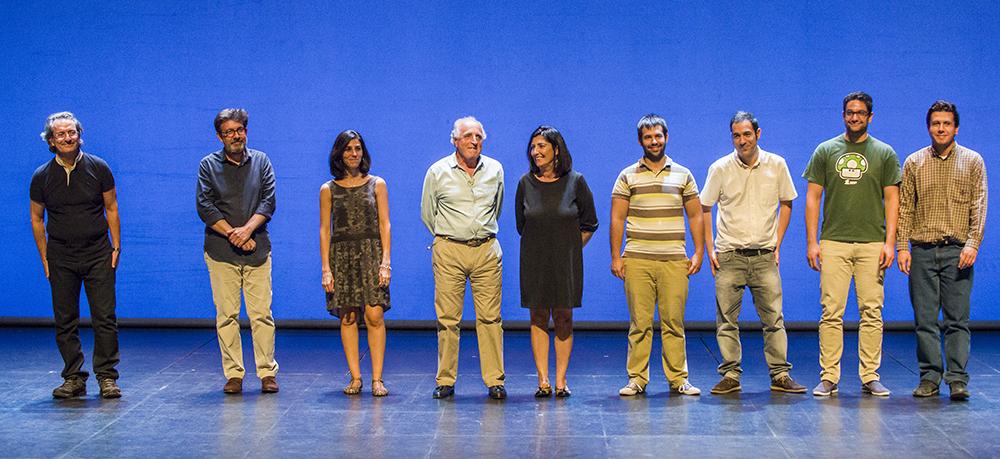 Universidad Carlos III de Madrid (UC3M) has participated for six consecutive years in European Researchers Night, which is held simultaneously in more than 300 European cities on the last Friday of September.
The event, organized with the cooperation of researchers from the UC3M Institute of Culture and Technology (ICyT), gathered around 400 participants in the University auditorium. There, about a dozen researchers reflected on the transition from written to digital culture, augmented reality and the cyborg phenomenon under the title "Virtual Worlds: Between Culture and Technology."
The show suggestively presented how we have begun to live in a world in which the separation between the real and the virtual continues to blur. "This meeting and superposition between the real and virtual world is bringing very big changes to society: professions, art, patrimony, education…a dissemination which affects our forms of communication and changes the way we see the world," explained Professor Antonio Rodríguez de las Heras, director of the ICyT.
The first talk, by Professor Enrique Villalba, explored the transition from written to digital culture, from the first clay tablets with cuneiform script to "tweets," with calligraphy and printing in between. Afterwards, Professor Luz Neira spoke about virtual reality and its application to dissemination in archaeology and history and, in particular, the area of Roman mosaics. Then, Professor Telmo Zarraondia conducted an experiment related to augmented reality, a game in which the audience controlled the characters via their mobile telephones.
Professor Fernando Broncano discussed the change that technology and the virtual can bring about when they "enter" the human body, referring to the cyborg phenomenon. Also participating were scientists from the UC3M Infrared Laboratory (initialled LIR in Spanish) and a little pet robot (Dino) donated by Juguetrónica.
This activity was part of European Researchers Night Madrid 2015, a European project for scientific dissemination funded by the Horizon 2020 European Framework Program for Research and Innovation with Marie Sklodowska-Curie Actions from the European Commission and coordinated by the Madrid regional government's Fundación para el Conocimiento madri+d.
Further information: www.uc3m.es/nocheinvestigadores2015
https://www.flickr.com/photos/eventosuc3m/albums/72157656929010653