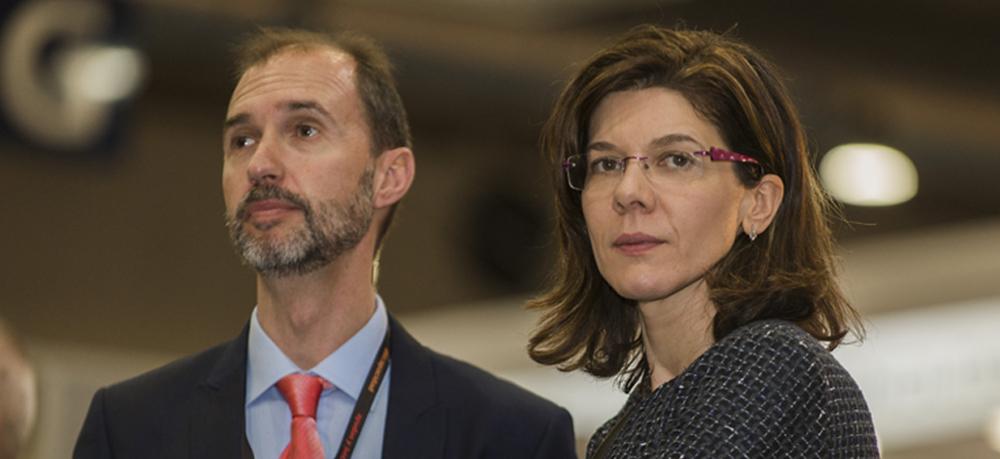 Universidad Carlos III de Madrid (UC3M) has participated in AULA 2015, el Salón Internacional del Estudiante y de la Oferta Educativa (The International Salon for Students and Education) held from the 4th to the 8th of March 2015 in IFEMA. There they have informed visitors with regard to the different degrees offered by the university, more than half of which can be studied in English or with a bilingual option. One of the new aspects of this twenty-third edition of this education fair was RoboticAULA, an event promoted by UC3M and focused on robotics. The event offered attendees the opportunity to learn to program micro robots, watch a demonstration of educational robots and listen to prominent experts in humanoids and self-propelled vehicles.
AULA is the most important worldwide annual gathering for the education and training market that is held in Spain, according to its promoters. It offers a unique opportunity to make contact with an average of 130,000 interested people who attend this fair; these people range from students to parents and school counselors, and other professionals from the world of education. "The students who came were mostly Bachillerato students (high school juniors and seniors), especially from the second year (senior), although there are also students from second ESO (8th grade) on up," report the personnel from Espacio Estudiantes, where they attended to the hundreds of visitors who came to the UC3M stand during the four days of the fair.
The largest offering of bilingual studies
During this educational fair, UC3M distributed information regarding the possibility of studying one of the many degrees it offers in English or in a bilingual fashion. In addition, this year the university has introduced three new degrees that combine International Studies with Business Administration, Political Science and Law, respectively, and which can also be studied following the bilingual plan or in English.
"Spanish universities stand out for their accredited level of academic quality and they are highly valued internationally," the director of AULA, Lola González, especially points out. She was present for the inauguration, which was also attended by, among other UC3M representatives, the vice-chancellor of Students and University Life, María Luisa Fernández Cuellar, with her Assistant, José María Armingol Moreno (both in the upper photo). The office of the vice-chancellor has been one of the main promoters of this even, which was carried out with the collaboration of UC3M's Vice-Chancellor's Office for Culture and Communication (Vicerrectorado de Cultura y Comunicación).
RoboticAULA
Another one of the new aspects at this year's even was the organization of RoboticAULA, where the micro robotics workshops were especially successful. "This give the attendees a chance to see first-hand how far engineering degrees can take them, which is very positive for both the universities and the future student," states the professor from the Department of Systems Engineering and Automation, Concha Monje, who gave a talk on robotics; for his part, Professor Fernando García gave a talk in which intelligent cars were the protagonists.
"This low-cost robot model is equipped with a very basic sensory system that allows it to identify possible objects in it way and to handle navigation tasks in simple surroundings," explains the tenured professor José María Armingol, one of the coordinators of RoboticAULA. "The students' knowledge will enable them to handle advances of different complexity and, also, to assimilate concepts of programming, control… in the field of robotics," he adds. Each micro robot, baptized with the name of "CarloBot", takes about four hours to construct and costs approximately 50 Euros. Participants learned everything they needed to be able to build their own version of this device, which is able to move its own half-kilo of weight at a speed of 5 cm/s.
This type of knowledge in the field of engineering could become a line of business. At least this is what they think at CREA Robótica Educativa, a UC3M spin-off that also appeared at RobotiAULA, to give several demonstrations of 3D printing and of how to use robots for educational purposed. This also seems to be corroborated by the award given to another university spin-off, Aptent Soluciones, a technology-based start-up backed by the UC3M Science Park's Business Incubator (Vivero de Empresas del Parque Científico UC3M). The company received one of the ten prizes awarded by the Instituto de la Juventud (Institute for Youth - INJUVE) in its Certamen Nacional de Jóvenes Emprendedores (National Competition for Young Entrepreneurs). These awards, given at AULA2015, and which carry a 25,000 Euro prize, are intended to help to consolidate the finalists' business projects.
Photographic report:
AULA2015: https://www.flickr.com/photos/eventosuc3m/sets/72157648845850714/
RoboticAULA: https://www.flickr.com/photos/eventosuc3m/sets/72157648950394613/