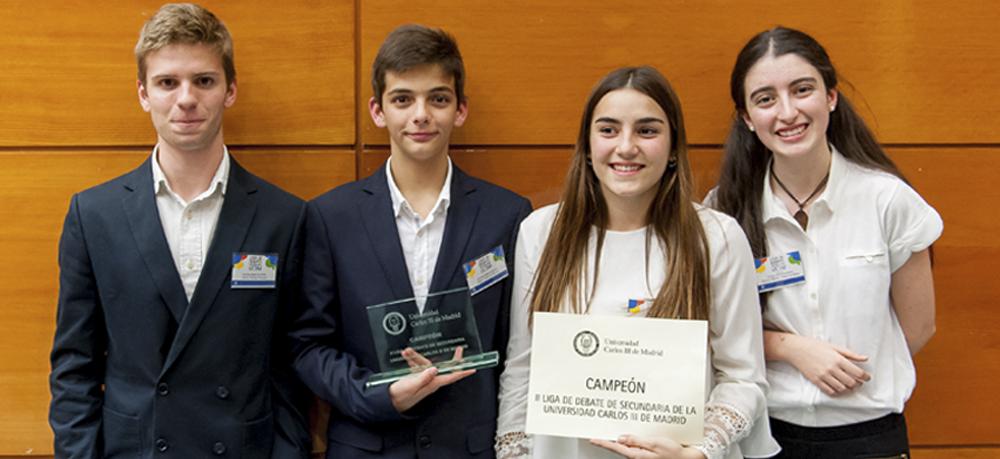 II UC3M Debate League for high school students
Universidad Carlos III de Madrid (UC3M) fosters debating among high school students through its Debate League, a competition organized by the Student Space in which more than ten Madrid Region high school teams participated.
The finale of this second debate competition was held this past February 20 in the Aula Magna (Main Auditorium) on the UC3M Getafe campus, where the stage was turned into a ring with points being scored through dialectics. The winner was the team from the Colegio Virgen de Europa, which was composed of Paloma Méndez Sáenz de Miera, Carlos Rodrigo Pascual, Diego Chapa de Alonso and Marta Rodríguez Lanseros.
The Debate League is an intellectual competition in which there is dialectic confrontation between teams, with successive interventions by each orator, similar to a parliamentary debate. Each team defends a pro or con position related to a controversial current issue, which has been assigned by a drawing.
A jury, made up of professors and experts, evaluates the orators' performances and decides who the winner is in the successive rounds of debate. In this way, different teams keep getting eliminated until the grand finale. This year, the finale was disputed by the winning school and IES José Saramago, the team to which the student elected best orator by the rest of her colleagues, Nora Elmourabit Khay, pertains.
The goal of the Debate League is for students to put into practice the skills and ability needed to present an argument, speak in public, match up ideas and work as a team. The students, between 15 and 17 years of age, display their skills each year by preparing an interesting set of arguments for and against the issue proposed, all with the invaluable assistance of their teachers.
In this year's League, the teams debated the issue: "Should smart phones be used by minors under the age of 16? " There is growing concern among the public regarding the use of smart phones by adolescents because of the possibility of sharing all types of private information, cases of harassment on the internet, circulation of erotic photography and the fact that a technology addiction could be created. Notwithstanding, it is true that in the future, preadolescents will have to find their way in an deeply technified environment, and in addition, a smart phone represents a vehicle for communication and integration into a circle of friends, as well as a way for young people to be connected, if need be, with their families.
In this second High School Debate League, organized by UC3M as part of its collaboration program with this type of institution, ten schools from the Madrid Region participated: Comunidad de Madrid: IES Humanejos, IES Jose Saramago, Colegio Virgen de Europa, Ntra. Sra. de la Providencia, Colegio Internacional Sek Ciudalcampo, Colegio Senara, IES Santa Teresa de Jesús, Colegio SEK Castillo, Colegio Retamar and Colegio Obispo Perelló.
In Spain, university debate is increasingly important, but it is in the United States and Great Britain where it is especially popular. World class universities such as Oxford and Harvard have been involved in these activities for decades. UC3M, in recent years, has become a point of reference for the high level of its debate teams in these competitions, as well as the UC3M Debate League's meticulous organization. This year it will be held from April 15 to April 17 and participating UC3M students can receive one elective credit (free-choice or in humanities.)
Further information:
UC3M High School Debate League:
http://portal.uc3m.es/portal/page/portal/cultura_y_deporte/espacio_abierto/debate/liga_debate_secundaria
UC3M Debate League:
www.uc3m.es/ligadebateuc3m