2014 Graduation Ceremonies
2014 Graduation Ceremonies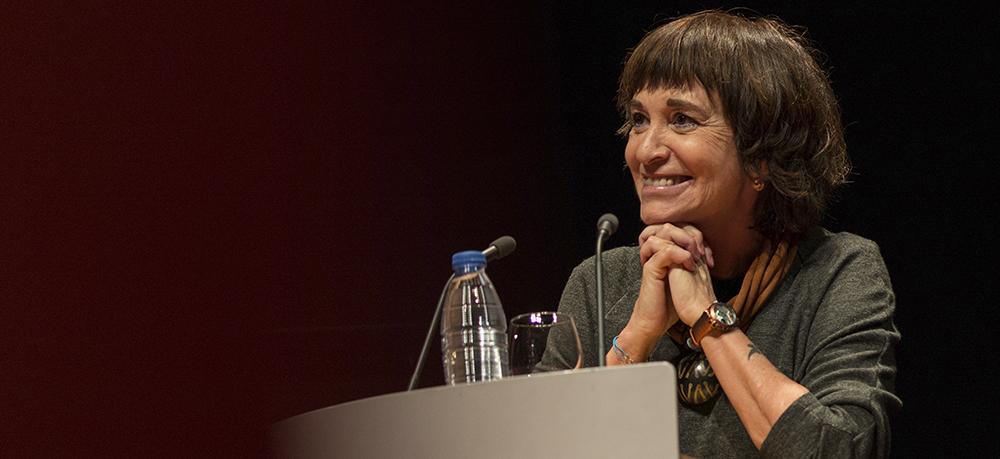 2014 Graduation Ceremonies

Universidad Carlos III de Madrid (UC3M) held graduation ceremonies in November and December in the Leganés Auditorium. All together, there were seven events that gathered over 5,000 people to celebrate the end of one cycle and the beginning of another: the culmination of university studies and the leap into professional life.
In the ceremonies, university senior administrators recognize students who have completed their studies and obtained an academic degree that will enable them to get ahead in the job market. For this reason, dignitaries from different professional fields also participated to show their support for the new graduates. In the first ceremony, held on November 10th and devoted to students in Audiovisual Communication, Humanities, Information and Documentation and Journalism, the guest of honor was journalist and novelist Rosa Montero (in the top photo). "Always try to do what you really like and don't stop learning from your work," she advised the students, who also learned the three qualities of good communicator: "Be truly curious, with that inextinguishable curiosity that insists on learning and continuing to learn; be honest and rigorous, that is, verify, and don't be distracted by personal interests; be ambitious in the sense of wanting to do every job, as small as it may be, the best you can."
Other dignitaries acting as sponsors in these ceremonies were the former president of the European Parliament, Josep Borrell; the president of DIA, Ana María Llopis; the managing partner of Baker & McKenzie, José María Alonso Puig; the president of PwC Spain, Carlos Mas Ivars; and the ex-president of OTIS, Pedro Sainz de Baranda. The ceremony held on December 2nd was devoted to Computer Engineering, Audiovisual Systems, Communications Systems, and Telecommunication and Telematics Technologies students. There the sponsor was general manager of the Technology and Operations Division of the Santander Group, José María Fuster, who encouraged the students, saying that now was a good moment for engineers. "After many years during which a purely financial vision of things predominated, the digital revolution entails the return of engineers to center stage in companies, where the acceleration of innovation is requiring profiles that combine technical knowledge with business initiative."
Progress is achieved through brilliant people, and in all companies, talent is still highly valued, added Fuster, who recommends "being enterprising and proactive, believing in oneself, persevering and being patient, as there is a long road ahead and haste makes waste. One must see opportunities beyond the realm of the known—perhaps abroad and why not in entrepreneurship—and reinvent oneself if it is necessary to continue growing." These are some of the qualities recognized by the end-of-degree-course awards given to the most outstanding students in more than 30 degree programs during academic year 2013/2014. One such individual is José Miguel Blanco, an Aerospace Engineering graduate, who highlights that he would not have won the award without the great environment of healthy competition and companionship that reigned in his degree program.
"It is a great honor to receive this award and I enormously appreciate the recognition of student effort and dedication," said Blanco after his talk during the ceremony on December 10th. It was at this last ceremony that the first graduating class "Duque de Ahumada" in Safety Engineering was recognized. This degree is offered in Aranjuez at the University Center of the Guardia Civil, affiliated with UC3M. It targets the training of future officers of the Guardia Civil to develop tasks of design, integration and management of safety systems intended to guarantee safety through activities of prevention and performance in the face of an emergency.
Graduation not only is recognition of student effort and excellence, but also is a showing of confidence and support for students as they face new challenges. This is what a former UC3M student, Alberto Mata Rodríguez, believes. Rodríguez, who spoke at the ceremony on November 24th, has a degree in Law and Business (2007) and was named the world's best young lawyer of the year by the International Bar Association in 2013. "Participating in the graduation ceremony was like returning home and meeting up with old friends. This is because the sense of community that the UC3M has—and emanates—goes far beyond the classrooms and the time we spend in them," explained Mata, who currently works in the Banking and Capitals Market Department of Gómez-Acebo & Pombo.
Another former student who spoke at the November 17th ceremony, which was devoted to Business Studies, Economics, Finance and Accounting, Statistics and Business, and Tourism, among others, has a similar vision. Beatriz Vela is the director of Human Resources at Baker & McKenzie, an international law firm which she joined in 2007 after earning her degree in Labor Sciences that same year. "My experience at UC3M was very good, because of the study program as well as the quality of the faculty, which was excellent. I had the opportunity to have a very complete theoretical and practical education, and also access to fantastic internship offers through the SOPP. In addition the mates in my degree program were fantastic at all levels," she asserted. That is also what these ceremonies represent, which reunite classmates in one last festival of recognition which ends to the strains of the university hymn par excellence: the Gaudeamus igitur, a "let us rejoice" which demonstrates the mix of emotions that one feels in this event marking a new future in the most important course, that of life.
UC3M 2014 graduation ceremonies:
http://portal.uc3m.es/portal/page/portal/conocenos/ceremonias_graduacion