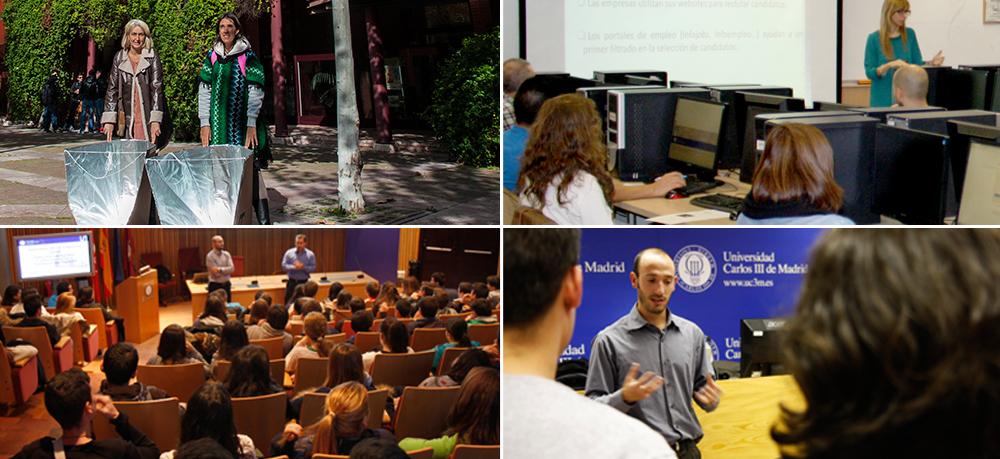 University R+D+I on display with 25 activities
Showing what the R+D+I of the Universidad Carlos III de Madrid (UC3M) is like, up close and directly, for all audiences—that was one of the main goals of the 25 activities in which the University took part at the 14th edition of Madrid Science Week, an annual gathering of scientific, technological and innovative dissemination in cooperation with the madri+d Foundation for Knowledge of the Autonomous Region of Madrid and the Spanish Foundation for Science and Technology in the Ministry of Economy and Competitiveness.
There were open-door sessions on the Colmenarejo, Getafe and Leganés campuses, didactic workshops, guided visits, interactive demonstrations and a great deal of additional activities aimed at boosting science vocations and fomenting an enterprising spirit among young people. In the Leganés campus auditorium (see bottom left photo), Fernando García and David Martín, from the UC3M Intelligent Systems Laboratory, gave high school students a demonstration of technologies in intelligent vehicles. There, more than 200 student s turned up to listen to how transportation is changing in the 21st century thanks to autonomous vehicles, active security systems and driving aids that the Intelligent Vehicle based on Visual Information (IVVI) comprises. The IVVI is a real car that has become a platform of experimentation for University professors and students.
Workshops enjoyed a certain prominence this year in the range of activities presented by UC3M, because of their educational potential as well as their interactivity. In total, the University offered more than a dozen workshops geared for all ages. The participants were able to learn on-line and off-line techniques for active job searches (top right photo with Professor Eva Herrero Curiel), how to communicate with mobile devices, keys to reading the press well, who must pay for breakdowns in electronic devices when there is an electrical overload, discover some of the keys to happiness and even create artistic collages with the strong force of atomic energy. This last workshop was led by Nieves Limón, professor from the Department of Journalism and Audiovisual Communication, with the collaboration of BlackPaper Escuela Madrid in an informative session focused on photo collages (see photo on the bottom right of the home page). "We want to strengthen ties between very different disciplines, such as photography and particle physics, aspiring to demonstrate that fields of knowledge can sometimes be connected much more than is apparent," she explained.
An audience of almost 1,000 with 50 professors
Society is interested in science, and citizens show it with their participation and interest, from what can be gathered from these activities, in which nearly 1,000 people and 50 university professors participated. "The people that came already knew quite a lot about magnetism and superconductor levitation, and with our workshop, wanted to see it in person," said Professor Efrén Diez, from the Department of Mechanical Engineering. Diez explained to the audience (see photo, bottom right) how mechanisms that do not need to be lubricated and work in cryogenic temperatures are designed thanks to magnetic and superconductive materials.
In another workshop, the audience (young students, high school teachers and retirees) learned to build solar kitchens from Professor Antonio Lecuona (see photo at the top right of the web site's home page), from the Department of Thermal Engineering and Fluids. Lecuona showed that the materials needed to make a solar kitchen of this sort can be found in a garbage dumpster. You only need some cardboard like the kind used in the packaging for a television or a bicycle, aluminum foil of the sort found on the inside of bags of potato chips, two milk cartons full of sand, two washing machine drums, which can be found in a scrap yard, and a little glue and tape to hold everything together. The result is a hand-made, ecological device which can cook food as long as there is sunlight. In the photo (top left), two workshop participants give it a try.
Among the guided visits, which have a "full house" every year, this edition featured one made to a 3D air traffic control tower simulator at the UC3M Center for Aeronautical Training and Services (CATS), among others made to institutions such as the Army Geographical Center and the Madrid Naval Museum, which are two of the dozens of institutions that collaborate in this event, organized by the Office of Scientific Information through the Service of Institutional Communication with the cooperation of Espacio Estudiantes, the Professional Orientation and Planning Service, the Library Service and the UC3M Science Park.
Further information: www.uc3m.es/semanaciencia2014