European BEST Engineering Competition
European BEST Engineering Competition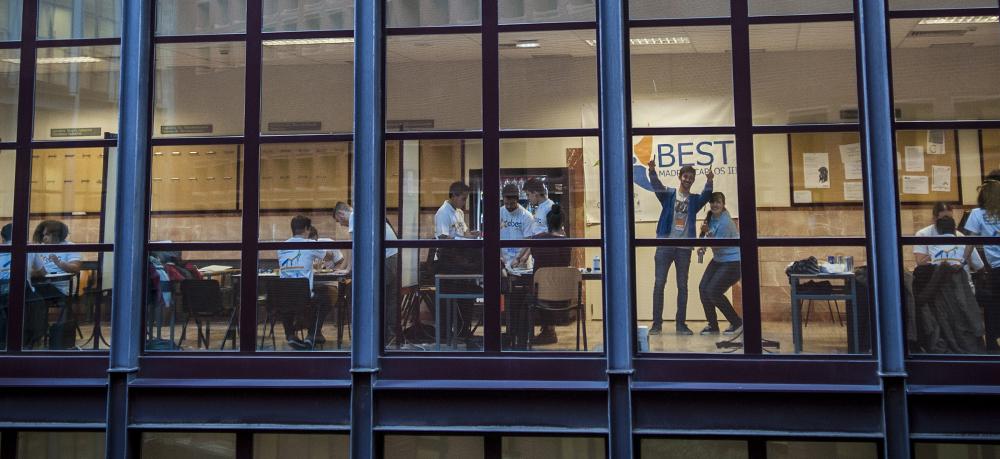 The biggest competition for engineering students in Europe comes to UC3M
For the eighth year running, the UC3M BEST (Board of European Students of Technology) organization has taken part in the EBEC (European BEST Engineering Competition), the most important competition for engineering students on the European scene.
From November 11th to the 13th, Carlos III University of Madrid (UC3M) hosted one of the 87 local rounds that were held throughout Europe, of which a further six took place in other Spanish universities. Twelve four-person teams, six in each category, took part. 48 of the almost 100 students who had applied were selected. These groups were mainly made up of engineering students from the University, although recent graduates, and Master's and doctoral students were also free to enter. The BEST organization selected and made up the teams, combining the participants' different skills of in each group.
The participants' knowledge and problem-solving capacities were tested over two separate heats, designed by the BEST-UC3M group and approved by BEST-Spain. In the Team Design heat, held on November 11th, contestants had ten hours to create a functional prototype that would solve a specific problem, which this year consisted of rescuing a child from a building. They had a fictitious budget available for buying materials and renting tools.
In order to get through the heat, the prototype had to overcome three tests to show its viability: the first was a test of its capacity for movement; it had to show that it was capable of knocking down a wall to gain access to the building, and then move around inside; secondly it had to show that it was able to pick up and hold the child; and lastly it had to be of the right size to enter through the main gate of the city and ring a bell. The team that won this heat was made up of Paula Queipo Álvarez, Alberto Ruiz de Alegría, Mario Sanz Rodrigo and Bogdan Mihai Nedelcu, students of different degree programs such as Aeronautical Engineering, Communications Systems and Industrial Technologies. "I thought it was a very interesting activity, it helped us develop our financial vision and our creativity," said Paula Queipo, a first-year student of Engineering and Industrial Technologies at UC3M, "It let us see what a project really consists of, beyond the calculations that we do in class."
In the Case Study heat, the contestants were presented with an engineering problem that they would have to face if they were working in a real company, and solve it in a theoretical way. In this case, they had to plan the organization and infrastructures that Melbourne (Australia) would need in order to host the Olympic Games. They were given six hours to come up with a solution to the problem, which they then had to present to a panel of judges made up of teachers from the University and professionals from the sector. As was the case in the previous heat, the participants had no access to Internet and thus had to rely entirely on their own, previously-acquired knowledge.
The team that won this heat consisted of Francisco Reyes Guerrón, Alejandro Tejero, Alberto González Gómez and Carlos Santiago Hernández Torres, all of them engineering students at the University. "This is the second year I've taken part and what I most like about it is that you turn up at 9 o'clock in the morning without knowing anyone and then you get presented to the team members that you are going to have to work with, and you all have to trust each other," said Alberto González, who has recently begun a degree in Computer Engineering.
These teams, who were awarded their prizes on November 13th, will represent UC3M against teams from another five Spanish universities in the national stage of the competition, which will take place in Valencia next spring. Two teams will be selected from this, the national stage of the competition, to participate in the European final in Porto, in August. If a UC3M team gets through, this would not be the first time that a team from the University has reached the final, as one took part in that held in Zagreb (Croatia) in 2012.
The BEST-UC3M organization is a local branch of the BEST-Europe association. It not only hosts this competition, but also organizes summer courses, offers complementary training and facilitates contact with other engineering students from all over Europe. Registration is free for engineering students at UC3M.
"After many weeks of hard work on the part of all the members of the association, our local round of the EBEC has come to an end. Apart from congratulating the winners, who are to represent us in Valencia, and all participants for their innovative ideas and motivation, I would like to thank once again the members of the panel of judges the UC3M for its support," said Daniel Valsera, the chairman of BEST Madrid Carlos III.
Gallery in Flickr:
https://www.flickr.com/photos/eventosuc3m/sets/72157649210614386
More information: http://best.uc3m.es