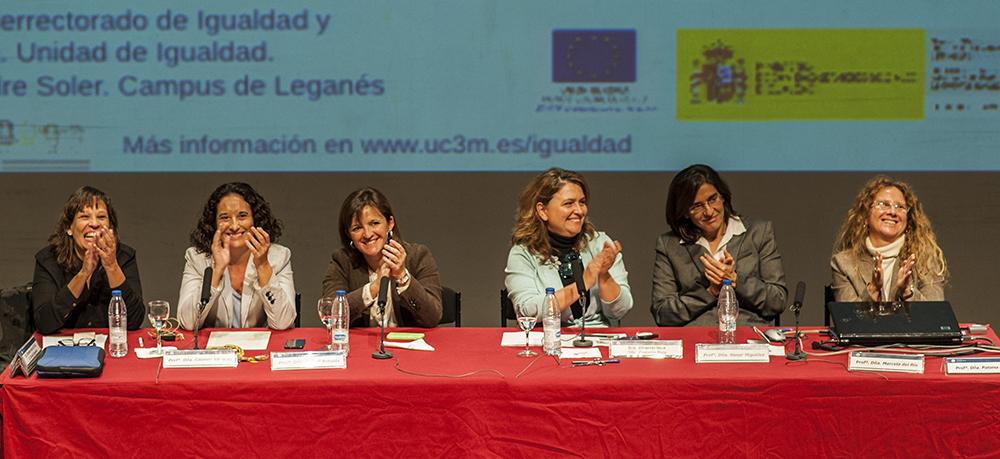 Girl's Day
UC3M is committed to women in engineering
Engineering is also for women. At least, that is the message from Girl's Day, an event organized by the UC3M Equality Unit and the Vice-Chancellor's Office of Equality and Cooperation and held at the School of Engineering to break gender stereotypes about the choice of degree studies.
This symposium, held for the first time at the UC3M as part of its Plan for Equality, promoted the presence of women in engineering studies in introducing these degrees to the thousand high school students that attended the event on November 3rd on the Leganés campus. There, several professors from the School of Engineering offered their experience to remove the "a man thing" label often attached to their fields of work.
The event was inaugurated by the Vice-Chancellor of Equality and Cooperation, Rosario Ruiz Franco, the Vice-Chancellor of Students and University Life, María Luisa González-Cuéllar Serrano; the Vice-Chancellor of Undergraduate Studies, Luis Raúl Sánchez Fernández, and the head of the School of Engineering, Daniel Segovia Vargas. "This type of act aims to introduce female high school students to the world of engineering and technology, to try to increase their presence in these degree courses, given that the percentage of female students in them is low," said Elena San Segundo, director of the UC3M Equality Unit. The numbers back up her words. According to admissions data from the 2013-2014 academic year, 22.5% of new students in the School of Engineering college are women, while in some degree courses in the School of Law and Social Sciences, that figure is 50 or 60%.
This is some of the data that was discussed at a round table titled, "Engineering is also for women. Why should you choose an engineering degree?", which featured female engineers from UC3M. This time, the speakers were Ana García Armada, full professor in the Department of Signal and Communications Theory (in the photo, first on the right); Paloma Díaz, full professor in the Department of Computer Science (third on the left); María Henar Miguélez, full professor in the Department of Mechanical Engineering (second on the right); Marcela del Río, head of the degree program in Biomedical Engineering (first on the left); and María Carmen Vázquez, full professor in the Department of Electronic Technology (second on the left).
During their talks, these professors explained what moved them to enter a field of study that has historically been the domain of men. With their testimonies, they expressed to the students that the future does not have to be determined by clichés. The Vice-Chancellor of the Colmenarejo campus, Paloma Díaz, went further and tried to dispel another myth about computing, her field. "Computer science is not about programs and tinkering, it is about people," she assured. Moreover, she stated that her work has allowed her "to become more familiar with a kind of technology that is always changing and also be in contact with real people and problems."
The head of the department of Signal and Communications Theory, Ana García Armada, shared her passion for telecommunications and how curiosity led her to where she is now with students from 15 schools. "I was always curious to know how things worked and understand the world around us. I liked science and math, but engineering caught my attention because of its practical and applied point of view."
According to the featured guests of this evening, this type of act is very positive. "It is good to be able to share and reflect on things with high school students that women devoted to engineering often discuss without anyone hearing them," said the assistant head of the School of Engineering, Marcela del Río. "If we get the girls who attended to consider the possibility of studying engineering as an option, it was worth it," added professor María Henar Miguélez, who shared her opinion with another of her colleagues from the round table, María Carmen Vázquez. "It is difficult to predict the usefulness of this kind of event, but I think it at least served to encourage those girls who might have a burgeoning interest in the sciences and engineering that it really is an interesting option."
With this event, the UC3M tried to reinforce point 2.5 of the UC3M Plan for Equality: introduce the perspective of gender in activities of cooperation with pre-university education. "And specifically," said Vice-Chancellor Rosario Ruiz Franco (third from the right in the photo), "it aims to develop point 2.5.1, which promotes actions to sensitize high school students and teachers to the problem of gender inequality and orient students in their university studies and professional career."
Flickr photos:
https://www.flickr.com/photos/eventosuc3m/sets/72157648729704607/
Further information: http://portal.uc3m.es/portal/page/portal/organizacion/unidad_igualdad_uc3m