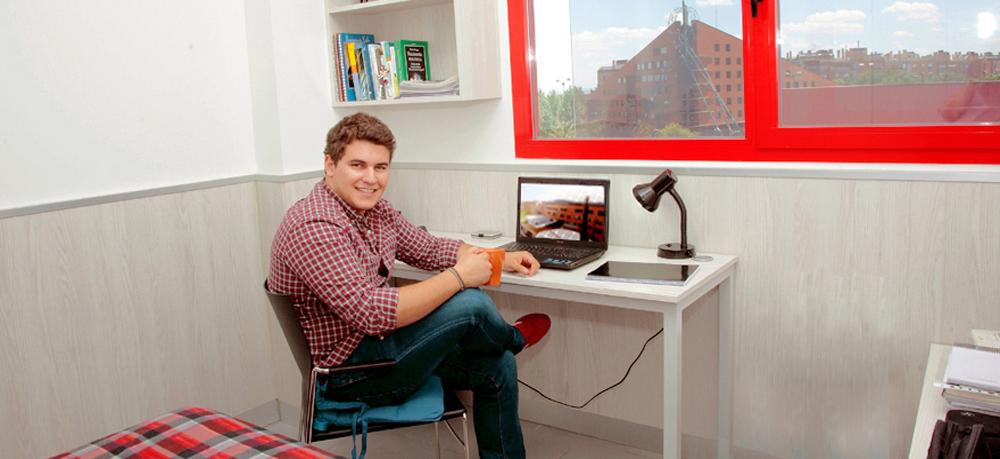 Universidad Carlos III de Madrid (UC3M) strongly advocates student mobility, and among the measures it undertakes in this regard is that of facilitating housing for students from other regions of Spain as well as for students from other countries. Currently in Getafe, Fernando de los Ríos Residence Hall and Gregorio Peces Barba Residence Hall offer 370 and 318 places respectively. In addition, on the Leganés campus students can opt for one of the 310 places available at the Fernando Abril Martorell Residence Hall. All together, UC3M has a student housing capacity of almost 1,000.
The resident hall option is particularly apt for first year students, as they arrive in an unfamiliar city. This is what one of the Fernando de los Rios veteran residents, José Fernández Páez, suggests; Jose, shown in the photo, chose the resident hall option because he was looking beyond academics in his first year at the university. "I believed and I still believe that the student resident halls foment values such as achieving a group spirit, a feeling of solidarity and a sense of togetherness," he pointed out. In fact, Jose enjoyed the experience so much that he chose to continue in the resident hall for three of his university years, only leaving when he went to pursue his studies abroad.
Fernando de los Ríos Resident Hall not only offers housing and "good vibes", but just like the other UC3M residence halls, it is equipped with all the necessary amenities for student life. All of the rooms, with internet connection via cable and WIFI, are also furnished with a desk, chair and bookshelves. Along these lines, students can choose between a single or double room in both the Fernando de los Ríos and Fernando Abril Martorell Resident Halls. The former has 170 double rooms, 16 single rooms, 10 apartments and 6 specially adapted rooms for students with reduced mobility. The Leganes resident hall has 103 double rooms, 101 single rooms (6 of them for students with reduced mobility) and 3 apartments. As for the newly inaugurated Gregorio Peces Barba Residence Hall, it only has single room, all of which have the option of full board or only housing, as the rooms come equipped with a kitchen
University life goes beyond studying and pursuing a degree, noted José Fernández. For this purpose, he participated together with other fellow residents on the Residence Hall Board, collaborating in the organization of leisure and cultural activities. These activities ranged from going to an amusement park and a two-day trip to Lisbon to attending a conference on the past May 25th European elections.
In addition to these activities, UC3M is always keenly aware of the importance of reconciling academic life with sport. For this purpose, all of the resident halls have their own gym and some have their own multi-purpose sports installations. In fact, each year, the three resident halls participate in their own "olympics", in which in addition to displaying their athletic prowess, students from the different residence halls bond together thanks to sport. Jose Fernández, not surprisingly, finds it tough to leave this residence hall that has been his home during his university years. "After three years of living together, your residence hall mates and you become one big family," he concluded.
See more pictures here