Eric Maskin, Nobel Prize winner in Economics, visits the UC3M
Eric Maskin, Nobel Prize winner in Economics, visits the UC3M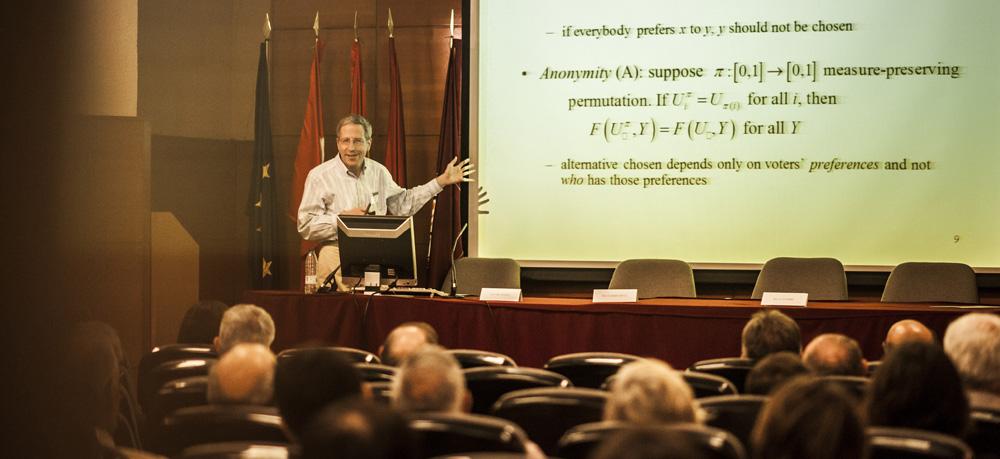 Eric Maskin, Nobel Prize winner in Economics, visits the UC3M
World experts in market theory, organizations and economic policy pay tribute to Professor Luis Corchón

Economics conferences were held on the Getafe campus of the Universidad Carlos III de Madrid last Monday, June 9th, gathering world experts in game theory applied to markets, organizations and economic policy. Also that day, UC3M Professor Luis C. Corchón was honored for his academic and research career by colleagues from more than a dozen universities around the world, including the universities of California, Mannheim, Rochester and Yale.
Eric Maskin, 2007 Nobel Prize Winner in Economics
Eric Maskin, Nobel Prize winner in Economics in 2007, along with L. Hurwicz and R. Myerson, for laying the foundations for the design of mechanisms that are alternatives to the market, was an outstanding participant in the meetings. Maskin, who is a professor at Princeton University and an expert in game theory, has focused part of his research on applying economic theory to the study of election systems in different Western countries. He was in charge of the keynote lecture of the "Workshop on Games in Markets, Organizations and Political Economy," which focused on explaining how to improve election laws through a series of economic formulas. After his talk, Maskin shared his view of the economic situation in Spain and said that it "is a serious mistake to make cuts in health and education, because without education it is impossible to think about economic growth."
Organizing a conference with world experts in this area of knowledge, such as John Roemer from Yale University and Robert Serrano from Brown University, reflects the distinguished global position of UC3M in this area. In this regard, the Department of Economics has managed to position itself among the world's top 50, according to the ranking on research on economics, made by Tilburg University, in the Netherlands. Since its inception, this UC3M department has stood out for of its international character. At present, the faculty includes members of eight different nationalities, mainly European, but also from other countries.
Luis Corchón, Professor of Economics at the UC3M
This trend of internationalization can also be seen in the careers of UC3M professors such as him to whom tribute was paid at this forum. Luis C. Corchón (Madrid, 1949) holds a Ph.D. in Economics from the London School of Economics and has been a visiting professor at the Universities of Rochester, Stanford, Harvard and New York. "I am very proud to be part of a University where things are done well, and which is respected abroad, which shows that, in Spain, things are not always done badly," said Corchón. His field of research focuses on the application of game theory to economics, with an emphasis on three areas: social welfare losses generated by monopolies and oligopolies, the design of systems that stand as alternatives to the market, and economic causes of war: because economics, after all, can help us understand conflicts and above all work in order to solve them.

Entrevista Luis Corchón