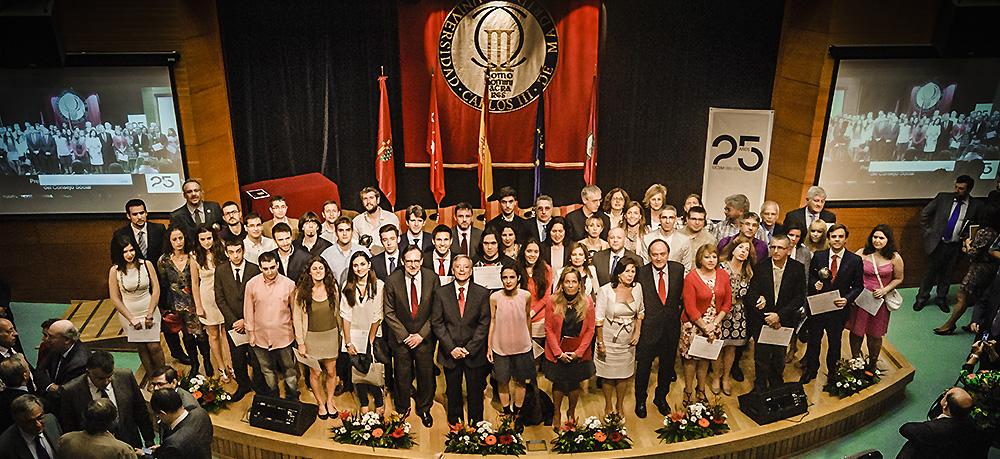 The University is celebrating its first 25 years. The commemoration started on 7 May, at the 25th anniversary of the entering into force of the Act of Parliament that approved the creation of UC3M, with a ceremony of unveiling the bust of the founder rector, Professor Gregorio Peces-Barba, to whom thus permanent tribute was paid.
The bust, donated by the city of Getafe, has been located by the rector´s office building. As speakers to the audience in this act, the rector of the UC3M, Daniel Peña, the mayor of Getafe, Juan Soler, and the president of the Foundation Gregorio Peces-Barba, Rafael Roig of Assis, reminisced the personality of the honoree and thanked him for his enduring contribution to the university, over the 18 years during which he served as rector. The event was attended by many members of the university community, relatives of professor Peces-Barba and various personalities that have been closely connected to him along his outstanding public career, such as: Elías Díaz, Alfonso Guerra, José Pedro Pérez Llorca, Julián García Valverde and José María Mohedano, among others.
Right after, took place the ceremony of delivery of the 2014 Excellence Awards, granted by the Social Council of the university. These awards are aimed to recognize the work of students, researchers, former students and staff. The rector chaired the ceremony, accompanied by the President of the Social Council, Matías Rodríguez Inciarte, the Director General for Universities and Research of the Community of Madrid, Rocío López-Ibor Albert, the Director of Corporate Projects and Coordination of the Santander Universities Division, José Manuel Moreno Alegre, and the Secretary of the Social Council, Rosario Romera Ayllon.
The 2014 awards were delivered, to 22 students, 10 former students, 10 researchers and to a group project of the administrative staff. Their exemplary work is an invitation to continue the path that was started 25 years ago, which has led the UC3M to become a reference public university, in Spain and in Europe.