Campus de Colmenarejo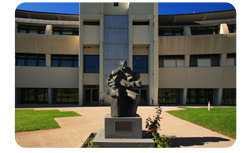 Schools:
Address:
Administración del Campus de Colmenarejo
Avd. de Gregorio Peces-Barba Martínez, 22
28270 COLMENAREJO (MADRID) ESPAÑA
Horario de atención e información al público
Opening hours and General information:
From Monday to 5 Friday, from 9 am to 6 pm.


Collection of diplomas and SET by appointment through informac@pa.uc3m.es
Customer service telephone numbers: 918561309 y 918561229
And also...