The UC3M researchers have substantially improved their scientific production indicators by increasingly publishing in top journals with a greater impact.
The total number of publications of UC3M on the Web of Science (WoS) has increased by 26% in 2011 (latest year available) with respect to 2009, reaching 743 documents.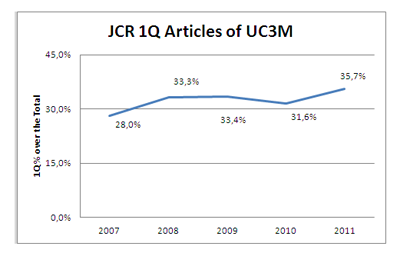 The number of publications by a tenured professor on the WoS has increased by 21% during the last 2010-2011 biennium with respect to the previous one, reaching 1.21 publications.
The quality of the publications, measured as articles on journals from the first quartile of the WoS, has increased 33% in 2011 with respect to 2009, representing almost 36% of all the publications.
The impact of the publications by the UC3M professors, measured as a rolling average in a 5-year interval, has increased 28% during the period 2008-2011 with respect to the previous one, reaching 5,729 citations according to the Essential Science Indicators (Web of Knowledge).
The number of articles of international collaboration represents almost 40% of all publications in 2011.

| | 2009 | 2010 | 2011 | 2012 |
| --- | --- | --- | --- | --- |
| JCR Top Quartile Publications | 199 | 198 | 265 | |
| JCR Publications | 593 | 626 | 743 | 785 |
| Monographics/books | 90 | 105 | 108 | 117 |
| Book chapters | 353 | 423 | 395 | 378 |
Source: IUNE y Memoria de Investigación
Links of interest