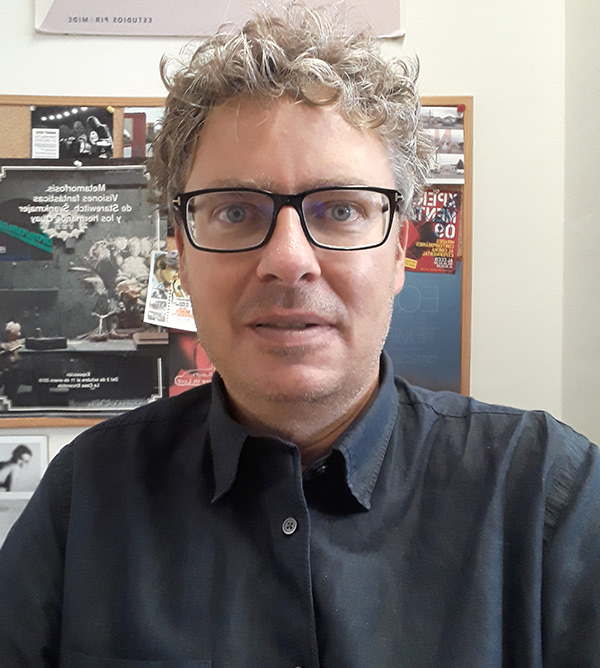 Professor Miguel Fernández-Rodríguez Labayen
Miguel Fernández Labayen, current Vice Dean for Dual Bachelor in Journalism and Film, Television and Media Studies, is associate professor in the department of Communication at Universidad Carlos III de Madrid. He received his PhD in Communication from the Universitat Autònoma de Barcelona and is a former professor of Media Studies & Communication at Universitat Rovira i Virgili de Tarragona y en la Universitat Autónoma de Barcelona, as well as visiting professor in Ecuador and Finland. He was vice chair of the department of Communication (2018-2021).
His research and teaching focuses on film studies, with a special interest in Spanish cinema, media history and experimental and documentary filmmaking from a transnational perspective. He is a member of the research group Tecmerin (Television-Cinema: Memory, Representation and Industry) and of the Institute of Spanish Cinema. He is the principal investigator of the Spanish-funded project "Cinematic Cartographies of Mobility in the Hispanic Atlantic" (CSO2017-85290-P), and one of the two researchers in the project "The Histories of the New American Cinema Expositions in Europe, 1964 and 1967-1968: The Emergence and Diversity of European Experimental Film Cultures", financed by the Swedish Research Council. He has organized different international seminars and conferences and has curated film and video programs for festivals, cultural centres and institutions such as the Instituto Cervantes, La Casa Encendida, the Seville European Film Festival or the cccb (Centre de Cultura Contemporània de Barcelona). He is co-director of the book series "Pantallas iberoamericanas / Ibero American Screens" for Peter Lang. His recent publications look at the relation between cinema and migration in Spain and Latin America.