María Luz Neira Jiménez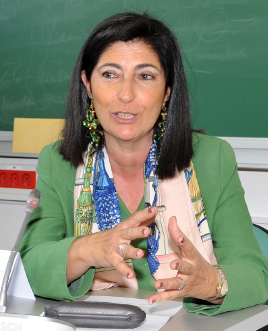 Professor María Luz Neira Jiménez
Associate Professor of Ancient History at Universidad Carlos III de Madrid (with habilitation for Professor by Spanish National Agency of Academic Habilitation, 22/03/2012).
She has a BA in Geography and History (Mayor in Ancient History and History of Art ) and a PhD (with honors) from the Universidad Complutense de Madrid. She had doctoral fellowship and further postdoctoral fellowships from 1983 to 1996 at the former Department of Ancient History and Archaeology of the Spanish National Council of Scientific Research at Madrid. She was also visiting fellow at the Deutsches Archäeologisches Institut in Rome (1989, 1993 and1999), the Deutsches Archäeologisches Institut in Damascus (1990), the Österreichische Akademie der Wissenschaften in Vienna (1994, 1995), and most recently at the Università degli Studi in Siena (2012), the Università degli Studi de Sassari (2013), the Universidade Nova de Lisboa (2014, 2015 and
2016), and the Università de la Calabria (2018).
Luz Neira is a expert in the study of Roman mosaics. She has been member of several Projects financed by the Ministry of Education and Science of the Spanish Government. Also addressed issues related to the iconography, elites and artisans in other research projects (I + D + i). Result of this research is the author of over 100 research papers in scientific journals, monographs and collective volumes and has participated in numerous conferences and international congresses, having obtained this recognition by 4 six-year research of 4 possible.
Currently she is PI of a research project from the Spanish Ministry of Science program entlitled "Patrimonio arqueológico, Nuevas Tecnologias, Turismo, Educación y Rentabilizacion Social: un nexo necesario para el yacimiento rural" (HAR2015- 68059-C2-2-R) (2016-2019).
Elected Member of the Conseil d'Administration of the Association Internationale pour l'Etude de la Mosaique Antique (AIEMA), in the UC3M is the Director of International Seminar about Roman Mosaics (SMR), which have already been held XII editions (2006- 2019), and President of the Asociación Española para el Estudio del Mosaico Antiguo (AEEMA), at the Institute of Culture and Technology (UC3M) where is also the Vice Director. Having been commissioned by the Board and the Assembly AIEMA, Prof. Neira has organized the XIII International Colloquium AIEMA in September 2015 at UC3M.
Coordinator of Heritage and Museums, Exhibitions and Galleries, actually Heritage and Visual Arts in the Master's degree in Cultural Management (MGC), and in the new Expert degree in Cultural Management in the Foreign. She act also as the Vice Director of Master in Theater Creation.
She is a member of the Expert Network of the CEI Cultural and Natural Heritage of Andalusian Universities and XIX "Cultura Viva" Prize of Archaeology (2010). Elected as Correspondent Academic of the Real Academia de la Historia (15/06/2012) and Patron of Fundación de Estudios Romanos (3/11/2017).