Pilar Carrera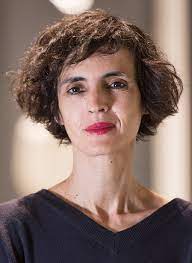 Professor Pilar Carrera
Full Professor in the Department of Communication at the Universidad Carlos III de Madrid.

PhD in Communication from the UPV-EHU.
MA Degree in Communication Studies from the UPV-EHU.
Doctoral studies at the École de Hautes Études en Sciences Sociales (Paris).

Vice-President of Communication and Culture at UC3M.
Director of the Master's Program in Documentary and Journalistic Reporting UC3M-RTVE
Director of the Master's Program in News Agency Journalism UC3M-EFE.
Visiting scholar at the London School of Economics and at Yale and Harvard Universities.

She has published numerous articles and books. Her latest titles include: La lógica del fragmento. Arte y subversión (The Logic of the Fragment. Art and Subversion, Pre-Textos, 2022), Maternidades. Políticas de la representación (Maternities. The Politics of Representation, Cátedra, 2021), Basado en hechos reales. Mitologías mediáticas e imaginario digital (Based on Actual Facts. Media Mythologies and Digital Imaginery, Cátedra, 2020), El relato documental. Efectos de sentido y modos de recepción (The Documentary Narrative. Effects of Meaning and Modes of Reception, Cátedra, 2018), Michael Cimino (Cátedra, 2018), Las moradas de Walter Benjamin (Walter Benjamin's Abodes, Biblioteca Nueva, 2017), and Nosotros y los medios. Prolegómenos para una teoría de la comunicación (Us and the Media. Prolegomena for a Theory of Communication (Biblioteca Nueva, 2017).