Jesús García Herrero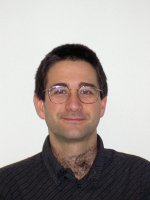 Professor Jesús García Herrero
Jesús García Herrero is a tenured professor at the Universidad Carlos III de Madrid, Department of Informatics. He is a Doctor of Telecommunications Engineering from the Polytechnic University of
Madrid.
His lines of research are artificial intelligence, data and information fusion, artificial vision and autonomous vehicles. Within these areas, including theoretical and applied aspects , he is the co-author of more than 50 articles in indexed journals and 180 communications to conferences. He is an active reviewer of academic publications and belongs to the editorial board of different journals in the field of his research, such as Information Fusion (Elsevier) or Perspectives on Information Fusion (ISIF). He is the coordinator of the Applied Artificial Intelligence Group at the Carlos III University of Madrid, has been Deputy Director of the Engineering School on the Colmenarejo campus (2005-2008) and Director of the Antonio Machado Student Residence (2008-2010).
He has belonged to different committees in international organizations: President of the IEEEE Spanish Chapter on Electronic and Aerospace Technologies in 2013-2018, Spanish representative in working groups in the NATO-STO society since 2011 and member of the steering committee of the International Fusion Society of Information in the period 2014-17.