Five UC3M professors receive research grants from the Fundación Ramón Areces
1/11/16
Five of the twelve researchers who received grants from the Fundación Ramón Areces in its latest national competition for funding Social Science research are professors at Universidad Carlos III de Madrid (UC3M).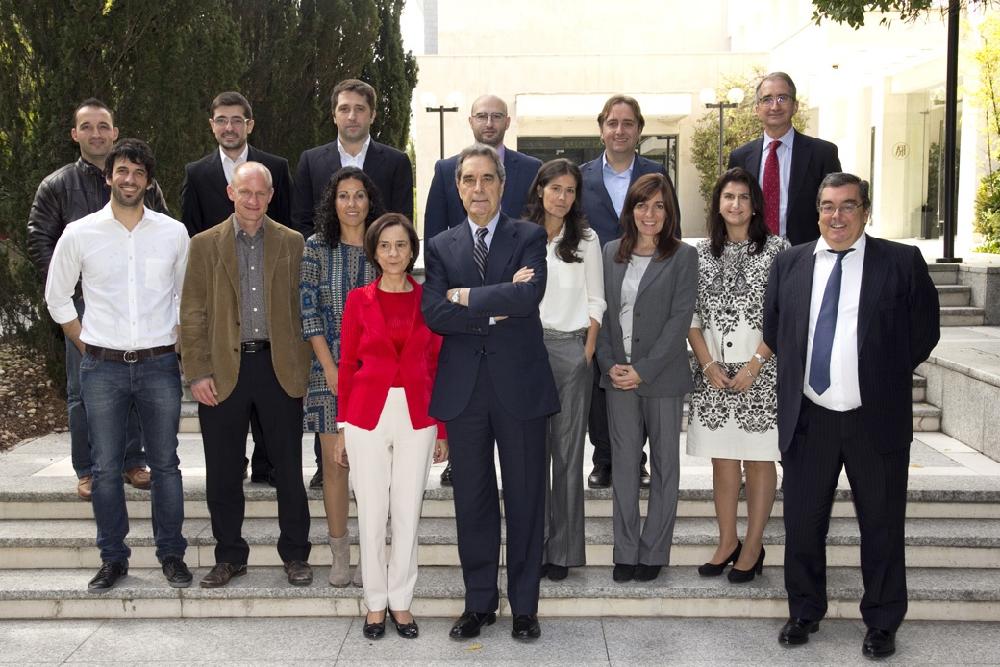 Researchers from the Fundación Ramón Areces
The heads of the research projects that were selected are: Alicia Barroso Ludeña and Anna Toldrà Simats, of the department of Business Economics (Economía de la Empresa); Matthias Kredler and Hernán Daniel Seoane, of the department of Economics; and Carlos Santiago Caballero, of the department of Social Sciences.

The research, awarded with 36,000 Euros each, will be carried out within two years and will analyze, among other questions: strategies for internationalization of businesses; the evolution of regional inequality in Spain from 1840 to the present; how care for elderly dependents is focused in the European Union; over indebtedness as a precipitating factor in the latest economic crises; and the need for countries and companies to make a greater commitment to innovation.

The XIV competition for these grants is meant to contribute to research in social sciences that is carried out by highly qualified professionals and to stimulate new projects that will benefit our society and, overall, the international scientific community.
Summary of the UC3M projects:

Alicia Barroso Ludeña (department of Business Economics) establishes her project within the area of commercial distribution, with the title: Estrategia de comercialización e internacionalización: estandarización versus adaptación (marketing and internationalization; standardization versus adaptation). "In recent decades, there has been a progressive integration of markets and an internationalization of businesses. The goal has not only been to grow, but also to survive. We have seen the best example of this during the recent economic crisis in Spain, where internationalization has acted as an escape valve. This opening of new markets forces companies to connect with other cultures, and then they have to decide whether they are going to standardize or adapt to the conditions of each different market," she explains.

See video

Carlos Santiago Caballero (department of Social Sciences) proposes finding the causes and the roots of regional inequality in Spain from 1840 to the present: Los orígenes de la desigualdad regional en España, 1840-2015 (The origins of regional inequality in Spain, 1840-2015). As he explains, "the current economic crisis has greatly increased the levels of inequality." As for the question of why there are regions that suffer greater inequality than others, the researcher explains that "the current levels were inherited from the past and with this research we will try to analyze the causes of that inequality." In order to do this, he will pay special attention to the key period from 1840 to 1880, because that is when Spain was modernized through the arrival of the telegraph and railways, the merging of markets … "In that historical period, we can find a lot of answers," Caballero assures.

See video

Matthias Kredler (department of Economics) has looked into a growing social and economic problem, within the area of public economy: La dependencia de ancianos en Europa: consecuencias de reformas sobre el cuidado familiar. (Dependence of the elderly in Europe: the consequences of reforms on family care) "Care for the elderly has become a ever-greater problem in Europe due to the aging population, changes in the workforce… I want to document what this care is like in different countries in Europe: for example, in the South, the family plays a greater role, compared to the North, where senior residences take on the task," summarizes Kredler.

See video

Hernán Daniel Seoane Bernadaz (department of Economics) titles his paper: Sobre-endeudamiento: interacción entre la deuda pública y privada (Over indebtedness: interaction of public and private debt) carried out in the area of International Economics. "We want to understand how the conditions of indebtedness in both sectors interact, using the latest crises as a starting point. From the crises in Latin America in the 80s to the Asian crises, or the most recent one, there is a common denominator in all of them: at least one economic agent was accumulating too much debt. In our last case, in Spain, it has been shown that Spanish families were carrying too much debt. The objective is to try to understand that interaction and the relationship between public debt and private debt," this researcher states.

See video

Anna Toldrà Simats (department of Business Economics) asks the following question in the title of her project: ¿Qué impulsa la innovación? El papel de la regulación de los mercados de capitales, bancario y de bienes. (What stimulates innovation? The role of regulation in capital markets, banking and goods). Within the area of industrial Economics and regulation, she is researching the "essential role that innovation assumes in the development of companies and countries." "During the last economic crisis we saw and intense debate regarding the need to promote an economic model based more on innovation," she adds.

See video