UC3M awarded a Jean Monnet Centre of Excellence in Interdisciplinary European Studies
7/10/23
The Universidad Carlos III de Madrid (UC3M) is one of 14 European higher education institutions that have been awarded a Jean Monnet Centre of Excellence among the 76 that applied for the latest call for applications under the European Union (EU) Erasmus+ programme. The new centre, called MACIES-C3 (Madrid Centre for Interdisciplinary EUropean Studies-UC3M), is led by lecturers Juan Díez Medrano, Aleksandra Sojka and Juan Antonio Mayoral, from the University's Social Sciences Department, and involves lecturers from different areas of UC3M who are also dedicated to studying the EU.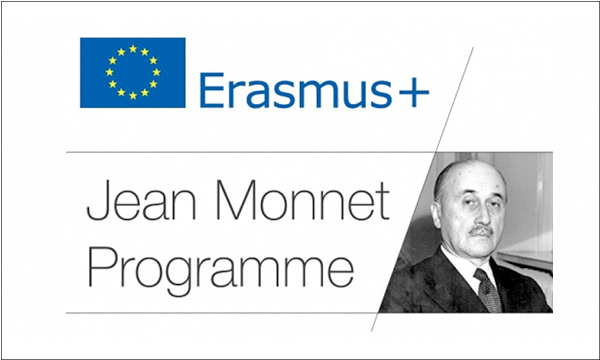 "Our goal in this new centre is to generate transversal knowledge to improve the understanding of EU governance, its values and its implementation in Spanish society, politics, law and economy," says Juan Díez Medrano. To achieve this, "in the MACIES framework, through an interdisciplinary approach, we will try to promote research and dissemination of EU studies among the student community and academics from various disciplines at UC3M," adds Aleksandra Sojka.
This goal is at the origin of the proposal which involved lecturers from the Social Sciences Department (the aforementioned, as well as Ilke Toygür, Işık Özel and Stefano Battilossi), María Luengo (Communication), Natalia Fabra (Economics), Antonio Estella (Public Law), Ángel Cuevas (Telematics Engineering) and Maria José Álvarez (Business Economics). "Thanks to this interdisciplinary dialogue, the goal is to strengthen the role of citizens, politics and civil society in the European policy-making process in order to be able to address the challenges facing Europe more effectively and inclusively," says Juan Antonio Mayoral.
The centre to be set up within the framework of this €100,000 euro three-year grant has three general objectives. Firstly, to strengthen and promote excellence in teaching and interdisciplinary research in EU studies. Secondly, to promote, expand and consolidate a community of academics and relevant social, political and economic actors for the search for inclusive solutions to current EU challenges. And thirdly, to bring the EU closer to society and to Spanish and European students and young people to promote their participation in the Centre's activities.
Specifically, the following actions are planned, among others: the creation of a European degree and minors in collaboration with the YUFE Alliance; updating the contents of existing bachelor's and master's degree courses in an interdisciplinary way; and the organisation of conferences, workshops and research seminars based on a common agenda on the Europeanisation of Spanish law, economics, politics, media and society.
Jean Monnet Centres of Excellence, proposed and hosted by a higher education institution, are sources of reference and knowledge on EU-related topics. They bring together the experience and skills of high-level experts with the aim of developing synergies between the various disciplines and resources of EU studies. They also play a key role in reaching out to students from faculties that do not normally address EU-related issues, as well as policy makers, civil servants, civil society and the general public.
More information: Jean Monnet Centres of Excellence