UC3M researcher Alba González wins the 2023 TCT WI3DP Innovator Award
6/21/23
The TCT WI3DP Innovator Award, which aims to give visibility to women innovators and leaders in the field of 3D printing, was won this year by Alba González Álvarez, a Marie Curie CONEX-Plus postdoctoral researcher from UC3M's Bioengineering Department.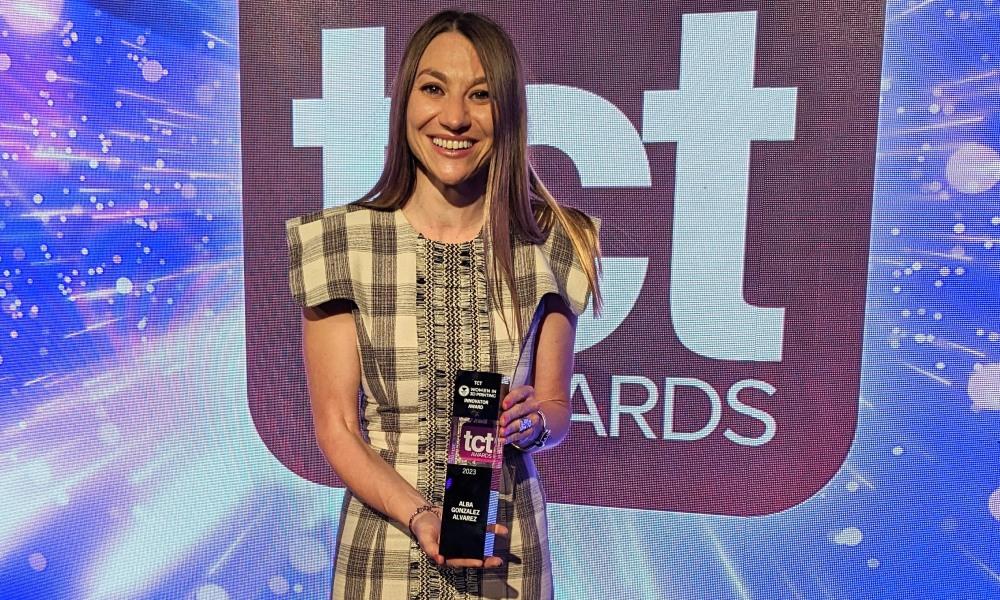 This industrial engineer and doctor in Biomedical Engineering was the winner among the five nominees for this award, selected by a jury of experts from among 70 women from around the world. "The other four women finalists are from the United States and the United Kingdom, so I feel quite proud to be able to represent Spain and UC3M", she said before learning of the award, which is promoted by important associations in the global 3D printing industry, such as the TCT Group or the Women in 3D Printing movement. The winner was chosen by public vote.
"The aim of this award is to give visibility to women innovators and leaders in the additive manufacturing sector, an area led mainly by men", explains Alba González. In her case, her research is a direct application of 3D printing in human health. "We have developed innovative hip and pelvic implants for patients with bone defects so complex that they couldn't have been operated on with the implants available on the market, and thanks to our technology and know-how we have given them back the possibility of walking and having a normal life", she says.
Alba González Álvarez develops customised implants for complex bone reconstructions in orthopaedic, maxillofacial and thoracic surgery in her research within the framework of UC3M's CONEX-Plus programme, collaborating with surgeons from different national and international hospitals for the clinical transfer of her research results. "The implants we develop are designed with the specific shape and mechanical-biological properties that each patient requires. And this is achieved thanks to multidisciplinary collaboration between surgeons, engineers, researchers and industry, as well as the effective application of the latest digital technologies such as virtual surgical planning, 3D CAD biomechanical design, additive manufacturing and surgical navigation", explains the researcher. "This approach to personalised medicine is demonstrating an improvement in the precision, safety and outcomes of complex bone reconstructions", she concludes.
Alba González Álvarez has collaborated with international surgeons, engineers and companies to develop a wide variety of innovative custom implants that have been successfully used in patients in the fields of orthopaedic, maxillofacial, thoracic, spine and plastic surgery. In fact, last year she won the National Design Award for her custom bone implants. She has worked in companies and hospitals in the United Kingdom and France using biomechanics, 3D printing and 3D CAD design for patients and in 2018 she completed a Marie Curie industrial PhD in spine implant development at the University of Birmingham (United Kingdom). Alba has presented her work as a guest speaker at numerous international events dedicated to surgery as well as technology and innovation. Her motivation, she says, "is to improve patients' lives by creating pioneering solutions with the application of the latest 3D technologies".
More information: TCT Awards 2023