UC3M hosts the final event of Technovation Girls 2023
Supporting technological entrepreneurship in girls and young women
5/17/23
The Technovation Girls 2023 programme is holding the regional final of this technological competition on Saturday 20th of May at the Universidad Carlos III de Madrid (UC3M)'s Leganés Campus. This entrepreneurship and technology initiative aims to inspire girls and young women between the ages of 8 and 18 to become leaders and innovators.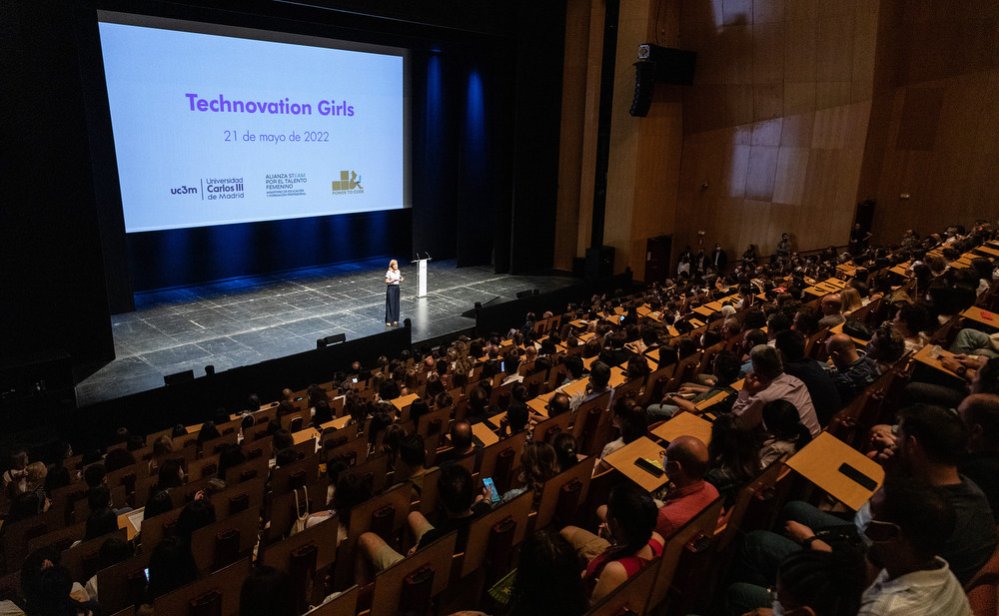 The aim of Technovation Girls is to offer girls and young women the opportunity to learn the necessary skills to be future technological entrepreneurs and reduce the technological gender gap that currently exists. The first edition of the programme took place in 2009 and, since then, over 15,000 girls from 100 countries have taken part.
Since the 2017-2018 academic year, UC3M students from different degrees have volunteered in a mentoring programme aimed at girls and young women from public schools and colleges in the Community of Madrid. Each year, teams from all over the world, supported by local mentoring networks, develop technological applications that propose solutions to problems in their immediate environment in areas such as health, the environment, sustainability, helping the elderly, poverty, the integration of people with disabilities or equality. They also develop the business plan and its implementation. This year over 180 teams, 130 mentors and a total of 400 girls from our community are taking part.
The University is integrating this activity into its STEM for Girls UC3M programme for the promotion of technological and scientific vocations, aimed at girls and young women in secondary school and studying A Levels. This programme has received the first STEAM Alliance award for female talent from the Ministry of Education and Vocational Training in the Entities and Organisations category. It has also been awarded as the entity with the best educational programme in science, technology, engineering and mathematics in the first edition of the STEM Talent Girl Awards, organised by the ASTI Foundation in collaboration with the Castilla and León Regional Government's Ministry of Family and Equal Opportunities, and has been supported by the Ministry of Equality and the Spanish Foundation for Science and Technology (FECYT in its Spanish acronym).
Technovation Girls is a Technovation programme, a global technology and engineering organisation, and is the largest technological entrepreneurship competition for girls. In Madrid, it is promoted by the non-profit organization Power to Code which acts as ambassador.
The event will be welcomed by Ángel Arias, Rector of UC3M, and Teresa Riesgo, General Secretary of Innovation from the Ministry of Science and Innovation. The president of Power to Code, the Technovation Girls Ambassador, Eva Bláquez Agudo, Vice-Rector for Institutional Relations, Culture and Equality, and Paloma Díaz, Head of School of Engineering at UC3M, will also take part.
More information: