UC3M awards the 2022 Alumni scholarships
10/25/22
The Universidad Carlos III de Madrid (UC3M) has awarded 12 new Alumni Scholarships to low-income students with good academic records who have started their undergraduate studies at the University.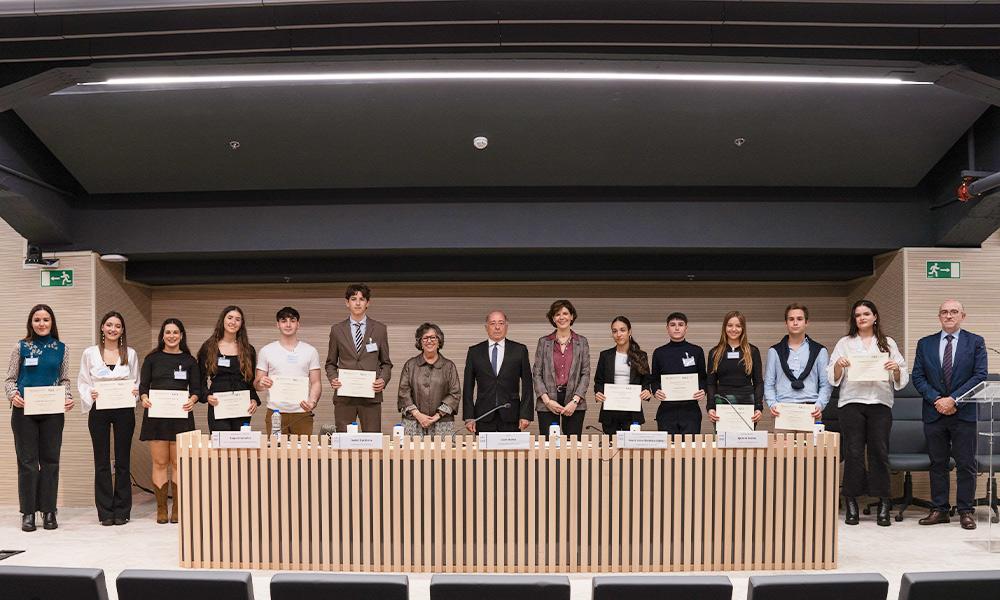 Each scholarship holder receives 3,000 euros per academic year (12,000 euros for undergraduate studies and 18,000 for double degree studies) and those who receive it commit to maintaining a good record and returning part of the aid they received to provide new scholarships, when their personal and professional situation allows it.
The scholarships for the 2022/23 academic year were awarded during the Alumni General Meeting, which took place at UC3M's Madrid-Puerta de Toledo campus, which was attended by more than 300 participants, including former students, alumni scholarship holders and representatives of companies and institutions.
UC3M President, Juan Romo, chaired the event together with the Vice-President for Studies, Isabel Gutiérrez, the Vice-President for Institutional Relations and Sustainable Development, María Luisa González-Cuéllar and the managing director of the Universidad Carlos III Foundation, Ignacio Sesma. Julio César Ruiz Alguilar, a past scholarship holder, also took part in the event.
This year, the new scholarships were awarded by Àlex Galí, director of the DAMM Foundation; Diego Martínez Pomares, director of the VASS Foundation; Ana Gemma Martínez, Talent Attraction and Development Coordinator at ENAGÁS; Francisco Cifuentes, Development Account Director at INECO and María Luisa González-Cuéllar, representing INDITEX.
Since its launch in 2012, 134 students have been awarded UC3M Alumni scholarships, representing a commitment of more than 1.6 million euros. This support makes it easier for them to move and settle into the Community of Madrid.
The scholarships are named after former UC3M students, who contribute so that other young people have the opportunity to study at the same university. During the 11 years of the programme, lecturers, students and staff from the university community have contributed to the funding. In addition, contributions have been made by the writers Rosa Montero and Lorenzo Silva; the president of Solaria, Enrique Díaz-Tejeiro; the president of UC3M's Social Council, Matías Rodríguez Inciarte; and Alberto Grau, from the company Bunzl. Other collaborating entities include Academic Partnerships, Acciona, ACM, Airbus Group, Alea Media, Altamira, Axa, Baker & Mckenzie, Casico, CESyA, Deloitte, Enagás, DAMM Foundation, Ebro Foundation, ONCE Foundation, Gregorio Marañón Hospital Foundation for Biomedical Research, Profesor Uría Foundation, Ramón Areces Foundation, Urrutia Elejalde Foundation, VASS Foundation, Inditex, Indra, Ineco, Interactiva Facility (Ibergest Group), Mercedes Benz, Olmata, Otis, Philips, PWC and Volkswagen Group Spain.
Donations, in various forms, can be made throughout the year on the UC3M Alumni donation website https://aa.uc3m.es/becasalumni and go entirely towards funding the scholarships.
More information about UC3M Alumni Scholarships