UC3M opens its new telepresence classrooms
6/30/22
The Universidad Carlos III de Madrid (UC3M) opened its new Telepresence Classrooms today, three immersive collaborative spaces that can be interconnected to create the feeling that all attendees (both on-site and remote) are sharing the same physical space.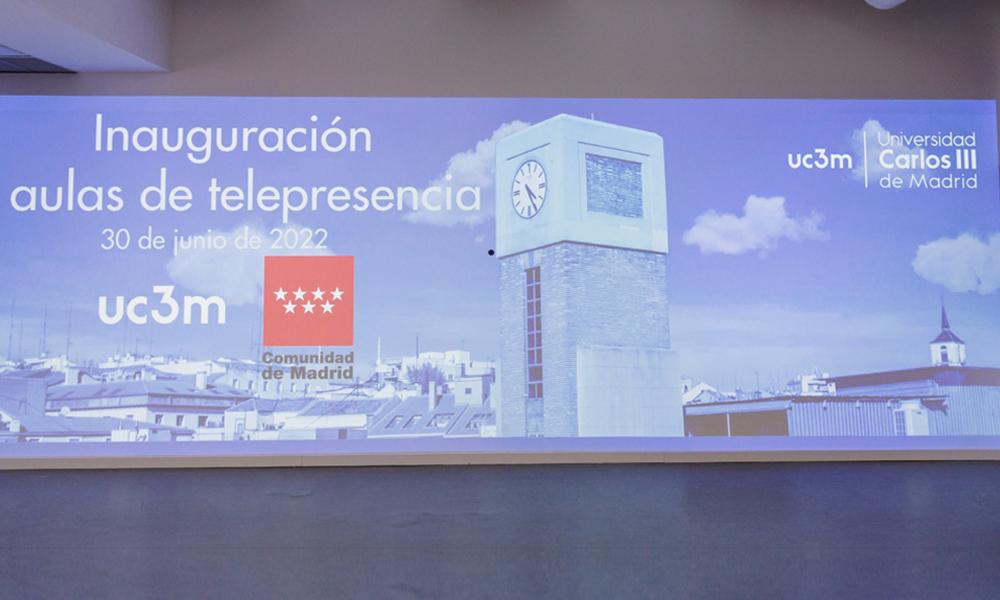 The opening event was attended by the Deputy Minister for Universities, Science and Innovation of the Community of Madrid, Fidel Rodríguez Batalla, the UC3M Vice-President of Studies, Isabel Gutiérrez Calderón and the UC3M Vice-President of Strategy and Digital Education, Carlos Delgado Kloos, among others.
The classrooms are equipped with technology that allows "telepresence" sessions to be held, which is a step further than typical videoconferencing. To do this, a general image of the remote classroom is projected on one of the walls (in 4K quality) and a high-quality microphone system in the ceiling allows background noise to be recorded in order to capture all the contributions of the lecturers and students anywhere in the interconnected classrooms.
"Thanks to these systems, it's possible to connect two classrooms that are thousands of kilometres apart and for the students working in these spaces to interact with each other collaboratively, as if they were in the same place", says lecturer Carlos Delgado Kloos.
The three new Telepresence Classrooms, located on UC3M's Getafe, Leganés and Madrid-Puerta de Toledo campuses, can accommodate between 20 and 30 people. They have mobile furniture, which allows different setups to organise students into working groups and promote collaborative study. The lecturer's station, which has a height-adjustable motorised table, centralises system operation and management during classes through an interactive panel.
These spaces have been designed so that the lecturers who use them during their classes have optimal sound and lighting conditions, allowing the intensity of their LED lights to be regulated, for example. In addition, small windows with additional content such as images, videos and other work resources can be included on the wall where the remote class is projected. The latter also allows the integration of other participants via standard videoconference.
More information: