A UC3M team wins the "Day of Crisis" law competition
5/11/22
A team of students from the Universidad Carlos III de Madrid (UC3M) has won the "Day of Crisis" competition, a public international law and diplomacy contest organised annually by the Hague Academy of International Law.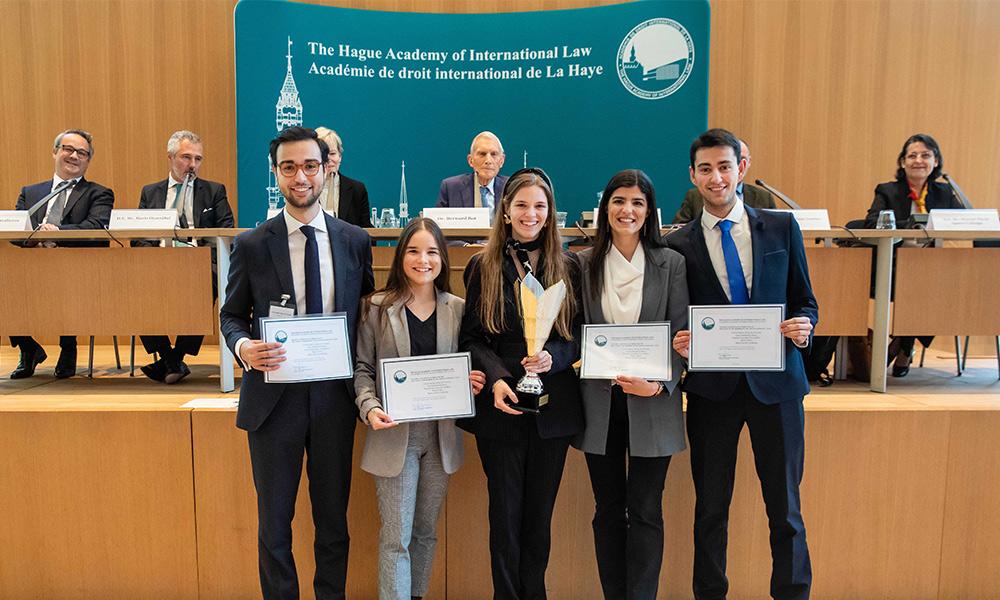 The team, made up of Carlos Aldea, Luis Doménech, Nazaret González, María Palos and María Revert, has won the "Best Team" award. In addition, it won the "Best Initial Statement" award, which awards the best speech in a simulation of the United Nations General Assembly.
For the first time, the competition was held at the Peace Palace in The Hague (The Netherlands), headquarters of the International Court of Justice. UC3M was the only Spanish representative in the competition along with eight other European universities.
Over the course of 24 hours, the student teams faced a series of international crises, where they had to deal with a variety of legal issues, provide an opinion, advise, draft documents, negotiate or develop diplomatic strategies.
This competition tests university students' knowledge of public international law and a variety of skills, such as teamwork, drafting legal documents and negotiating with other parties involved in the crisis.
The jury for the competition was made up of six experts in international law: Hillary Charlesworth, Judge at the International Court of Justice (ICJ); Philippe Gautier, Registrar at the ICJ; Bernard Bot, former Minister of Foreign Affairs of the Netherlands; Mario Oyarzábal, Ambassador of Argentina to the Netherlands; Marisol Flavia Aguero, Ambassador of Peru to the Netherlands; and Philippe Cavalieros, partner at Simmons & Simmons Paris.