MAD Formula Team 2021 presents their new single seater racing car for Formula Student
6/18/21
The new vehicle developed by the MAD Formula Team, an association of students from the UC3M's Higher Polytechnic School (EPS, in its Spanish acronym) was presented at the Universidad Carlos III de Madrid (UC3M) to compete in the 2021 Formula Student season, the most well established university single seater competition in Europe.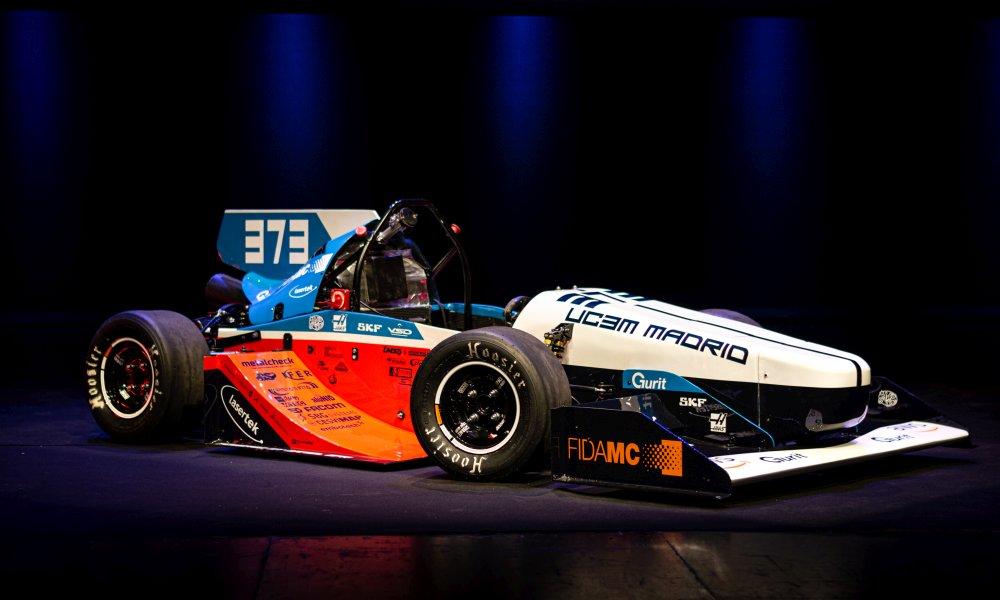 Car technical data sheet:
- Dimensions: Length: 2.925m, width: 1.367m and height: 0.846m
- Weight: 245kg (without driver)
- Engine: Honda CBR 600 F4i, cylinder capacity: 599cc and horsepower: 63Cv (inlet restricted to 20mm diameter, own inlet and exhaust design).
- 18 inch tires, Hoosier R25B tires mounted on a 10 inch rim
- Built-in carbon fibre monocoque chassis. Downforce: 200kg to 80km/h
The new single seater car, called MFT01, was presented at an event in the Auditorium on the UC3M's Leganés Campus, members of the MAD Formula Team and representatives from the UC3M's Higher Polytechnic School participated in the event. This vehicle, which integrates innovative systems in order to maximise its performance, will represent the University at the international Formula Student competition, going head to head with teams from other European Universities, such as Graz, Oxford Brookes, Stuttgart, etc. Updates this year include the forced soil effect system, which maximises the aerodynamic load generated by using fans in the single seater car's diffuser.
The MAD Formula Team, made up of more than fifty students from different degrees across the UC3M, has working groups that specialise in different parts of the car, such as aerodynamics, chassis, dynamics, electronics, driving technologies or powertrain, as well as their own marketing department and management team. In addition to the different engineering specialities, this project requires a wide range of interdisciplinary knowledge and skills. Other branches, such as business administration and management, audio visual communication, economics, and journalism, among others, have come together. In addition to designing and building the car, students take part in cost analysis, searching for sponsors, programming, and more.
This UC3M team was founded a decade ago, when the vehicle's conception began, and participated in the competition in 2016 under the name Formula UC3M. "Since then, the team has continued to improve and grow, with the enthusiasm of new members and demonstrating that we have a true pool of talent and innovation based on the careers former members have gone on to," says the founder and academic director of the UC3M's MAD Formula Team, Daniel García-Pozuelo, lecturer at the UC3M's Department of Mechanical Engineering and researcher at the University's "Duque de Santomauro" Institute of Motor Vehicle Safety. "This project is an opportunity for students to develop academically, personally, and professionally," he adds.
"In my opinion, the MAD Formula Team is the perfect complement for my university studies," says Diego Rosado Barbero, leader of the team's Marketing Department and UC3M Mechanical Engineering Degree student. "Being able to put all of the knowledge I've gained during my studies into practice is a very positive thing, especially when it comes to such an exciting, ambitious, and comprehensive project, both at the academic and human level," he explains.
Safety and reliability
It's important that when designing a single seater car like this one, the vehicle is "safe for the driver, as well as for the team members working close to the car, ensuring it is reliable enough that it won't fail before the end of the competition," says Daniel García-Pozuelo. However, one of the requirements to earn points in this competition is completing all of the tests.
The competition is made up of two types of tests: static, based on things such as the design and innovation of the different parts of the vehicle, cost analysis, and business plan; and dynamic, which take the car's effectiveness and efficiency into account, in terms of acceleration, driving, stability, and endurance.
Formula Student SAE (Society of Automotive Engineers) is an international competition for universities organised by the Institute of Mechanical Engineers (IMechE), an independent mechanical engineering company based in London (United Kingdom) that aims to stimulate and inspire young engineers to become innovators and entrepreneurs. For this event, teams from each institution create, design, and build a single seater car that they then compete with on world-renowned circuits, such as Assen (The Netherlands), Hockenheim (Germany), Montmeló (Spain) and Silverstone (United Kingdom), among others. This is an important competition at both the university and a professional level, it is supported and sponsored by multinational companies, providing an opportunity for engineering students to demonstrate and test their creativity and skills, as well as giving them an opportunity to develop relationships for their future career.
More information: https://www.madformulateam.com/