The UC3M, Santander and Airbus to award more than 190,000 Euros for research, excellence, and entrepreneurship awards
6/15/21
The Universidad Carlos III de Madrid (UC3M) gave its Social Council's 2021 Awards for Excellence today, which are supported by Banco Santander, through Santander Universities, and Airbus. These awards recognise the university community's effort, quality, innovation, and contribution to excellence. In addition to this, the 2020 Emprende Awards, which aim to promote entrepreneurial culture and are awarded to Bachelor's Dissertations (TFG, in its Spanish acronym) and Master's Dissertations (TFM, in its Spanish acronym) with an entrepreneurial profile, were also given during the event.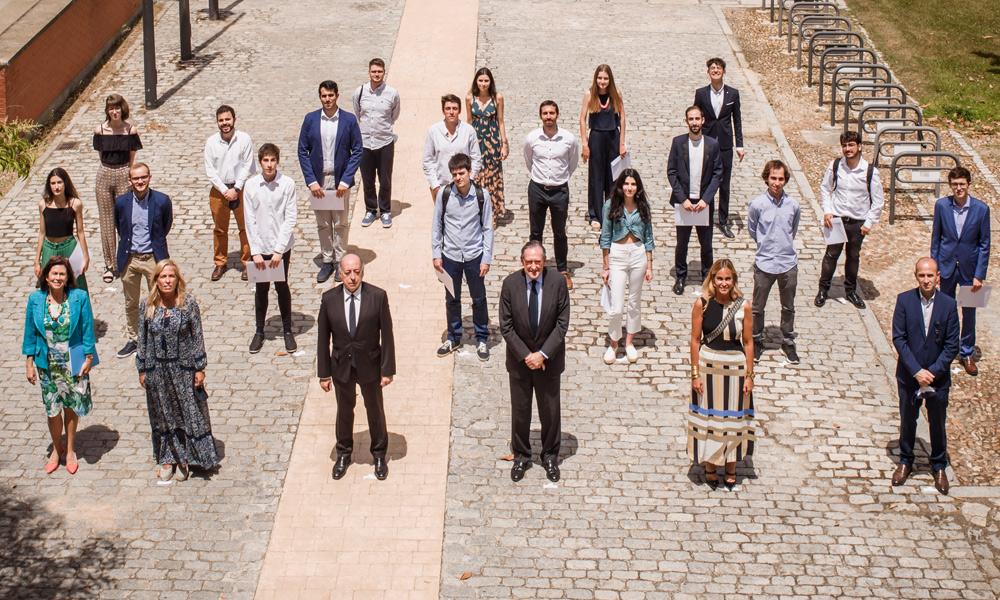 The event, which was held in the UC3M's main auditorium, the Aula Magna, with a limited capacity and complied with the corresponding health measures, was attended by the UC3M's President, Juan Romo; the President of the University's Social Council, Matías Rodríguez Inciarte; the Director of Santander Universities Spain and Universia Spain, Susana García Espinel; the Director of the Airbus Getafe plant, Jesús López Medina; and the Vice-Minister of Educational Policy at the Community of Madrid's Ministry of Education and Youth, Rocío Albert.
In this thirteenth edition of the Awards for Excellence, 192,000 Euros will be distributed among the 59 winners. Among the winners are 10 young PhD researchers with an international profile who will receive 15,000 Euros; as well as 22 students distinguished by their excellent academic record, who will receive 1,000 Euros. In addition to this, 20,000 Euros will be awarded to a team of administrative and services staff, and to a second project with a secondary award, for their participation in initiatives and actions that took place during the 2019-20 academic year to provide solutions and maximise opportunities to alleviate the effects of the COVID-19 pandemic throughout the UC3M community. Finally, a diploma and trophy of recognition is being awarded to 10 University alumni who excel due to their remarkable professional development or entrepreneurial activity in two categories; those who graduated between 2015 and 2017, and those who graduated more than five years ago.
The Awards for Excellence aim to promote research and acknowledge the work carried out by four University groups: alumni, students, young PhD researchers, and administrative and services staff. Furthermore, they provide an opportunity to highlight young researchers with an international profile, the most outstanding students, administrative and services staff who have undertaken innovative projects, and University graduates with exemplary professional careers.
2020 Emprende Awards
The Emprende Awards were also given during the event. The TFM Emprende Awards distinguish dissertations written by UC3M master's degree students, who have created business ideas that stand out for their excellence and viability, during the 2019/20 academic year. The first TFM Emprende Award, which comes with 10,000 Euros, was awarded to "ARAX", a project developed by Antonio López-Terradas Paniagua, a student on the UC3M's Master's Degree in Aeronautical Engineering. This project is a drone and machine learning-based solution in the field of precision wine-making which provides farmers with an action plan to manage their resources and predict the evolution of their crops, in terms of their health and production status. The second TFM Emprende Award, which also comes with 10,000 Euros, was awarded to Romina Valdés Quintana, a student on the UC3M's Master's Degree in Entrepreneurship and Business Creation, for her "ATIK" business proposal, which provides a marketing proposal for a female sportswear brand that is made of recycled materials, initially oriented towards the sports of tennis and padel.
The TFG Emprende Awards distinguish the students who have written innovative Bachelor's Dissertations. The total amount being awarded is 19,500 Euros, which is intended to be used to finance entrepreneurial or training activities within this field. The first TFG Emprende Award, with 6,500 Euros, was awarded to Carlos Cantero Gómez and Álvaro Huecas Moreno for their project "Assisbot: Mobile hospital assistance and control robot". This project addresses the development of a robotic solution in order to reduce nosocomial infections (those contracted in hospital environments). To do this, the environment is analysed by measuring different parameters and micro-organisms are removed from the air and surfaces using ultraviolet light. In addition to this, it can also transport different materials, avoiding human presence wherever possible. The second prize, with 6,500 Euros, was awarded to the project "Solar Heaters: Clean heat in industrial processes", developed by Darío Pardillos Pobo. This entrepreneurial proposal suggests the use of preheating raw material in industrial processes, using thermo-solar technology developed and patented by the UC3M. This idea can be applied in the asphalt industry, which could reduce its environmental impact as well as production costs. The third prize, with 6,500 Euros, was awarded to Alejandro Matías Delgado-Ureña Ocaña and César Sebastián Muñoz for their proposal "Agricop: Analysis of specific crops using hexacopter and satellite images". This business idea is intended to facilitate farmers' access to decision-making solutions based on satellite and/or drone-generated image analysis. This precision farming solution offers users the possibility to optimise crop parameters, increasing their productivity. This project is being presented by a multidisciplinary team that has already developed a prototype and tested it at the UC3M's Science Park.
Banco Santander and the UC3M
Banco Santander's support for the Awards for Excellence, through Santander Universities, is part of the framework of the relationship that has been maintained by the two institutions since 1999 for the development of different academic projects. In fact, both entities have recently renewed their collaboration agreement in order to continue to promote projects and programmes for scholarships, grants and awards to promote academic mobility, university entrepreneurship, as well as supporting UC3M research to attract first-rate national and international researchers through initiatives such as the UC3M-Santander Chairs of Excellence or the CONEX-plus programme.
Banco Santander, leader in responsible banking, maintains its firm commitment to progress and inclusive and sustainable growth with a pioneering and consolidated commitment to higher education that it has developed through Santander Universities for 25 years and that distinguishes it from other global financial institutions. The institution has allocated more than 2,000 million Euros in total and has awarded more than 630,000 grants since it began.
The UC3M Social Council, among its many functions, promotes societal engagement in university activity, particularly in its funding, and in promoting links between the University and the cultural, professional, economic and social community.
The UC3M is a Spanish public university which excels in research, teaching and innovation. It ranks among the top 35 universities in the world in the QS Top 50 Under 50 ranking and appears among the best Spanish universities in terms of employability of its graduates, according to the Times Higher Education (THE) Global Employability Ranking. The UC3M has numerous accreditations and quality distinctions, such as the EUR-ACE label in the field of Engineering and an AACSB accreditation in Business and Finance programmes, among others.
More information:
UC3M 2021 Awards for Excellence