The UC3M is awarded for its STEM for Girls educational programme
The first edition of the STEM Talent Girl Awards
10/30/20
The Universidad Carlos III de Madrid (UC3M) has been judged the institution with the best educational programme in science, technology, engineering and mathematics in the first edition of the STEM Talent Girl Awards. These awards were organised by FundaciónASTI in collaboration with the Castilla y León Regional Government's Department of Family and Equal Opportunities.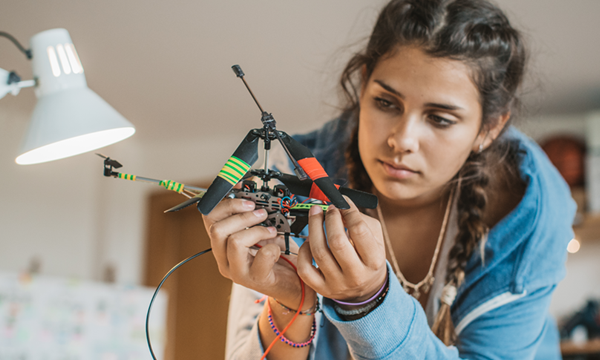 The UC3M won the award for its STEM4GirlsUC3M initiative, a programme that promotes STEM (Science, Technology, Engineering, Mathematics) careers among girls and young women. The initiative responds to the drop in the number of students choosing technical degree courses in recent years, with this drop being more pronounced among women. The University competed in the "Best company in STEM education" category, which also included BP and Johnson & Johnson.
STEM4GirlsUC3M is a programme aimed at promotingtechnological and scientific careersamong girls and young women in secondary level education. It has been running since the 2018/2019 academic year with the implementation of various technological workshops, a mentoring programme, the exchange of experiences between researchers and students and a performing arts project. This activity is also supported by the Spanish Foundation for Science and Technology (FECYT in the Spanish acronym) of the Spanish Ministry of Science and Innovation, and the Institute of Women and Equal Opportunities.
The awards ceremony was held digitally and was inaugurated by Ruth Pindado, Director General for Women inthe Castilla y León Regional Government. During her address, she welcomed the creation of these awards, which will provide "greater social recognition for the integration of our young women into what are known as the STEM disciplines".
The judging panel for this first edition of the STEM Talent Girl Awards was made up of experts and executives in the technology sector, such as Isabel Blanco, Minister for Family and Equal Opportunities in the Castilla y León Regional Government; Javier Rodríguez Zapatero, Chairman of ISDI; Elena Díaz-Alejo, Manager of Corporate Citizenship and Institutional Relations at Samsung; Alberto Gómez Barahona, President of the Universidad Isabel I; José María de la Torre, Managing Director Southern Europe, Chairman and Board Member of Hewlett Packard Enterprise; Cristina Vall-Losada, Head of Global Corporate Communications; David Calle, CEO & Founder of BeUnicoos; and María Jesús Prieto, a telecommunications engineer from the Universidad Politécnica de Madrid.
More information at: https://talent-girl.com/stg-awards/