Three UC3M researchers receive a Leonardo Grant 2019 from the BBVA Foundation
11/25/19
Three lecturers from the Universidad Carlos III de Madrid (UC3M) - César Huetes, Pedro Peris and Pedro Riera - have received a Leonardo Grant 2019 from the BBVA Foundation to support their research projects in the areas of Economics, Engineering and Communications Technology.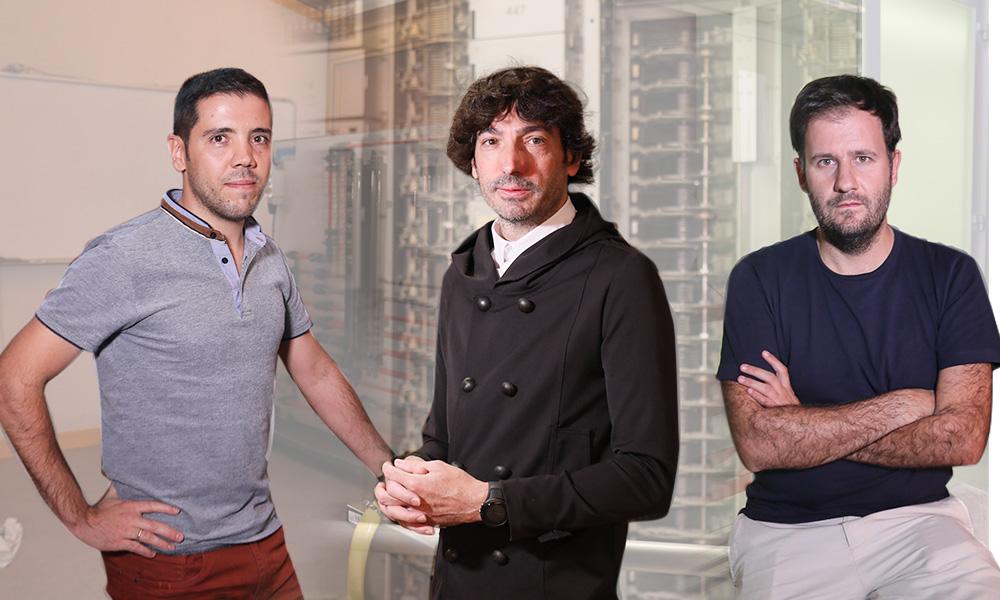 From left to right: César Huete, Pedro Peris and Pedro Riera. Credit: BBVA Foundation.
The aim of the BBVA Foundation's Leonardo Grants is to support science and culture in order to advance the projects of researchers and cultural creators aged between 30 and 45 in the intermediate period of their careers. These grants are helping to advance 60 highly innovative personal projects in 11 areas of science and cultural creation. This was a highly competitive call since a total of 1,466 applications were received, from which the projects considered to be of the highest standard were selected by an evaluating committee made up of independent experts.
UC3M projects
César Huetes Ruiz de Lira is a tenured lecturer in Thermal and Fluid Engineering at UC3M. His project aims to give new impetus to the development of nuclear fusion energy as a means to achieve a potentially inexhaustible source of safe and environmentally friendly energy. In this way, it will seek to develop a theoretical model that allows us to overcome the high inefficiency of current strategies for achieving nuclear fusion. In short, the project seeks to identify the optimal conditions necessary to make use of fusion energy in a more efficient and sustainable manner.
Pedro Peris López is a tenured lecturer in the Department of Informatics at UC3M. His project (CARDIOSEC) aims to design cyber-security solutions for the new generations of Implantable Cardiac Devices (ICDs), such as pacemakers and defibrillators. In 2001, wireless connectivity was incorporated into ICDs with the result that these devices can now be monitored remotely while the patient is at home. However, and this is where CARDIOSEC would be very useful, it is crucial that we ensure that only authorised entities can access this monitoring and protect communications against unauthorised listening via the radio channel.
Pedro Riera Sagrera is a lecturer in Political Science at UC3M. His project seeks to investigate the partisan impacts of electoral systems from a comparative perspective. It aims to study the effect of the different types of electoral regulations on the greater or lesser successes of the various political parties depending on their ideology. It will also address the concept of partisan bias whereby most electoral systems tend not to be neutral, with certain political parties being over-represented, as far as seats are concerned, even in the case of a hypothetical percentage balance of votes obtained by each of them.