UC3M forms part of a new Spanish-Russian university alliance
4/11/19
Universidad Carlos III de Madrid (UC3M) is one of eight public universities in Spain and Russia that have jointly established an alliance, AURE, whose objective is to promote academic cooperation and to strengthen cultural ties between both countries.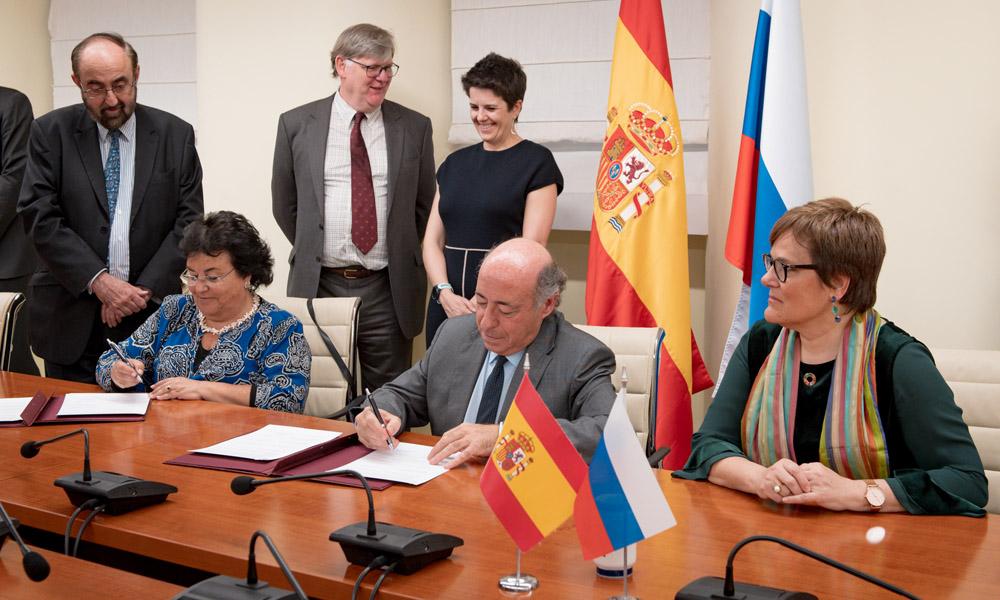 The event to launch the new Spanish-Russian alliance, which took place at the Spanish Embassy in Moscow, was attended by the Secretary of State for University Research, Development and Innovation in Spain, Ángeles Heras. Also present at the official signing ceremony were the rectors from the signatory Spanish universities: Carlos III de Madrid, Oviedo, Rovira i Virgili and Valencia. Present for the Russian participants were the rectors from RANEPA (Russian Presidential Academy of National Economy and Public Administration under the President of the Russian Federation), the Tomsk National Research University, MISIS (National University of Science and Technology) and the Russian Foreign Trade Academy of the Ministry of Economic Development of the Russian Federation.
All of the institutions forming part of AURE share the common goal of providing quality in teaching, undertaking multilateral scientific research, seeking to benefit society, and having great interest in the internationalization of their universities. Other Russian and Spanish universities of higher learning will be able join this university as members, subject to the signing of the additional corresponding agreements.
AURE is created to support the academic mobility of students, faculty and administrative staff; to develop common educational programs, such as double degrees at the undergraduate, graduate and postgraduate level; to develop of joint scientific research; and to carry out innovation programs to improve education quality, including both that of Spain and Russia.
UC3M Rector Juan Romo highlighted the "the high standing and prestige" of the universities forging the alliance, which in coming months will develop specific agreements to implement double bachelor and master degrees, as well as cooperation at the doctoral level. "It will enable exchange of students, collaboration among professors", he pointed out. Romo also noted that Russia has a "first-rate scientific tradition", and he is convinced that this will reap far-reaching benefits in the coming decades.
"It is a very important agreement- one step further in a great alliance that allows us to advance in student mobility, as well as mobility for faculty and researchers," Universidad de Valencia Rector Mavi Mestre observed. In addition, she noted the importance of developing "research networks" through joint work in matters of innovation and technology transfer.
"This is the first alliance of its kind among Russian and Spanish universities," remarked the director of RANEPA's Spanish-Russian Center and this project's promoter, Olga Pirozhenko, during the event held several weeks ago within the Gaidar Forum framework. RAPENA is furthermore confident that in time this alliance will further strengthen to become a platform for civil dialogue between Russia and Spain in diverse areas.
Source: EFE, compiled by author