The UC3M awards the 2018 Alumni grants
10/10/18
The Universidad Carlos III de Madrid (UC3M) has awarded twelve new Alumni Grants to students with a good academic record and limited financial means who have started their degree studies at the university this academic year.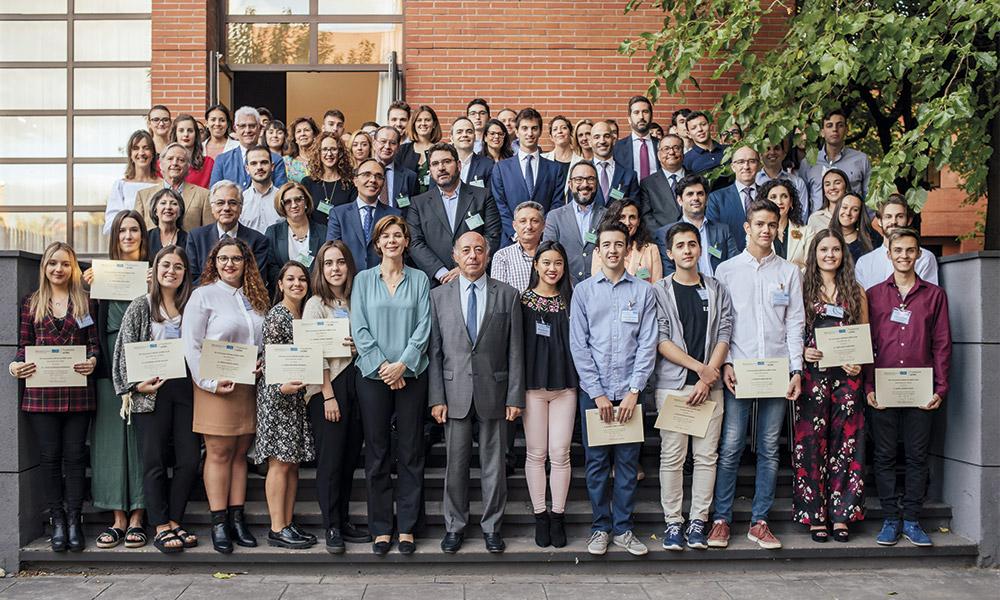 The institutional awards ceremony, which took place on 8th October on the Getafe campus was attended by the president, Juan Romo, who was accompanied by Iker Miguéleiz, a graduate of the UC3M and a donor to the programme; Maniel Ausaverri, Director of Strategy, Innovation and Media Relations at Indra; and Juan Ayala, graduate of Business Administration who carried out his studies thanks to a UC3M Alumni Grant.
Each grant is funded with 3,000 euros per academic year (12,000 euros over their degree studies) and requires that the student maintain a good academic record. Every year, since 2012, 12 grants in total are convened and until now 83 students have been recipients of these grants aimed at students with a good academic record and limited financial means in order to facilitate their transfer and settling in Madrid to study at the UC3M. The students agree to pay back 50 per cent of the amount in 5 to 15 years after graduating, meaning the amounts reimbursed allow new grants to be funded.
The Alumni Grants get their name from the former students of UC3M who make financial contributions so that other young people have the opportunity to study at the same university as them. Also contributing to the funding of these grants are; lecturers, students and staff from the university community; individuals such as writers Rosa Montero and Lorenzo Silva or the president of Solaria Enrique Díaz-Tejeiro; and entities such as Academic Partnerships, Acciona, ACM, Airbus Group, Altamira, Axa, Baker & McKenzie, Casico, CESyA, Deloitte, Enagás, Fundación DAMM, Fundación Ebro, Fundación ONCE, Fundación para la Investigación Biomédica Hospital Gregorio Marañón (Foundation for Biomedical Research Gregorio Marañón Hospital), Fundación Ramón Areces, Fundación Urrutia Elejalde, Inditex, Indra, Mercedes Benz, Olmata, Otis, Philips, PWC, Volkswagen Group España and Vass.
Donations, in different forms, can be made throughout the whole year on the UC3M Alumni website and go entirely towards funding the grants.
For more information on UC3M Alumni Grants: www.uc3m.es/becasalumni