Protocol for the expansion of the UC3M Leganés campus
Agreement with the Local Council of Leganés
7/5/18
Universidad Carlos III de Madrid (UC3M) has signed a protocol with the Leganés Local Council for the expansion of their university campus in the district.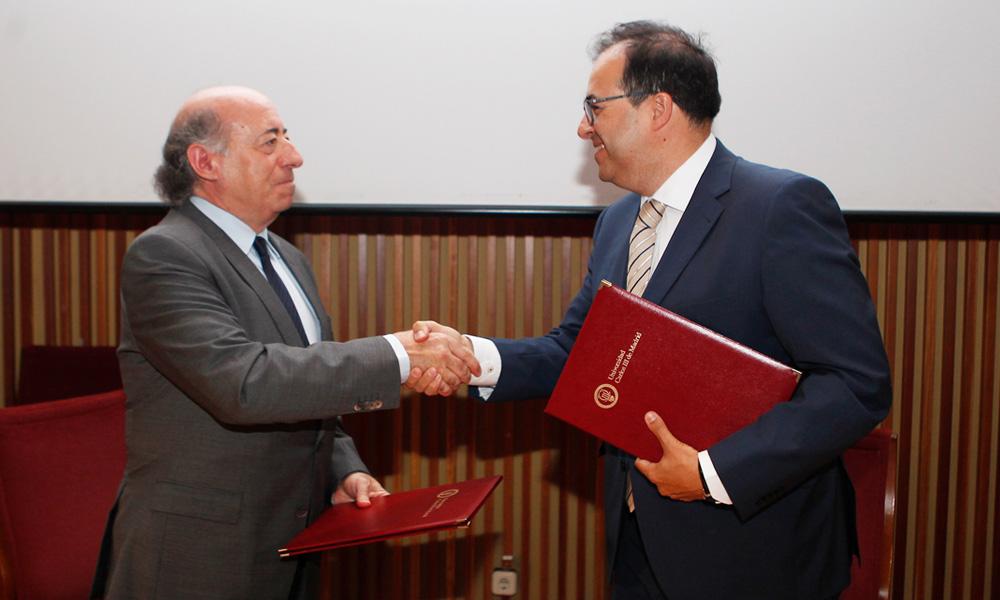 This agreement, signed today by Juan Romo, the UC3M chancellor, and Santiago Llorente, the mayor of the Leganés Local Council, sets out the protocol for the transfer of land located in the Science, Technology and Business Park (Parque Científico Tecnológico y Empresarial de Leganés: LEGATEC) of Leganés, in sections 1 and 2 of the "Toledo Norte Motorway" sectorisation plan. Here, technological-industrial installations and the remaining installations of university facilities that are complementary or compatible with them will be located.
Thanks to this agreement, which will later be formalised through an administrative agreement, UC3M aspires to create an interurban campus as well as to strengthen scientific research, local development, knowledge transfer, sustainability and university teaching of international excellence.
The location of the campus in an area of business development - the Science, Technology and Business Park "Leganés Tecnológico"- could contribute to attracting high technology companies, who will act as dynamic agents in the innovation of the local environment. This will be an important dynamic factor for a city that aspires to become part of the technological map of Spain.